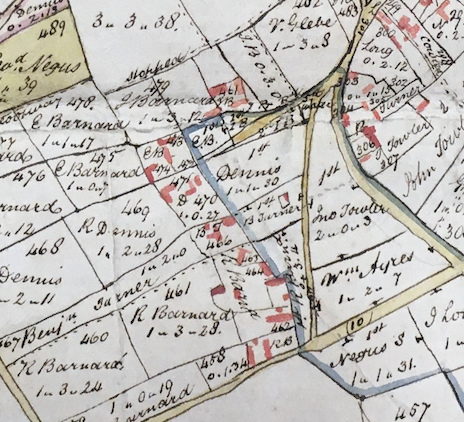 Extract from 1802 Map of Great Ellingham. Russell James Colman Plans. Norfolk Record Office Cat. Ref. C/Ca 1/84.
All rights reserved Norfolk Record Office. With kind permission of NRO
North is to the top of the map

The 'triangle' of Town Green will be familiar to those living in the village today as it was to those who inhabited the village centuries ago.
The above extract from the Great Ellingham Inclosure Map of 1802 shows that the western side of Town Green was well populated.
Indeed there were at least 8 houses, 6 barns and several outbuildings, including stables. Some of the 8 dwellings would have housed more than one family. Most of the houses had a garden – some with yards. Two properties had an orchard.
These properties abutted 'Town Green Common', the boundary of which is indicated by the blue line.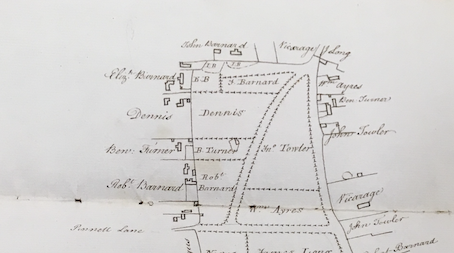 Extract from 18th Century Map. Town Green, Hyrne and Broad Commons in Great Ellingham held at Norfolk Record Office. Cat. Ref. MC2213/113, 941X7. All rights reserved Norfolk Record Office. With kind permission of NRO.
An earlier 18th century map of Town Green (above) also shows the dwellings along with the names of the various owners.
These properties along the western side of Town Green were owned by Elizabeth Barnard, Mary Dennis, Benjamin Turner and Robert Barnard.
Robert Barnard
Although he lived at Great Ellingham Hall (which he originally leased), Robert Barnard owned 4 of the 8 dwellings at Town Green. In addition, Barnard owned a property in Long Street (later known as Poplar Farm).
All Barnard's properties were let to tenants.
Occupiers
Mary Barnard and William Pease occupied Barnard's house in Long Street.
William Cocking occupied the carpenter's shop with a house, barn, yard and garden which was situated at the corner of Town Green with Pennell Lane (now Penhill Road).
Barnard's other houses in Town Green (including one cottage) were occupied by Isaac Ayres and W. Bunting, John Brooke and Hannah Turner, and John Semmence.
The two properties occupied by Ayers and Bunting, and Brooke and Turner, would have each been divided into at least two tenements.
Much later, one of these properties became known as 'Chestnut Grove' Farm.
Death of Robert Barnard
Robert Barnard died in the April of 1823.
In his will, he bequeathed Great Ellingham Hall to his son Benjamin Barnard. However, save for the dwellinghouse and land then occupied by John Bilham (which Robert Barnard directed his executor to sell), Robert Barnard makes no specific mention to any other of his properties in his will.
1817-1819
Nevertheless, pencil annotations to a Survey of Great Ellingham 1817-1819 indicate that his son, John Barnard, may have taken on the ownership of some of his father's property in Town Green, either before or after Robert Barnard's death.
At this time, William Cocking and George Midson occupied two cottages and a green yard; George Midson senior and Abraham Summers occupied a house with outbuildings, yard and garden – (Charles Clarke may also have occupied this dwelling for a while); Samuel Harvey and 'others' occupied a house, barn, yards and garden.
c.1836
An Estates & Occupations survey c.1836, reveal that John Barnard owned the house, barn, yards and garden at Town Green with some 110 acres of land. It was during the 1830s that John Barnard's property was the subject of an arson attack.
The two cottages occupied by William Cocking and George Midson and the house with outbuildings, yard and garden, were then in the ownership of John Barnard's sister Harriet Clarke. She had married and moved away to Worcestershire.
John Barnard's Property
Maps relating to the Estate of John Barnard held at the Norfolk Record Office (under catalogue references DS 80 & MC 2580), show that John Barnard owned the farm in Town Green then comprising some 119 acres, which was later known as Chestnut Grove.
1851 census
The 1851 census captures 53 year old John Barnard with his 54 year old wife Maria living in Town Green. John Barnard is described as a farmer of some 114 acres who employed five labourers. Maria's sister, Elizabeth Guyten, is with John and Maria Barnard. Elizabeth appears to be working as a general servant – perhaps for her sister and brother-in-law.
Death of John Barnard
John Barnard died on the 17th March, 1858 aged 60. His death was announced in the Norfolk News of Saturday 27th March. He was said to be 'deservedly respected and beloved', and 'his death is extensively regretted'.
Prior Sale of the Farm to Robert Land
Just a month before John Barnard died (after suffering from what is recorded as a 'lingering illness'), Barnard sold his farm to Robert Land, a farmer of Hockham Lodge, Hockham.
Copyhold Land
Although I have not seen a conveyance deed confirming the sale, the Court Books for the Manors of Buckenham Castle Outsoken, Buckenham Lathes Outsoken and Buckenham Close Outsoken, record that John Barnard sold various pieces of copyhold land (forming part of this farm) to Robert Land on the 22nd February, 1858.
Given that I know that Robert Land owned the property at the time of his death in 1885, it is more than likely that he also purchased the farm from John Barnard in 1858.
The Manor Court Books for the Buckenham Manors also confirm that John Barnard inherited most of the copyhold land from his father, Robert Barnard in 1823. However, he had also purchased small pieces of copyhold land in 1822 from William Cobbold and his wife Maria Sophia, Philip Daniel and his wife Susanna Frances Allanson, and Elizabeth Negus and Henrietta Negus.
Robert Land
I do not believe that Robert Land ever occupied the farm at Town Green. Indeed Robert Land owned several properties and land in Caston, Attleborough, Wramplingham and Thetford, as well as the Great Ellingham farm.
Accordingly, the farm at Town Green would have been tenanted.
Robert Land owned the Town Green farm (which later became known as Chestnut Farm), until his death in 1885. It was then owned by his son Edmund Land until his death in 1892.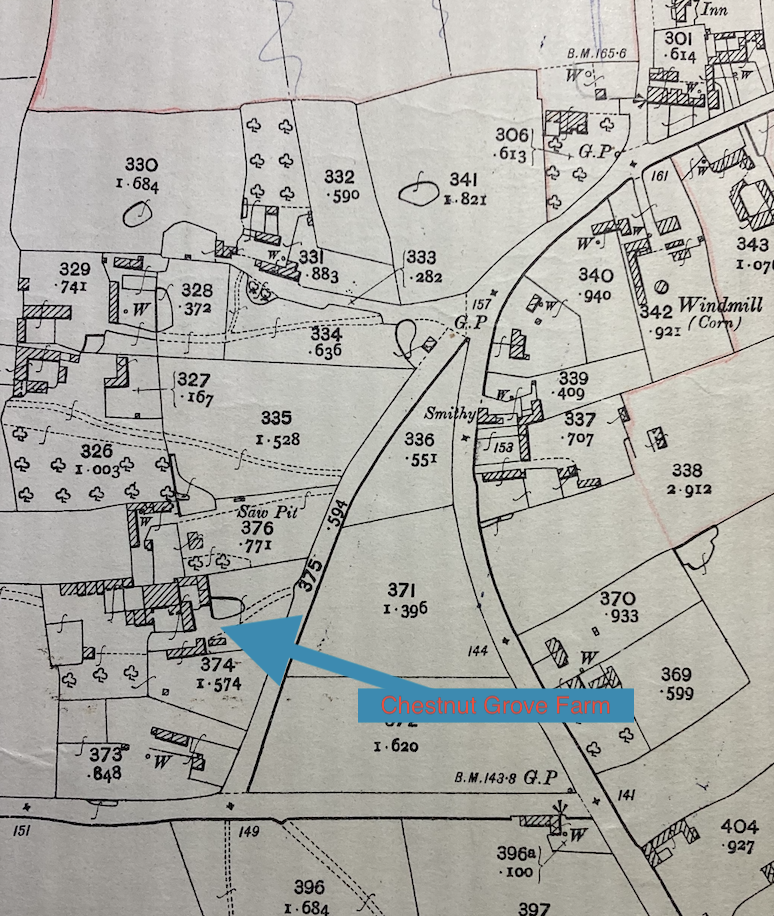 Extract from 1906 Ordnance Survey Map. Second Edition. Surveyed in 1881. Revised 1904.
The farm was subsequently sold at auction in 1892.
Sources:
1802 Russell James Colman Plans. Great Ellingham. Norfolk Record Office. Catalogue Ref. C/Ca 1/84.
1799-1842 F W Horner, Records of the Surveyors to Commissioners for Inclosure in Parishes in Norfolk and Suffolk. Great Ellingham (Act 1799). Norfolk Record Office. Catalogue Ref: NRO, BR 90/2
1800 Inclosure Commissioner's Particulars and Valuation, Great Ellingham. Norfolk Record Office. Catalogue Ref: NRO, MC 2213/119
1799 Statement of Claims. Great Ellingham Inclosure. Norfolk Record Office. Catalogue Ref: MC 2213/118
18th Century Map. Town Green, Hyrne and Broad Commons in Great Ellingham held at Norfolk Record Office. Cat. Ref. MC2213/113, 941X7
Great Ellingham Parish Registers. Norfolk Record Office PD 609. Also available via www.familysearch.org & www.ancestry.co.uk
1851 census HO107/1823/109
Norfolk News 27th March 1858. Viewed via The British Newspaper Archive website
1753-1847 Manor of Buckenham Castle, Lathes, Close and Priory. Court Book. Norfolk Record Office. Catalogue Ref: MC 1833/8 -MC 1833/16. 1595-1847 also available at https://www.familysearch.org
Auction Particulars for auction at the Royal Hotel Attleborough 11th August 1892. Private Deeds Collection