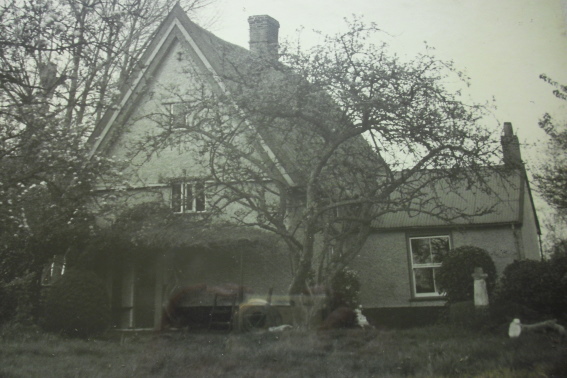 Poplar Farm, Long Street. Courtesy of Susan Fay
In the informative booklet, A Little History of Great Ellingham, the authors describe 'Poplar Farm' as "an ancient timber framed building purporting to be made from reclaimed ship's timber". "This house has a long corridor down one side'". The booklet also mentions that there is a spring to the rear of the property.
British Listed Buildings website lists Poplar Farmhouse, in Long Street, Great Ellingham, as a late seventeenth century timber framed property, with roughcast lath and plaster on a brick and flint plinth. It also mentions that the property was once two cottages.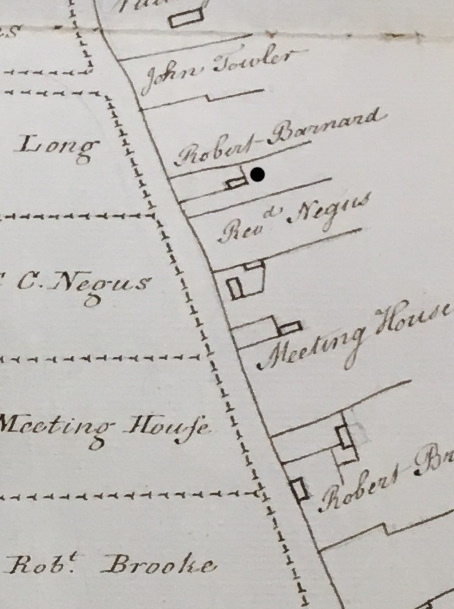 Extract from 18th Century Map. Town Green, Hyrne and Broad Commons in Great Ellingham held at Norfolk Record Office. Cat. Ref. MC2213/113, 941X7. With kind permission of NRO.
The property was one of several dwellings scattered along the western side of Long Street, which appear on a late eighteenth century map held at the Norfolk Record Office.
A black dot on the above extract of the map shows the position of the property we know today as Poplar Farmhouse. I do not know when the property became to be known as Poplar Farmhouse but, for ease of reference, I will refer to the property as Poplar Farmhouse.
At the end of the eighteenth century, Poplar Farmhouse was owned by Robert Barnard who, although owning several properties in the village, lived at Great Ellingham Hall, which he leased from a Suffolk Rector, the Reverend F C Negus. Great Ellingham Hall was (and still is) just a 'stone's throw' from Poplar Farmhouse.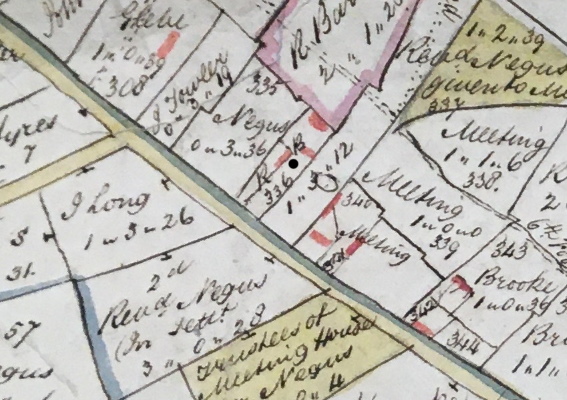 Extract from 1802 Map of Great Ellingham. Original held at Norfolk Record Office. Russell James Colman Plans. Cat. Ref. C/Ca 1/84. With kind permission of NRO
The above extract from a later map of 1802, shows Poplar Farmhouse within the parcel of land numbered '336'. Again for ease of reference, I have marked the position of the farmhouse with a black dot.
The numbering used in a Particulars & Valuation carried out in 1800 by the Commissioners for the Inclosures of Great Ellingham, corresponds with the numbering used on the Map of 1802. This reveals:
No.336 House, Stable, Barn, Yard and Garden comprising 2 roods and 10 perches (0a 2r 10p), owned by Robert Barnard and occupied by Mary Barnard and William Pease
Poplar Farmhouse was at that time divided into two tenements: Mary Barnard occupied one tenement and William Pease the other.
Mary Barnard
Spinster Mary Barnard of Great Ellingham signed her last will and testament on the 5th November, 1800.
She appointed Robert Barnard, a farmer, of Great Ellingham as her sole executor. I think Mary's executor was likely the same Robert Barnard who owned Poplar Farmhouse (and other property in the village) and lived at Great Ellingham Hall. However, there is no indication in Mary's will whether she and Robert were related.
Given that at this time Mary's brother, James Barnard, lived at Bury Hall, it would seem strange that Mary Barnard did not appoint her brother as her executor. Having said that, perhaps Robert Barnard was a close relative?
I am confident that this is the Mary Barnard who lived in the other part of Poplar Farmhouse to William Peas(e).
Mary Barnard's will was duly proved in Norwich by Robert Barnard on the 30th December 1806.
The content of the will describes a few of the items of furniture and personal effects which Mary possessed and used whilst living at Poplar Farmhouse.
She bequeathed to her niece Mary Davison her 'yellow bed with the furniture thereof as it stands'. Mary Davison also received her Aunt's mahogany chest of drawers, tea chest and a sampler.
Mary Barnard's clothes and linen were to be equally divided amongst her nieces, and all her other goods, chattels, furniture and effects were to be sold, with the proceeds being equally divided among all of Mary Barnard's nieces and nephews.
Mary's niece and namesake, Mary Barnard, had married bachelor James Davidson of Cromer in Great Ellingham Parish Church on the 4th August, 1795.
Some 45 years later, and then aged somewhere between 65 and 69, Mary Davidson is captured by the 1841 census living in Cromer with her husband James Davidson.
I cannot find a burial for Mary Barnard in the register for the Church of St James. However, I think Mary was likely a member of the Baptist Church, which was (and still is) a short distance from her home in Long Street. In a codicil to her will, Mary appears to give 'the morning ring' [mourning ring?] to Minister Hatcher. Charles Hatcher was the Pastor at the Baptist Church in Great Ellingham between 1806-1842.
William Peas(e)
A marriage between William Peas and Elizabeth Cole took place at the Parish Church in Great Ellingham on the 29th October, 1782. Both William and Elizabeth were single, and living in the village at the time of the marriage.
I found the baptisms of five children of William and Elizabeth in the Parish Registers for St James: William in 1783, Edward 1785, Mary 1787, John 1789 and Sarah 1793.
I think it quite possible that this is the William Peas (also found as 'Pea' and 'Pease') who was living at Poplar Farmhouse in 1800.
New Owner & Occupiers?
Following the death of Mary Barnard, a new tenant (or tenants) would have occupied that part of Poplar Farmhouse previously occupied by Mary Barnard.
A Survey of Great Ellingham carried out 1817-1819, lists Poplar Farmhouse as No.741 2 Houses, Stable, Barn, Yard and Garden comprising 0a 2r 1p. The property was still owned by Robert Barnard.
The same Survey also provides names of the various occupiers of the property. These are listed as William Pea, William Pea Junior, James Rider (but the name of James Rider crossed through and replaced with the name Charles Clarke), and Miles Allison (again, the name of Miles Allison was crossed through and replaced with Barnabas Long).
Other than the fact that William Pea Senior occupied part of the property at a similar time to Mary Barnard occupying the other (and he likely died before 1833), I cannot be certain when the other occupiers were in residence, or, for how long.
In addition, landlord Robert Barnard died in 1823. By that time, Robert Barnard had purchased nearby Great Ellingham Hall from the Reverend F C Negus. He left Great Ellingham Hall to his son, Benjamin Barnard. However, save for a property occupied by John Bilham, Robert did not specifically mention this particular property (Poplar Farmhouse) in his will.
Schedules of 'Estates and Occupations Collected' in relation to titheable lands in Great Ellingham c.1840, confirm the same occupiers of the property (with similar amendments to those made to the Survey 1817-1819 mentioned above). However, as the document is not specifically dated, it may have been prepared earlier than 1840.
There is what looks to be an amendment to a Schedule to the 'Estates and Occupations Collected' c.1830-1840 which may also relate to this property. It is possible that a 'Mrs' (Mistress) Clarke purchased this property in addition to nearby land.
I am wondering whether Robert Barnard's daughter Harriet Clarke purchased or inherited the property on Robert Barnard's death. However, I have no evidence to substantiate my theory. I think it highly unlikely that the occupier Charles Clarke, an agricultural labourer, or his wife Mary, would have been in a position to purchase the property and additional land.
Further Occupiers
William Pea Jnr
I believe 'William Pea Junior' was the son of William Peas (Pea) and his wife Elizabeth née Cole. Around the age of 21, William Peas married Elizabeth Brookes at the Church of St James on January 23rd, 1804. The marriage was witnessed by James Rider (perhaps the same James Rider who also once lived at Poplar Farmhouse) and James Webster.
Around four months after the marriage, on May 6th, William and Elizabeth took their son, William, to the Church of St James for baptism. At least three other children followed: John baptised April 10th, 1808; Robert on June 9th, 1811 and Charles baptised on 10th April, 1814.
William Pea was buried in the churchyard at St James on the 19th December, 1830 aged 27 years.
However, some members of the Pea (Peas) family worshipped at the nearby Baptist Chapel. The burial register for the Baptist Church in Great Ellingham include William Pea in April 1829, William Pea in July 1833 and Elizabeth Pea buried 14th April, 1836. With no reference to the age of each of the deceased, it is difficult to determine the identity of the two deceased men with the name 'William Pea', and Elizabeth Pea. Was the Elizabeth Pea the former Elizabeth Cole or Elizabeth Brookes, or neither?
There were Pea/Peas/Pease families in Great Ellingham for most, if not all, of the eighteenth century.
Barnabas Long
The son of James and Sarah Long of Great Ellingham, Barnabas Long was baptised in the Church of St James on the 23rd June, 1776.
Barnabas may well have been a linen weaver. A Barnabas Long was apprenticed to linen weaver, John Barnard, of Great Ellingham in 1792.
Around the age of 26, Barnabas Long married Mary Lister. Both single and of Great Ellingham, the couple married in the Parish Church on the 27th June, 1802. The marriage was witnessed by Benjamin Dennis and James Webster.
The following year, the couple welcomed daughter Mary who was baptised in the same Parish Church on the 4th December, 1803. At least four further children followed: Harriet baptised March 24th, 1805, Benjamin June 26th, 1808, Hannah August 26th, 1810 and Sarah on February 21st, 1813.
It is possible that some (or all) of the children were born at Poplar Farmhouse. However, I cannot be certain exactly when Barnabas lived at the property and, for how long. It does appear that Barnabas moved into one of the tenements at Poplar Farmhouse on the departure of Miles Allison.
At the age of 46, Mary Long (neé Lister) died and was buried in the churchyard of St James on the 11th June, 1824.
Now in his early fifties, widower Barnabas Long married local widow, Elizabeth Kerrison. The marriage, which took place in the Parish Church on the 21st January, 1828, was witnessed by Robert Twidney and Mary Buck.
I have not yet been able to find a burial record for him.
Charles Clarke
Another occupier of one of the two tenements at Poplar Farmhouse was Charles Clarke. Again, I do not know the timing or the length of his tenure, but it seems that he may have moved into the dwelling on the departure of James Rider.
Charles Clarke was likely the the son of Thomas and Judah Clarke, who was baptised in the Parish Church at Great Ellingham on the 13th February, 1766. Around the beginning of the nineteenth century, Judah Clarke lived in a cottage in Town Green, owned by James Barnard (and subsequently owned by his widow Elizabeth Barnard).
The 1841 census captures Charles Clarke (said to be aged between 75 and 79) living in Great Ellingham with his wife, Mary (aged around 64), and 15 year old Samuel Clarke. Although the census does not specifically say exactly where in the village this Clarke family was living, we do know from the census that they lived in that part of the village which included Long Street.
A marriage between Charles Clarke and Mary Kerrison took place at St James's Church, Great Ellingham on the 26th September, 1808. The marriage register confirms that both Charles and Mary were single and living in Great Ellingham at the time of their marriage. Charles was then around the age of 42 and his bride was some years his junior.
I have not discovered any children for this couple. Charles Clarke died during the latter part of 1846. A death was registered between October and December 1846 in the Wayland District for Charles Clarke aged 79. I cannot find a corresponding burial for Charles Clarke in the Great Ellingham Parish Registers.
Conclusion
At the beginning of the nineteenth century, Poplar Farmhouse was owned by Robert Barnard and certainly had a number of tenants living in the two cottages.
Unfortunately, although the census returns (1841-1911) will tell us who was living in the village and where, the census returns rarely identify an individual property. At some point, the property became one dwelling and became known as Poplar Farmhouse.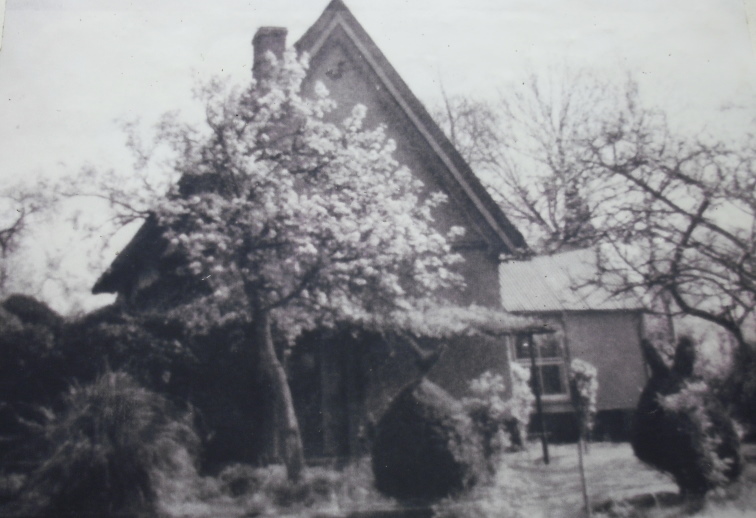 Poplar Farm, Long Street. Photograph taken at Sprngtime. Courtesy of Susan Fay
Sources:
Lebbell, W R & Fay, S. A Little History of Great Ellingham. Date unknown
18th Century Map. Town Green, Hyrne and Broad Commons in Great Ellingham held at Norfolk Record Office. Cat. Ref. MC2213/113
1800 Inclosure Commissioner's Particulars and Valuation. Great Ellingham. Norfolk Record Office MC2213/119
F.W. Horner, Records of the Surveyors to Commissioners for Inclosure in Parishes in Norfolk & Suffolk. 1799-1842. Great Ellingham (Act 1799). Norfolk Record Office. Catalogue Ref BR 90/2
1802 Map of Great Ellingham. Russell James Colman Plans. Norfolk Record Office. Catalogue Ref. C/Ca 1/84
Great Ellingham Parish Registers. Norfolk Record Office. PD609. Also available at www.familysearch.org
1841 census HO107/781/8; HO107/759/9
Will. Barnard, Mary, spinster, of Gt Ellingham.1806. Norfolk Record Office. NCC will register Halfhide 325. Also available via http://www.norfolksources.norfolk.gov.uk
England & Wales, Non-Conformist and Non-Parochial Registers, 1567-1936. The National Archives of the UK; Kew, Surrey, England; General Register Office: Registers of Births, Marriages and Deaths Surrendered to the Non-Parochial Registers Commissions of 1837 and 1857; Class Number: RG 4; Piece Number: 1254 Great Ellingham (Baptist), 1817-1837. Also available via www.ancestry.co.uk
Register of Duties Paid for Apprentices' Indentures, 1710-1811. The National Archives of the UK (TNA); Kew, Surrey, England; Collection: Board of Stamps: Apprenticeship Books: Series IR 1; Class: IR 1; Piece: 67 Also available via www.ancestry.co.uk
GRO index. https://www.gro.gov.uk/gro