Around the time of the Act of Parliament for the dividing, allotting and inclosing the commons and waste grounds in Great Ellingham c.1800, Robert Barnard owned several properties as well as some 35 acres of land in the village.
However save for 30 acres of land, the properties owned by Robert Barnard were let to tenants – William Cocking, Isaac Ayres, W Bunting, J Brooke, Hannah Turner, John Semmence, Mary Barnard and William Pease.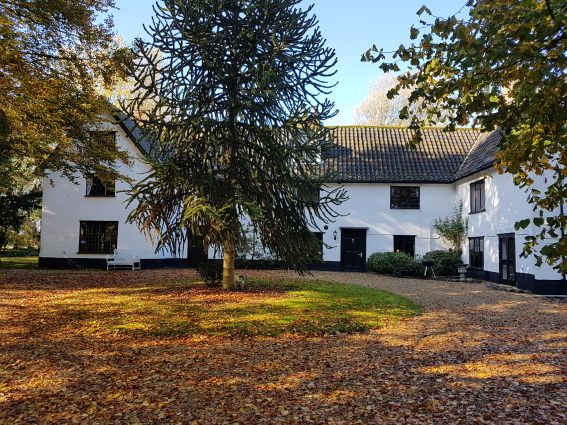 Great Ellingham Hall. Photograph courtesy of Tracy Knowles. 2020
Home of Robert & Francis Barnard
Robert Barnard with his wife and children lived at Great Ellingham Hall, which he leased from the Reverend Francis Colman Negus, the Rector of Brome with Oakley in Suffolk.
The marriage between Robert Barnard and Frances Catton took place at the parish church in Great Ellingham on the 26th November, 1782. Both Robert and Frances were single, and were said to be of Great Ellingham.
The daughter of George Catton, Frances was baptised in East Bradenham (a village around 11 miles from Great Ellingham) on the 29th September, 1762. Robert may well be the Robert Barnard, son of John and Martha Barnard, who was baptised in Wymondham on the 23rd August, 1750.
I do not know whether Robert and Frances Barnard began their married life at Great Ellingham Hall. However, they were living there by 1790. Norfolk Record Office (NRO) holds a document dated 1790 concerning the lease of Great Ellingham Hall by the Reverend Francis Colman Negus to Robert Barnard (catalogue reference MC 2213/63). NRO also holds a further Lease dated 1802 between the same parties, again relating to the leasing of Great Ellingham Hall to Robert Barnard.
The Statement of Claims in connection with the Great Ellingham Inclosures c.1800, confirms that 'Rob. Barnard' occupied Great Ellingham Hall and 260 acres. The Hall and the land were owned by the Reverend Francis Colman Negus, who, at that time, was Lord of the Manors of Ellingham Hall and Ellingham Rectory.
Although owning other property and land (and being the Lord of two of the Manors in Great Ellingham), the Reverend Negus did not reside in the village.
Children
Robert and Frances had at least ten children between 1784 and 1799, and these children were baptised in the Church of St James. Some, if not all, of the children may have been born at the Hall.
First born Robert was baptised on June 6th, 1784 and buried just three weeks later on June 28th. Another son, also named Robert, was baptised on August 21st 1785 followed by George, baptised and then buried, in November, 1787. Another son, also George, was baptised on January 18th, 1789.
With surviving children, Robert and George, Robert and Frances welcomed their first daughter, Martha Maria, who was baptised on March 28th, 1790. Sadly, Robert and Frances buried their daughter just six weeks later.
The following year, Frances gave birth to a second daughter, also named Martha Maria. The child was baptised on June 26th, 1791. Another daughter, Mary, was baptised on August 11th, 1793 but, tragically, Robert and Frances buried Mary just over two months of the baptism.
Three further children followed – Benjamin who was baptised September 11th, 1796, John on the 2nd October, 1797 and Harriet baptised June 9th, 1799.
Not long into the next century, Robert and Frances buried their two elder sons – Robert was buried September 7th, 1801 (aged 16 years), and George was buried August 1st, 1806 aged 17.
The couple were left with four surviving children – Martha Maria, Benjamin, Robert and Harriet. The children may well have enjoyed the country life, and played in the tranquil surroundings of their moated home. Many of the trees which surround the Hall today would have been there at the time that Robert Barnard and his family occupied the Hall.
Robert Barnard's Tenure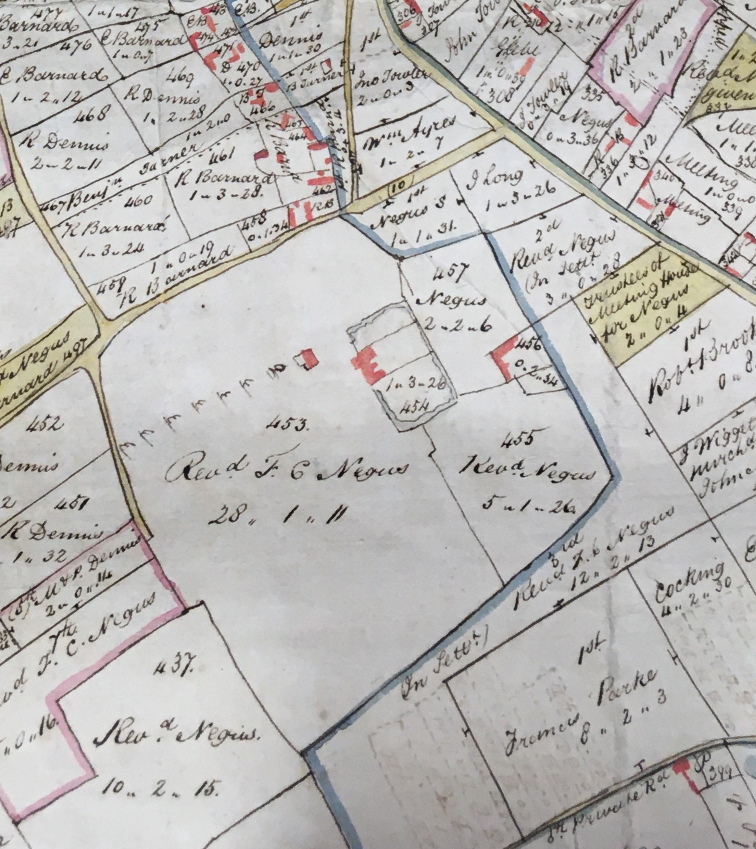 Extract from 1802 Map of Great Ellingham. Original held at Norfolk Record Office. Russell James Colman Plans. Cat. Ref. C/Ca 1/84. With kind permission of NRO
The numbering used in the Particulars & Valuation of Great Ellingham as taken by the Commissioners in relation to the Inclosures c.1800, correspond with an 1802 Map of Great Ellingham held at the Norfolk Record Office.
The above extract from the (1802) map, clearly shows Ellingham Hall with yards, garden and yew yard identified as numbered 454. The moat is also easily recognisable on the map.
The parcel of land numbered 457 was known as Green Yard, and No.455 Stack Pasture. The large parcel of land (numbered 453) comprising 28 acres, 1 rood and 11 perches is listed in the Particulars & Valuation (of c.1800) as Home Pasture and Stables. This land and property is only a small part of the land which was at that time owned by the Reverend Negus and occupied by Robert Barnard.
Some of the properties which Robert Barnard owned (and which were occupied by tenants) were near to Great Ellingham Hall. These properties lie to the north of Great Ellingham Hall, and are also identified on the above extract from the 1802 Map.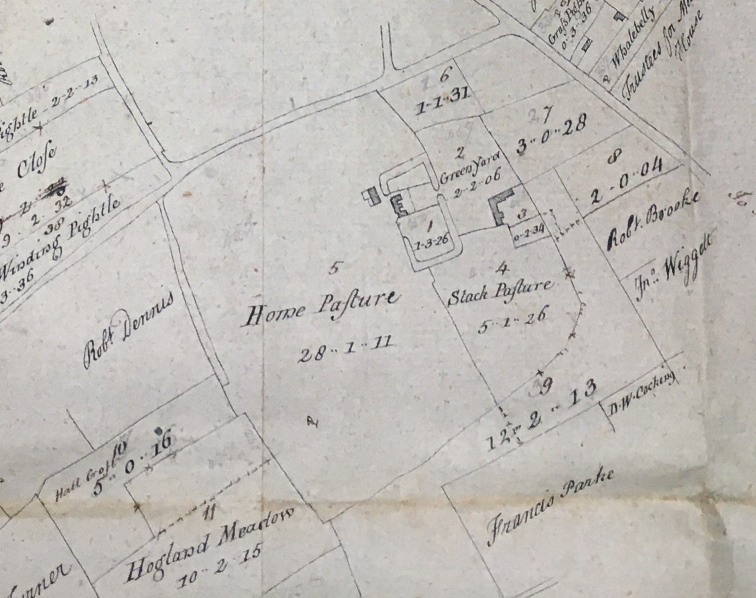 Extract from 1803 Map of Estate of Revd Mr Negus. Original held at Norfolk Record Office. Catalogue Ref BR 90/2/16. With kind permission of NRO
The extract from the 1803 Map of the Estate of the Reverend F C Negus again clearly shows Great Ellingham Hall, the barns, outbuildings and the surrounding land.
Robert Barnard Owner of Great Ellingham Hall
The Reverend Francis C Negus died in 1818. I think it very likely that Robert Barnard then purchased Great Ellingham Hall.
A notice of a sale by private contract of a 'desirable freehold and a small part copyhold estate, comprising three hundred and twenty seven acres' appeared in the Norfolk Chronicle of the 28th February 1818. The property, comprising 'an excellent Farm-house and Outbuildings, in good repair' and the extensive parcels of both arable and pasture land, was said to be in the occupation of Robert Barnard.
A Survey of Great Ellingham carried out between 1817 and 1819, lists Robert Barnard as the owner and occupier of Ellingham Hall.
Harriet Barnard married Richard Clarke of Upton-upon-Severn, Worcestershire, in Great Ellingham in October, 1822. The announcement appearing in the Norfolk Chronicle of the 19th October, 1822, mentions that Harriet was the youngest daughter of Mr Robert Barnard of Great Ellingham Hall.
Six months later, at the age of 72, Robert Barnard died. He was buried in the churchyard at Great Ellingham on the 21st April, 1823. Just days before he died, Robert Barnard hastily made and signed his last will and testament on 12th April. He appointed James Monument, a farmer of North Lopham, as his sole executor.
Benjamin Barnard inherits Great Ellingham Hall
Following the death of Robert Barnard, the ownership of Great Ellingham Hall together with the barns, stables, cow houses and all the appurtenances belonging to the property, passed to Robert's eldest surviving son, Benjamin Barnard. Robert also gave Benjamin all the land (amounting to around 328 acres) which he (Benjamin) then occupied. This gift was subject to Benjamin making a payment of £200 to his sister, Harriet Clarke.
In his will, Robert provided that his wife Frances was permitted to take sufficient of his furniture to decently furnish two rooms, with the remainder going to Benjamin.
It is clear from the will that Robert's son, John, had borrowed money from his father. In his will, Robert gave John "all the different sums of money he now stands indebted to me". This was on the condition that John pays the sum of £50 to Charles, Robert, Frances and Maria, the children of his sister, Martha Maria Catton. John was also instructed to apply interest to the money until each of the children reached the age of 21.
Robert Barnard's personal estate together with the proceeds of the sale of his house and land which John Bilham then occupied, was to be shared equally among his children – Benjamin Barnard, John Barnard, Martha Maria Catton and Harriet Clarke.
Tragically, at the age of just 32, Martha Maria Catton died at Shipdham. She was buried in Great Ellingham on the 18th June, 1823 just two months after her father was laid to rest. The report of the death appearing in the Norfolk Chronicle & Norwich Gazette of July 5th, 1823, reported that Martha Maria Catton died on the 13th June 'after a short but severe illness'.
Headstones in Great Ellingham churchyard for Robert Barnard (left) and his daughter, Martha Maria, the wife of William Catton.
Benjamin Barnard, the son of Robert and Frances Barnard, lived at Great Ellingham Hall until his death in 1877.
Death of Frances Barnard
Widow Frances Barnard lived independently of her children. Although it is not clear on the 1841 census exactly where in Great Ellingham Frances Barnard was living, she was not living at The Hall. The 1841 census also captures 15 year old Maria Barnard with Frances. I believe Maria is Martha Maria Catton Barnard, the daughter of Robert and Frances's son John Barnard and his wife Maria Ann.
Although John and Maria Barnard were living in St Giles Street, Norwich at the time of the 1841 census, they were back in Great Ellingham by the time the 1851 census was undertaken. 53 year old John Barnard, his 54 year old wife Maria and Maria's sister Elizabeth Guyten aged 48, were living in Town Green. John Barnard was farming 114 acres and employing five labourers.
The death of Mrs Frances Barnard, aged 79, the widow of the late Robert Barnard of Great Ellingham Hall, was reported in the Norfolk Chronicle & Norwich Gazette of the 16th April, 1842. Frances was also buried in the churchyard of St James's Church.
Sources:
1803 Map of Estate of Revd Mr Negus. Original held at Norfolk Record Office. Catalogue Ref BR 90/2/16
1800 Inclosure Commissioner's Particulars and Valuation. Great Ellingham. Norfolk Record Office MC2213/119
F.W. Horner, Records of the Surveyors to Commissioners for Inclosure in Parishes in Norfolk & Suffolk. 1799-1842. Great Ellingham (Act 1799). Norfolk Record Office. Catalogue Ref BR 90/2
1802 Map of Great Ellingham. Russell James Colman Plans. Norfolk Record Office. Catalogue Ref. C/Ca 1/84
The Cobbold Family History Trust. https://family-tree.cobboldfht.com/people/view/2877 Accessed 5th August 2020
1841 census HO107/781/8, HO107/788/10
1851 census HO107/1823/109
Great Ellingham Parish Registers. Norfolk Record Office. PD609. Also available at www.familysearch.org
East Bradenham Parish Registers. Norfolk Record Office. PD298. Also available at www.familysearch.org
Wymondham Parish Registers. Norfolk Record Office. PD184. Transcription viewed via FreeReg website https://www.freereg.org.uk/search_queries/5f787087f493fdf97e51ebe8?locale=en Accessed 03.10.2020
Norfolk Chronicle 28th February, 1818
Norfolk Chronicle 19th October, 1822
Norfolk Chronicle & Norwich Gazette 5th July, 1823
Norfolk Chronicle & Norwich Gazette 16th April, 1842
Barnard, Robert of Great Ellingham. Will. 1823. Catalogue Ref: ANF will register 1823 fo.288 no.63. Viewed via http://www.norfolksources.norfolk.gov.uk 30.09.2020