Great Ellingham is fortunate to have several fine listed buildings, with many of them situate in what today is known as Church Street.
British Listed Buildings website describes Mill Farmhouse in Great Ellingham as a Grade II late seventeenth century timber framed farmhouse, on a flint plinth with rendered clay walls. The farmhouse also has a thatched gabled roof.
In their website, Norfolk Heritage Explorer suggests that the farmhouse may well have started life as 14th or 15th century hall house.
Likely it was not until the five-storey brick mill was erected nearby in the 1840s, that the farmhouse became known as 'Mill Farmhouse'.
Where is Mill Farmhouse?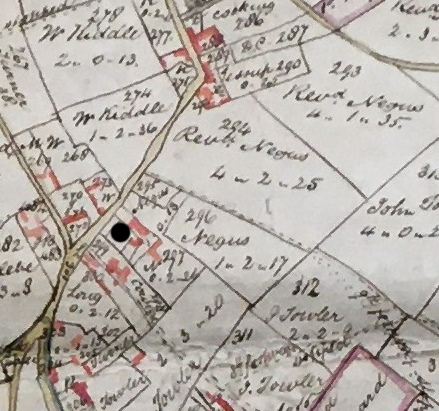 Extract from 1802 Map of Great Ellingham. Original held at Norfolk Record Office. Russell James Colman Plans. Cat. Ref. C/Ca 1/84. With kind permission of NRO
The black dot on the above plan shows the position of Mill Farmhouse, which was very much in the centre of the 'town' of Great Ellingham, when the map was prepared in 1802, and still is.
The farmhouse lies within a parcel of land numbered 295 on the map. A corresponding Particulars & Valuation of Great Ellingham (taken by the Commissioners in 1800 for the Inclosures), reveal that the parcel of land numbered 295 included 'Farm House, Outbuildings, Barn, Stables, Yards and Garden', and was owned by the Reverend F C Negus. However, the Farmhouse was occupied by Thomas King.
Owner Reverend F C Negus
The Statement of Claims in relation to the Great Ellingham Inclosure c.1799, show that the Reverend Francis Colman Negus was a significant land owner in Great Ellingham, although he is not shown to occupy any of his properties. His claim included a messuage and 24 acres of land occupied by T. King, and Great Ellingham Hall (together with 260 acres of land), occupied by Robert Barnard.
The Lord of the Manor of both Ellingham Hall and Ellingham Rectory at this time, the Reverend Negus was the Rector of Brome with Oakley in Suffolk. I am uncertain whether he ever lived in Great Ellingham, although I suspect the Lordship of the Manor of Ellingham Hall came to him through the family of his late mother, the former Elizabeth Colman.
Occupier Thomas King
The Statement of Claims of c.1800, reveal that Thomas King 'claimed' 15 acres of land occupied by himself, and five acres of land which was occupied by John Towler. Like many of the landowners in the village, Thomas King also claimed certain rights over the common land.
The Particulars & Valuation of 1800 lists the parcels of land (in additon to the farmhouse – at number 295) owned by the Reverend Negus, but occupied by Thomas King:
120 Rail Meadow 1a 0r 20p
121 Plow'd Meadow 2a 3r 21p
122 Rail Meadow 1a 0r 20p
293 Bell Piece 4a 1r 35 p
294 Four Acres & Half 4a 2r 25p
296 Acre and Half 1a 2r 17p
297 Homestall 0a 2r 26p
314 Near Grove Close 2a 0r 28p
315 Far Grove Close 1a 3r 39p
Some of these pieces of land can be identified on the above extract of the 1802 map.
The same Particulars & Valuation of 1800, reveal that Thomas King also occupied a Tan Office and Yard off Long Street, which was owned by John Towler.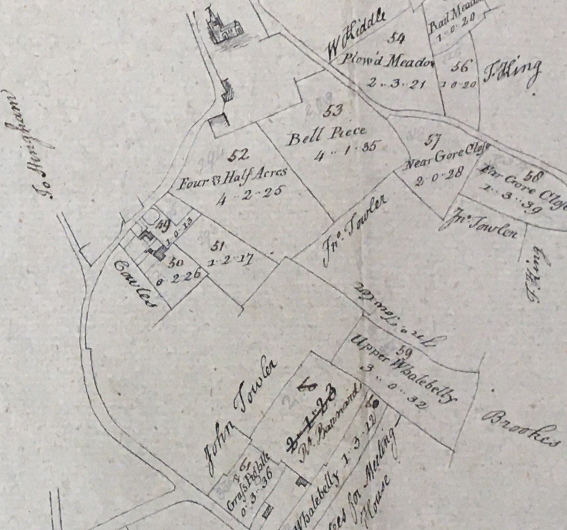 Extract from 1803 Map of Estate of Revd Mr Negus. Original held at Norfolk Record Office. Catalogue Ref BR 90/2/16. With kind permission of NRO
Mill Farmhouse and the parcels of land known as Bell Piece, Four & Half Acres, Plow'd Meadow and Rail Meadow are easily identifiable on the above extract from a Map of the Estate of the Reverend Negus in 1803.
Thomas King's Family
Thomas King was already living in Great Ellingham by 1765.
The entry in the Attleborough Parish Registers of his marriage to Jane Ripper, reveals that he was 'of Great Ellingham' when he and Jane married on the 19th January 1765. A bachelor, Thomas would have been around the age of 30 at the time of the marriage.
Did Thomas and Jane King begin their married life in the village and, if so, was it at the farmhouse?
The baptism of Thomas, son of Thomas and Jane King, appears in the Great Ellingham parish registers for November 2nd, 1767.
Thomas King was an active member of the community. The Town Accounts show that he was present at a Town Meeting held on the 4th April, 1768 when the accounts were approved for the previous year. Together with Thomas Beales, he was one of the Overseers of the Parish for the next year (1769), and a Churchwarden in 1770.
Around 1769, Thomas and Jane King welcomed their daughter Rebecca. She was also baptised in the local parish church (on March 20th, 1769). William was baptised two years later on April 25th, 1771. Sadly, William only survived some six months, as I found a burial for William, infant son of Thomas and Jane King, for December 3rd the same year.
Thomas laid his wife Jane to rest in the churchyard of St James on November 9th, 1779, after just fourteen years of marriage.
It would not have been unusual to find Thomas King remarrying within a short time of his wife's demise. Men often needed a housekeeper (and someone to look after any children), and women (unless fortunate to have independent means), needed financial support.
However, it was not until 1789 that Thomas King (then aged 56) remarried. He married 33 year old spinster Sarah Laiten in the Church of St James on the 19th March, 1789. Just two years earlier, Thomas had buried his 8 year old daughter Rebecca.
Three years after their marriage, Thomas and Sarah King took their daughter Sophia to the parish church to be baptised on the 27th May, 1792. I have not found evidence of any other children of Thomas and Sarah King.
Thomas King and his family were at Mill Farmhouse at the turn of the nineteenth century, but I am unclear as to when they moved out. However, a Memorial Inscription in St Peter's churchyard at Little Ellingham may provide a clue. Sarah, the second wife of Thomas King, died on the 24 October, 1813. Thomas King died on the 26th February, 1824 aged 90. He had outlived Sarah by around 10 years.
It is likely that Thomas and Sarah King were living in Little Ellingham at the time of Sarah's death in 1813. Incidentally, the memorial is also to Thomas and Sarah's daughter, Sophia (Barnes), who died in 1835 at the age of 43.
The next Owners and Occupiers of the Farmhouse
Samuel Pygall
With Thomas King moving out of the farmhouse before 1813, and the death of the Reverend Francis Colman Negus in 1818, the farmhouse would have had new owners and occupiers in the 1820s.
A survey of Great Ellingham undertaken 1817-1819, indicates that the farmhouse was then owned and occupied by John Warren junior, with Samuel Pigall (Pygall) owning and/or occupying the property previous to that. A later schedule of Estates and Occupations of properties in Great Ellingham (c.1840), shows John Warren (the word 'junior' having been crossed through), as the owner and occupier of the property.
John Warren
The 1841 census finds widowed farmer John Warren living in Church Street, Great Ellingham with his daughters, Elizabeth 20, Rebecca 15 and Sarah Ann 13. This may well be the John Warren referred to in the 1817-1819 survey as being the owner and occupier of the farmhouse. If this is correct, then I believe by 1851, John Warren's daughter and son-in-law, Jonathan and Mary Rivett, had moved in with their family.
Jonathan Rivett
The 1851 census captures a household headed by 46 year old Attleborough born farmer, Jonathan Rivett in Church Street. With Jonathan is his 42 year old wife Mary (neé Warren) and their seven children, together with Mary's father, 74 year old John Warren. The household also has a servant, 25 year old Harriet Tuttle.
The Norfolk Electoral Registers for Great Ellingham for the year 1854, reveals the name 'Rivet, Jonathan' at number 6666. He is listed as the occupier of a farm in the Street, Great Ellingham, which was owned by John Warren.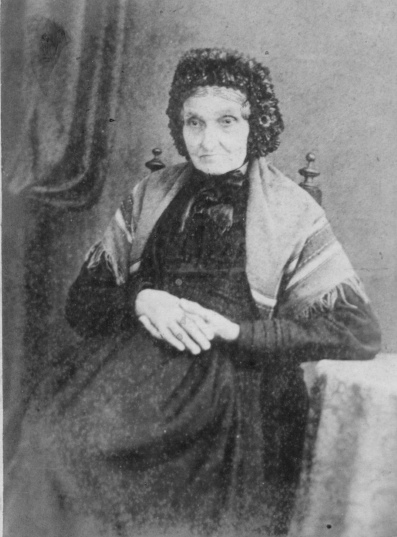 Mary Ann Rivett nee Warren. c.1810 to 1888. Photograph courtesy of Pauline Bezant
I have written about Jonathan and Mary Rivett in the blog 'Great Ellingham Born and Bred.' Mary Rivett outlived her husband Jonathan, and was living in Church Street (perhaps at the farmhouse once owned by her father, John Warren) until her death in 1888.
Who lived in the farmhouse after the Rivett family?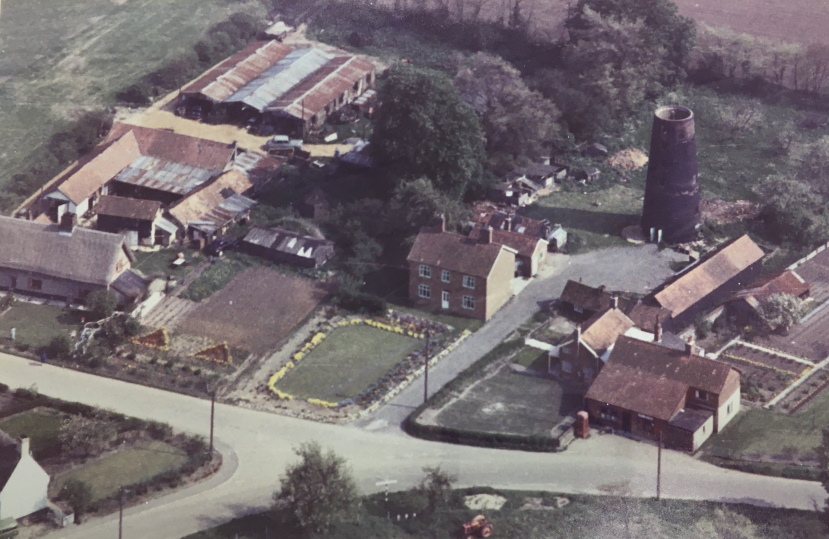 Photograph taken 1965 showing the Mill Farmhouse to left (Mill House, the Mill and the post office on the right) . Courtesy of Angela Crocker
This concludes a brief history spanning one hundred years of the owners and occupiers of this particular property. The challenge now will be to find out who next owned and lived in the farmhouse once the Rivett family had left.
Sources:
England, Norfolk Register of Electors, 1832-1915, database with images, FamilySearch (https://familysearch.org/ark:/61903/3:1:S3HY-DRNK-MM?cc=1824705&wc=MX69-F38%3A161034801%2C161034802%2C161047801 : 21 May 2014), Norfolk > Eastern division > 1854 > image 138 of 146; Record Office, Central Library, Norwich. Accessed 6th August 2020
1841 census HO107/781/8
1851 census HO107/1823/132
1861 census RG9/1237/91
1871 census RG10/1841/87
1881 census RG11/1974/91
Great Ellingham Parish Registers. Norfolk Record Office. PD/609. Also available at FamilySearch.org https://www.familysearch.org/search/image/index?owc=4J8C-CB7%3A29627201%3Fcc%3D1416598
Attleborough Parish Registers. Norfolk Record Office. PD/438. Attleborough, Marriages 1552-1930 Norfolk Family History Society. https://www.norfolkfhs.org.uk/ Accessed 5th August 2020
Transcript of Little Ellingham, Monumental Inscriptions – 1755 to 1981. Norfolk Family History Society. https://www.norfolkfhs.org.uk/ Accessed 5th August 2020
1803 Map of Estate of Revd Mr Negus. Original held at Norfolk Record Office. Catalogue Ref BR 90/2/16
1800 Inclosure Commissioner's Particulars and Valuation. Great Ellingham. Norfolk Record Office MC2213/119
F.W. Horner, Records of the Surveyors to Commissioners for Inclosure in Parishes in Norfolk & Suffolk. 1799-1842. Great Ellingham (Act 1799). Norfolk Record Office. Catalogue Ref BR 90/2
1802 Map of Great Ellingham. Russell James Colman Plans. Norfolk Record Office. Catalogue Ref. C/Ca 1/84
1741-1775. Great Ellingham Town Book. Norfolk Record Office. PD609/37.
The Cobbold Family History Trust. https://family-tree.cobboldfht.com/people/view/2877 Accessed 5th August 2020