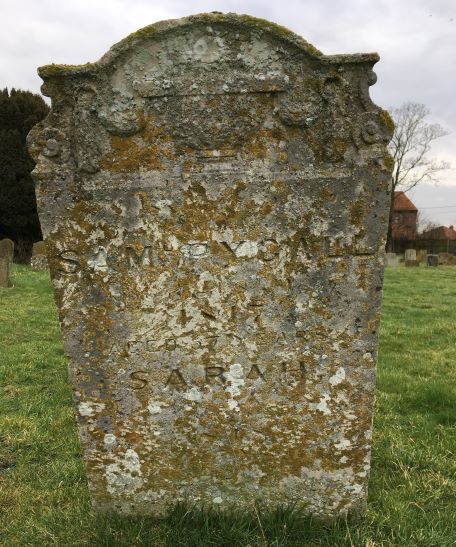 The headstone for Samuel Pygall and his wife Sarah in the Churchyard at Great Ellingham.
Corresponding burial entries for this couple appear in the Great Ellingham Parish Registers.
57 year old Samuel Pygall was buried on December 13th, 1817. His wife Sarah survived him by thirty years and was buried on January 30th, 1848, aged 77.
I have not found any other Pygall entries in the Parish Registers. Accordingly, it is likely that Samuel and Sarah were born and married elsewhere.
The name "Sam. Pigall" appears on an 1819 Map which shows the extent of John Barnard's land in Great Ellingham. Samuel Pigall owned or occupied land abutting the eastern boundary of that part of John Barnard's land referred to as Sallow Bush.
Sallow Bush, comprising of 2 acres and 27 perch of arable land, was situated to the south of the road from Great Ellingham to Rocklands between the Bow Street and the Chequers Lane junctions. Accordingly, Samuel Pygall farmed land in this area.
In the early 1800s and perhaps until his death, Samuel Pygall (with his wife) lived at the farmhouse in the village, which is today known as Mill Farmhouse.
Following Samuel's death, Sarah became a housekeeper to farmer, John Rose, in Bow Street. The 1841 census shows Sarah Pygall with John Rose in Bow Street. John Rose died in 1847, the year before Sarah.
Sources:
1841 census HO107/781/8
Great Ellingham Parish Registers Norfolk Record Office PD/609. Also available at FamilySearch.org https://www.familysearch.org/search/image/index?owc=4J8C-CB7%3A29627201%3Fcc%3D1416598
Norfolk Record Office – Map of the estate of John Barnard of Great Ellingham – Catalogue Reference MC 2580