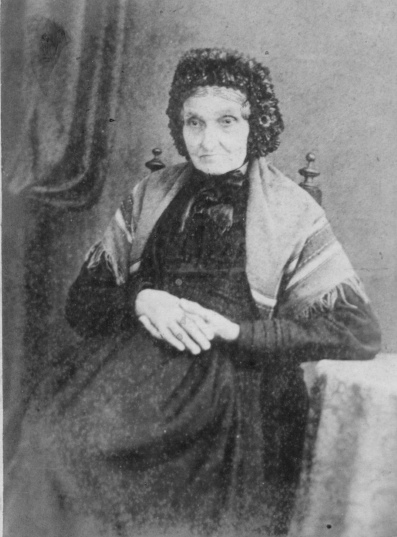 Mary Ann Rivett nee Warren. c.1810 to 1888. Photograph courtesy of Pauline Bezant
Mary Ann Rivett, the wife of Jonathan Rivett, was very much a 'Great Ellingham girl'. She lived in the village for her entire life.
Warren Family
Baptised in the Church of St James on the 28th January 1810, Mary Ann was the eldest daughter of Great Ellingham born John Warren and his wife Mary (née Towler). John Warren and Mary Towler married on the 20th October, 1807 in the parish church of Rockland All Saints (with Saint Andrew) where Mary Towler (the daughter of John and Mary Towler) had been baptised around 22 years earlier.
With baptisms of further children of John and Mary Ann Warren taking place in the parish church at Great Ellingham between 1814 and 1823, I assume that John and Mary Warren made their home in the village following their marriage.
Mary Warren marries Jonathan Rivett
At the age of 21, Mary Ann Warren married Attleborough born Jonathan Rivett, some 5 years her senior, in the parish church at Great Ellingham on the 3rd November, 1831.
Ten years later (and around six weeks prior to the 1841 census being undertaken), Mary Ann's mother died. 55 year old Mary Warren was buried in the churchyard of St James on the 21st April, 1841.
The 1841 census finds Mary Ann Rivett's 60 year old widowed father, John Warren, with his daughters Elizabeth 20, Rebecca 15 and thirteen year old Sarah Anne in Church Street, Great Ellingham.
Also in Great Ellingham is Mary Ann Rivett with her husband Jonathan and children Jonathan 8, Mary 6, Charles 4 and Frederick 2. Jonathan is described as a farmer, and the household has a 15 year old female servant.
Although it is not clear on the census, it is likely that Jonathan and Mary Rivett were also living in Church Street in 1841, as the later censuses of 1851 and 1861 show them to be living in Church Street.
Rivett Children
Within a few months of the 1841 census, Jonathan and Mary welcomed another daughter, Rebecca, with son James following in 1843.
Altogether, Jonathan and Mary Ann Rivett had ten children between 1832 and 1853. However, like many Victorian families, the Rivett family were affected by the high mortality rate in children.
Sadly, Jonathan and Mary buried two year old Rebecca and four year old Frederick on the 20th October, 1843, in the churchyard at Great Ellingham.
According to the 1861 census, two of Jonathan and Mary Rivett's children – 26 year old Mary Ann and 12 year old Walter – were said to be 'idiots'. This is not a term we would, of course, use today as we would find it derogatory or insulting. However in 1861 it was commonly used (along with words such as 'lunatics' or 'imbeciles') as a medical definition on the census and given to persons with mental health disorders (including congenital disorders). However, we should bear in mind that often the person filling in the census was a member of the public who may have had little or no medical training.
Further Deaths
This Rivett family suffered further deaths in the 1860s. Jonathan and Mary's daughter Mary Ann died at the age of 30 in the March of 1864 and was buried in the churchyard in Great Ellingham on the 26th March.
Eighteen month's later, Jonathan and Mary buried their 23 year old son James on the 9th October, 1866. His death was reported in the Norfolk News of October 13th: "On the 4th instant of consumption in his 23rd year, James third son of Mr Jonathan Rivett, farmer, Great Ellingham."
On the 3rd September the following year, 19 year old Walter Rivett was buried (again in the churchyard at St James). Just five months later, Mary Rivett buried her 63 year old husband, Jonathan, on the 24th February, 1868.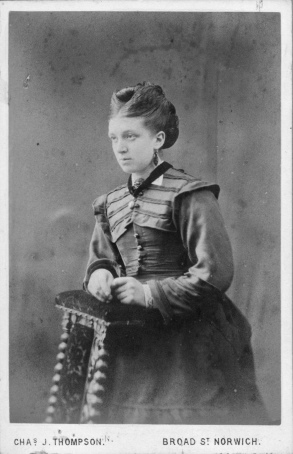 Believed to be a daughter of Jonathan & Mary Rivett and taken in the 1870s. Photographer Charles J Thompson of Norwich. Courtesy of Pauline Bezant
At the beginning of the 1870s, 60 year old widow Mary Rivett was left with five surviving children: Jonathan 38, Charles 33, Frederick 24, Rebecca 20 and Emily 17.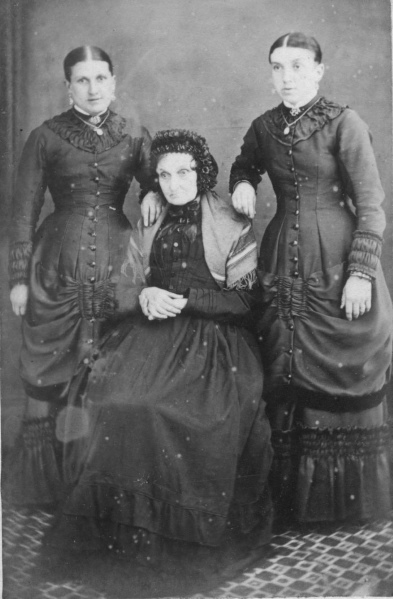 Mary Ann Rivett (nee Warren) with daughters Rebecca & Emily. Photograph courtesy of Pauline Bezant
The 1881 census finds 71 year old Mary Rivett with her three children, 48 year old Jonathan, 30 year old Rebecca and 27 year old Emily in Church Street, Great Ellingham. Mary is described as a farmer of 74 acres employing two men. Mary's granddaughter 11 year old Mary, the daughter of Mary's son Charles and his wife Letitia, completes the household.
Mary died at the age of 78 and was buried in the churchyard of St James, Great Ellingham on the 14th December, 1888.
Of Mary Rivett's surviving children, Jonathan and Rebecca remained unmarried. Charles married Letitia Smith on the 10th March, 1864. At the age of 26, Frederick married Mary Ann Drake and, within a few months of the 1881 census being undertaken, Emily married William Houchen on November 9th, 1881. All the marriages took place in the parish church at Great Ellingham.
Sources:
1841 census HO107/781/8
1851 census HO107/1823/132
1861 census RG9/1237/91
1871 census RG10/1841/87
1881 census RG11/1974/91
Great Ellingham Parish Registers. Norfolk Record Office. PD/609. Also available at FamilySearch.org https://www.familysearch.org/search/image/index?owc=4J8C-CB7%3A29627201%3Fcc%3D1416598
Rockland All Saints with Saints Andrew Parish Registers. Norfolk Bishop's Transcripts, 1685-1941. Norfolk Record Office. PD/335. Also available at FamilySearch.org https://www.familysearch.org/search/collection/1823613.
Transcription Rockland All Saints, Marriages. Norfolk Family History Society. https://www.norfolkfhs.org.uk/ accessed 08.05.2020
Rockland All Saints and St Andrew. Archdeacon's Transcripts. FreeReg Website. https://www.freereg.org.uk/search_records/5818bd85e93790eca3bde394/mary-towler-baptism-norfolk-rockland-all-saints-1786-02-06?locale=en accessed 08.05.2020
https://www.thesocialhistorian.com/blind-deaf-and-dumb-imbecile-or-lunatic/
GRO Index. https://www.gro.gov.uk/gro