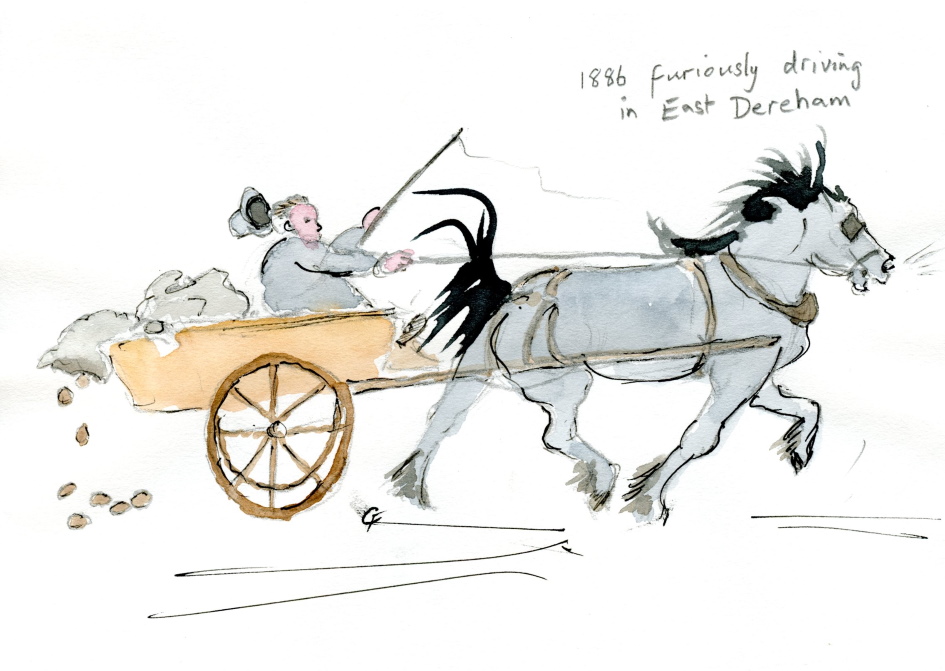 Illustration by Christine Fuller
1866 Court Appearance
Jonathan Rivett of Great Ellingham appeared before the East Dereham Magistrates in the June of 1866. He pleaded guilty to a charge of driving a horse and cart furiously along Swan Lane in East Dereham on the 1st June.
Rivett was fined £1 with costs of 8s. The Magistrates remarked that "the practice of reckless driving especially on a market day was dangerous to the extreme".
1861 census Jonathan Rivett
The 1861 census shows a Jonathan Rivett with his wife Mary and seven children living in Church Street Great Ellingham. The family employed a domestic servant, local girl Elizabeth Clarke aged 14.
Jonathan Rivett and his family lived at what was later known as Mill Farm. The 1881 census gives Jonathan's occupation as a farmer of 90 acres employing three men and one boy. Jonathan's two elder sons, Jonathan aged 28 and 24 year old Charles, were also described as farmers.
Given Jonathan senior would have been around 62 and his son Jonathan aged 34 years at the time of the offence, it is possible that it could have been either Jonathan senior or his son Jonathan who appeared before the Magistrates.
Jonathan Rivett Senior
Jonathan Rivett married Mary Warren in the parish church at Great Ellingham on 3rd November 1831. Both Jonathan and Mary were single and of the parish of Great Ellingham.
According to the 1851 census, Jonathan was born about 1804 in nearby Attleborough. Mary was born few years later c.1809. She was baptised in Great Ellingham on January 28th, 1810.
Mary was the daughter of John and Mary Warren.
Children of Jonathan & Mary Rivett
Jonathan and Mary had at least 10 children all of whom were baptised in the local parish church.
Some 6 weeks before the baptism of their fifth child James, Jonathan and Mary buried children Frederick (aged 4) and Rebecca (2) on October 20th, 1843 in the churchyard of St James.
The couple named their next two children Frederic (Frederick) and Rebecca. They were baptised in Great Ellingham Church on 8 February 1846 and 30th June 1850 respectively.
Three further children of Jonathan and Mary are buried in the churchyard: Mary Ann was buried on March 25th, 1864 aged 30 years; James on October 9th, 1866 aged 23 years, and Walter buried on September 3rd, 1867, aged 19 years.
The Norfolk News dated October 13th, 1866 included a notice of the death of James Rivett, the third son of Mr Jonathan Rivett, farmer, of Great Ellingham. James died on the 4th October of consumption.
Jonathan Rivett Senior dies 1868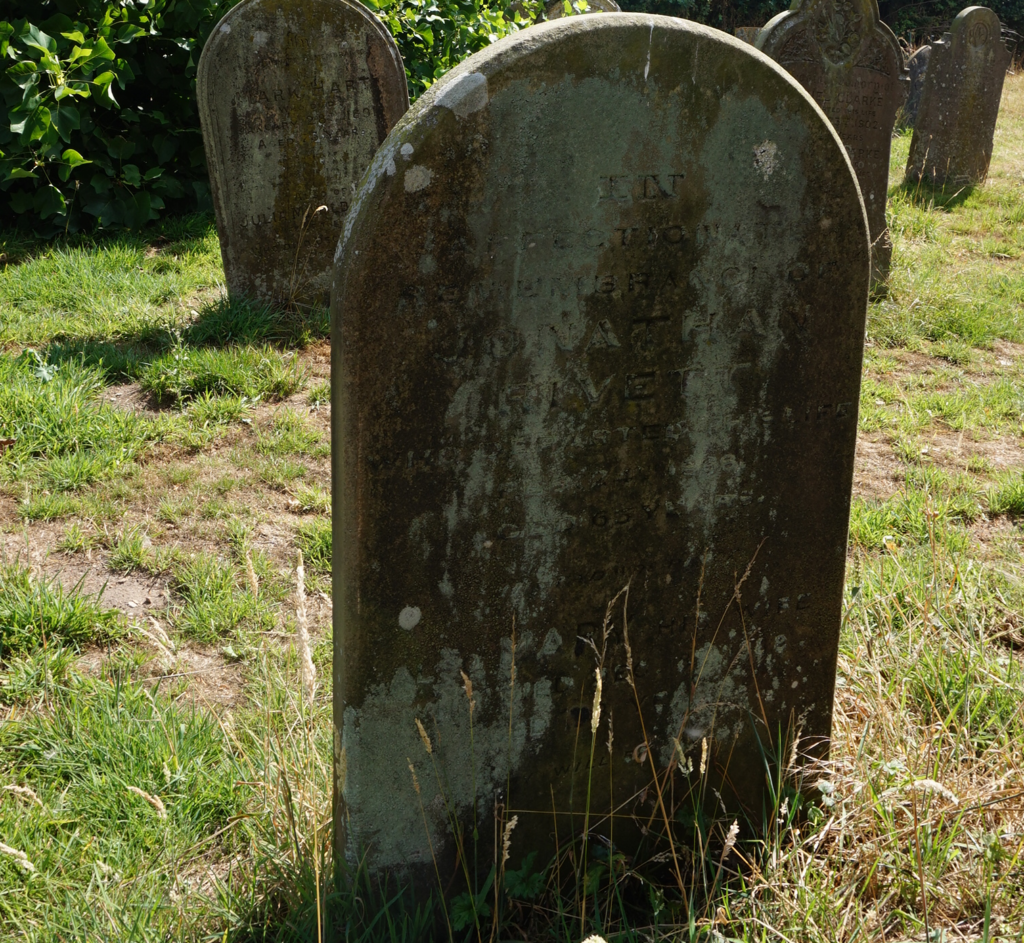 Jonathan Rivett senior was buried in the churchyard at St James on February 28th, 1868 aged 63 years. He was survived by his widow Mary and five of their ten children.
Widow Mary Rivett
After Jonathan's death, Mary continued to live in Church Street, Great Ellingham. The census of 1871 shows Mary living in Church Street with her unmarried children Jonathan 37, Frederick 24, Rebecca 20 and Emily aged 17. Son Charles (now aged 34) is living in the village with his wife Letitia and their children.
Widow Mary Rivett was buried in the churchyard of St James Great Ellingham on 14th December 1888 aged 78 years.
Sources:
1871 census RG10/1841/87, RG10/1841/78
1861 census RG9/1237/91,
1851 census HO107/1823/132
1841 census HO107/781/8
www.freebmd.org.uk
Great Ellingham Parish Registers Norfolk Record Office PD/609. Also available at FamilySearch.org https://www.familysearch.org/search/image/index?owc=4J8C-CB7%3A29627201%3Fcc%3D1416598
Norfolk News October 13th, 1866