The Deaths reported in the Norfolk Chronicle & Norwich Gazette of 21st April, 1894, include the death at Great Ellingham of Walter Edward Rivett son of Frederick and the late Mary Ann Rivett "surviving his mother only a few days". He was 21 years old.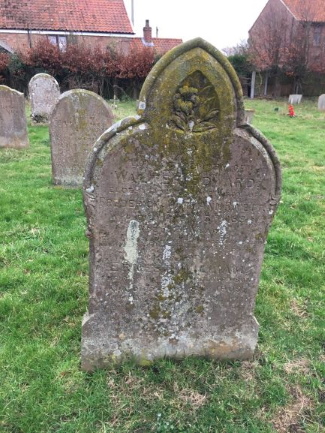 Memorial to Walter Edward Rivett and his brother Ernest William Rivett in Great Ellingham Churchyard
I found a corresponding headstone for Walter in the churchyard of St James in Great Ellingham. The headstone is also a memorial to Walter's brother Ernest William who died at the age of 20 in 1909.
What I didn't know at that time, was that headstones relating to Walter and Ernest's maternal grandmother, Mary Drake, and her first husband, Richard Cobbins, were just a few feet behind Walter and Ernest's memorial.
Walter Rivett's Family
Walter Edward Rivett was the first child of Frederick Rivett and his wife Mary Ann (nee Drake). Both born in Great Ellingham, Frederick and Mary Ann were married in the parish church on May 7th, 1872.
Frederick and Mary Ann had six further children: Arthur Charles, Edith Mary, Alice Rebecca, Frederick James, Ernest William and Leonard Sidney.
1881
In 1881, Frederick aged 34, Mary Ann (31) and their children were living in Church Street in the village. Frederick is described as a grocer and a farmer of some two acres. The elder children, Walter and Arthur, were at school.
1891
By 1891, Walter appears in the household of David Figg, a 24 year old grocer's manager, in Bethnal Green. Walter's parents and siblings had moved to Bow Street, Great Ellingham. Frederick Rivett was dealing in fowl.
1894
According to the newspaper report, Frederick's wife Mary Ann Rivett died in March 1894 just days before the death of her son, Walter. Her youngest child, Leonard, was nearly two years old.
Mary Ann Rivett aged 44 years was buried on 30th March and her 21 year old son Walter Edward was buried on 18th April, 1894.
1901
Now widowed fowl dealer Frederick Rivett was still living in Bow Street in 1901. His daughter Alice was keeping house for her father and brothers -Frederick then aged 16, Ernest 12 and 8 year old Leonard.
Ernest William Rivett was buried in the churchyard at Great Ellingham on 12th September 1909, aged 20 years.
1911
The 1911 census captures Frederick (then aged 65) living alone in Long Street. He had his own business dealing in poultry. However, it is likely that his daughter Alice (then aged 30) was still keeping house for her father.
The same census finds Alice Rebecca Rivett, described as a housekeeper, a visitor at the household of James Thomas Lincoln at Parsonage Farm, Spixworth. Just over two years later, Alice Rivett married James Lincoln's son Edward (Reginald Edward William Lincoln) in Great Ellingham.
Drake & Cobbins Connection
Frederick Rivett's wife Mary Ann was the daughter of Edward and Mary Drake of Great Ellingham. She was baptised in Great Ellingham Parish Church on 23rd December, 1849 along with her twin sister Sarah Ann.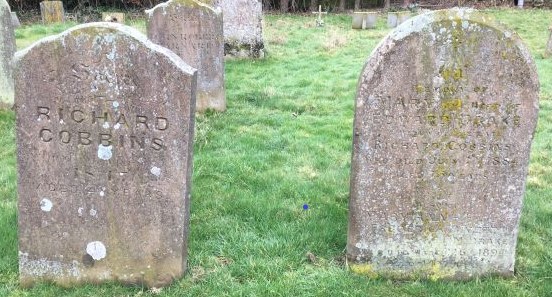 The headstones above are also in Great Ellingham Churchyard. They are just a few feet away from the memorial to brothers Walter Edward Rivett and Ernest William Rivett.
The memorial inscriptions read:
Sacred to the Memory of Richard Cobbins who died 15 April 1847 aged 40
Mary Drake wife of Edward widow of the late Richard Cobbins who died July 7th, 1884 aged 65 years and of her daughter Mary Ann Rivett the wife of Frederick Rivett (daughter of E & M Drake) who died March 26, 1894 aged 44 years.
1930 Death of Frederick Rivett
Frederick Rivett of Great Ellingham was buried in the churchyard of St James on October 25th, 1930. He was aged 84 years.
Sources:
Norfolk Chronicle & Norwich Gazette 21st April 1894
Great Ellingham Parish Registers Norfolk Record Office PD/609. Also available at FamilySearch.org https://www.familysearch.org/search/image/index?owc=4J8C-CB7%3A29627201%3Fcc%3D1416598
GRO Index www.gro.gov.uk
1881 census RG11/1974/92
1891 census RG12/271/25 & RG12/1549/72
1901 census RG13/1867/711911 census RG14/11473/70
1911 census RG14/11473/70; RG14/11250/140
Updated August 2020