Trustee and Overseer
An application to the Charity Comissioners of 1873 by the Trustees of the Great Ellingham Fuel Allotment Charity refers to Charles Rivett as being one of the Trustees of the Charity. Charles Rivett was also one of two Overseers of the Poor for the Parish. James Beatson being the other.
Local Man
The 1871 census captures 34 year old Great Ellingham born Charles Rivett living in Great Ellingham with his 29 year old wife Letitia and young children William 5, Jane 3 and one year old Mary. Charles Rivett is described as a farmer of 29 acres employing one man and one boy. Although the census does not specifically say where this Rivett family was living, it appears not to be in Bow Street.
Just over eighteen months after the census was undertaken, Charles Rivett and his family may have been on the move. A notice of a forthcoming auction of a Farmhouse with three cottages and agricultural buildings situate in Great Ellingham and in the occupation of Charles Rivett, appeared in the Norwich Mercury of 9th November, 1872. In addition, several adjoining enclosures of arable and pasture land (together around 30 acres) would also be sold with the Farmhouse and cottages.
Two years later in August 1874, an auction notice appearing in the Norwich Mercury concerning the sale of two cottages in Bow Street, Great Ellingham occupied by William Howe and Samuel Chaplin, stated that the cottages abutted on property belonging to Charles Rivett (and William Lebbel and a Mr Feltham).
It is, of course, possible that Charles Rivett farmed land in or near to Bow Street as well as occupying property and land elsewhere in the village.
The 1881 census finds 43 year old farmer Charles Rivett with his wife Letitia (now aged 39) with their growing family in Town Green. Charles is farming 30 acres and employing one man. The couple now have six children: William 15, Jane 13, James 9, Charles 5, Harriet 3 and nine month old Letitia. 55 year old widow Mary Ann Davidson completes the household. Born in Swannington (as was Charles's wife Letitia), Mary Ann is described as an Aunt.
Move to Attleborough
For nearly 20 years, Charles and Letitia Rivett lived in Town Green. However by 1901, they had moved to a farm at Attleborough Hills – an area of Attleborough to the east of Great Ellingham. Now aged 63 and 59 respectively, Charles and Letitia have just three of their children living with them: 25 year old Charles described as a farmer's son, Harriet aged 23 and 20 year old Letitia described as a pupil teacher.
I believe Letitia was a pupil teacher at Great Ellingham School. The 'Great Ellingham County Primary School Centenary' book lists 'L Rivett' as 'Candidate and then P.T.' among the Staff at the school for the period 1896-1906.
By 1911, Charles Rivett had retired from farming. The census for 1911 reveals 'old age pensioner' and retired farmer 74 year old Charles Rivett and his 69 year old wife Letitia living at Wood Farm Cottages, Attleborough – not far from where they were living in 1901. With the couple is their 11 year old granddaughter Ivy Letitia Wilkins, daughter of Thomas and Jane Wilkins (neé Rivett).
The 1911 census also tells us that Charles and Letitia had been married for 47 years. During that time they had had 10 children, six of whom were still living.
Baptism, Marriage and Burial at St James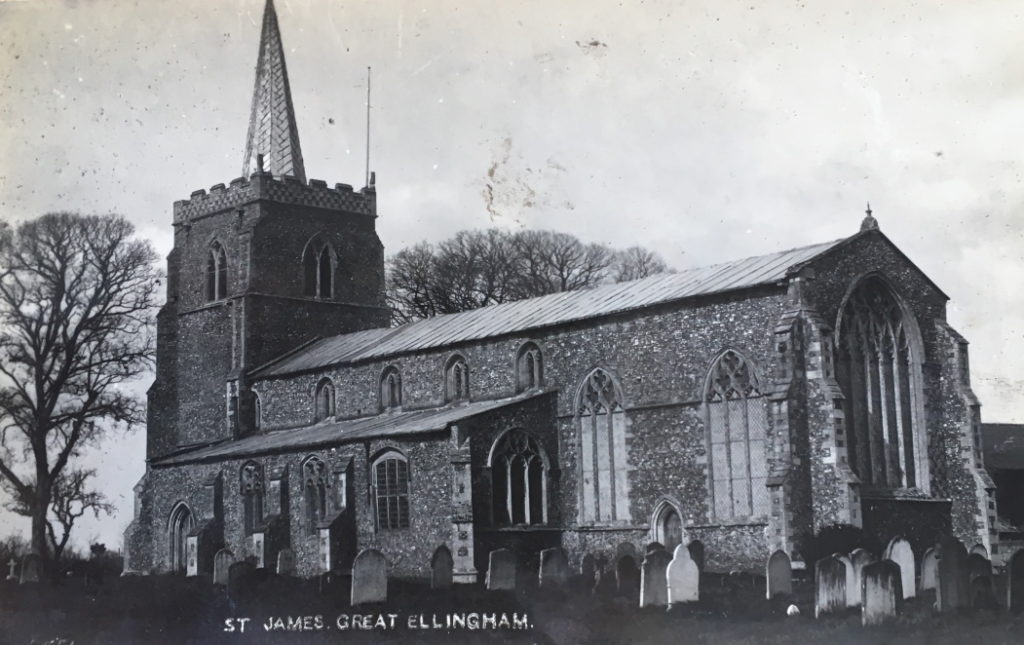 Great Ellingham Church of St James. Postcard courtesy of Attleborough Heritage Group
Charles and Letitia married in the Church of St James, Great Ellingham on March 10th, 1864. Charles has been baptised in the same church some 27 years earlier on the 26th March, 1837.
Although born in Swannington, Letitia Smith had been living in Great Ellingham at the time of the marriage. The marriage entry describes Letitia's occupation as a milliner.
Charles and Letitia Rivett are both buried in the churchyard of St James. Living in Attleborough, Letitia died at the age of 82 years in the August of 1922 and was buried on August 12th. Charles survived his wife by nearly three years. He was buried on April 7th, 1925 aged 88 years.
Sources:
Great Ellingham County Primary School Centenary 1896 to 1996. Complied by J.E. Watts
Copy of the Order dated 27th April 1874. Scheme for the Management of the Charity called the Fuel Allotment, the Parish of Great Ellingham. R McDouall
Norwich Mercury 9th November 1872
Norwich Mercury 29th August 1874
Great Ellingham Parish Registers. Norfolk Record Office.PD/609. Also available at FamilySearch.org https://www.familysearch.org/search/image/index?owc=4J8C-CB7%3A29627201%3Fcc%3D1416598
1871 census RG10/1841/78
1881 census RG11/1974/80
1891 census RG12/1549/70
1901 census RG13/1867/34
1911 census RG14/11470/102