The Death Reports in The Norwich Mercury of 2nd March 1844 include reference to the death of "the beloved wife of Mr Benjamin Barnard of Great Ellingham Hall" but no name for the deceased was given.
From the report, the late Mrs Barnard was in her 47th year and she left "an affectionate husband and three children". The report also mentions that the late Mrs Barnard had suffered from a severe and protracted illness.
The Great Ellingham Burial Register shows a burial of an Elizabeth Barnard on 4th March 1844 aged 46 years. This must be "the beloved wife of Benjamin Barnard". Elizabeth Barnard was the daughter of George Tyrrell.
The census taken in 1841 (three years prior to Elizabeth's death), shows the Barnard family of Benjamin and Elizabeth with children Robert aged 13, Henry 12 and six year old George at the Hall, Great Ellingham.
Ten years later according to the 1851 census, Widower Benjamin Barnard and his sons, Henry and George, are living in Long Street, Great Ellingham.
Although the census does not specifically say, I would think that Benjamin and his sons are still at the Hall as Benjamin Barnard is living at the Hall in 1861. The Barnard household of 1851 include two servants – 61 year old Widow Mary Bradfield and 24 year old unmarried Charlotte Wright of Rockland.
Benjamin's eldest son, Robert Benjamin Barnard, died around October 1845. He was buried in the churchyard of St James on October 5, 1845 just over 18 months after his mother was buried.
The 1861 census finds Benjamin Barnard with a new wife Sarah Ann and his unmarried sons, Henry (now 32) and George (26) at The Old Hall, Great Ellingham. The family now have an 18 year old House Servant, local girl Elizabeth Kerrison and Dairy Maid, Sarah Jessup aged 18 from nearby Attleborough.
Benjamin Barnard's second son, Henry John, was buried in Great Ellingham on 18 May, 1865 aged 36 years.
This left Benjamin with one surviving son – George Tyrrell Barnard. George was baptised in the Church of St James on 26th October 1834.
The 1871 census describes 73 year old Benjamin Barnard as a Farmer of 330 acres and an employer of 8 men and 4 boys. He and his wife, 58 year old Sarah are living in Great Ellingham. Again, the census does not specifically say exactly where Benjamin and Sarah were living, but again I suspect this to be at The Hall. With the couple, is an nineteen year old general servant, local girl Caroline Fisher (I believe the name was erroneous and should read Charlotte Fisher).
At that time (1871), Benjamin's surviving son George Tyrrell Barnard, a 36 year old unmarried Brewer, is living in White Hart Street, Thetford.
By 1880, George Tyrrell Barnard by Royal Licence had assumed the surname of "Tyrrell", and became known as George Tyrrell Tyrrell. George died in 1899, leaving a widow, Sarah Rebekah (also his cousin). I do not believe George and Sarah had any children.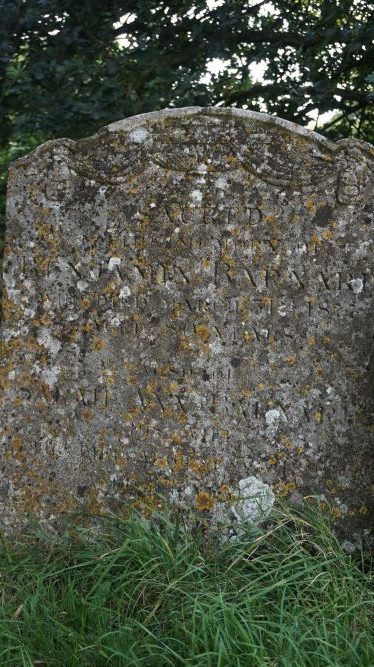 Benjamin Barnard died on March 31st, 1877 and was buried in Great Ellingham churchyard on 6 April, 1877 aged 80 years. He shares his grave with his second wife Sarah.
Sources:
Norwich Mercury of 2nd March 1844
1841 census HO107/781/15
1851 census HO107/1823/130
1861 census RG9/1237/79
1871 census RG10/1841/78 & RG10/1875/78
GRO Index – www.gro.gov.uk
Great Ellingham Parish Registers – Norfolk Record Office PD/609. Also available at FamilySearch.org https://www.familysearch.org/search/image/index?owc=4J8C-CB7%3A29627201%3Fcc%3D1416598
London Gazette March 12, page 2033 Issue 24822 www.thegazette.co.uk