Case heard at the Norfolk Assizes
We can only imagine the effect of the conviction of attempted murder had on 18 year old Great Ellingham girl Charlotte Fisher and her family in the August of 1871.
Charlotte Fisher appeared at the Norfolk Assizes.
It was alleged that on the 5th July, 1871, Charlotte Fisher had feloniously attempted to administer a quantity of vermin poison with the intent to kill and murder her employers, Benjamin and Sarah Barnard. 73 year old Benjamin Barnard, a farmer of some 330 acres, lived at The Hall in Great Ellingham with his wife Sarah. Charlotte was their servant.
Disagreement
The case was widely reported in newspapers including the Norfolk News of August 12th, 1871.
Charlotte and her employer Sarah Barnard had a disagreement on the day in question. She was displeased to find that Mr Barnard's cattle had torn some linen which she had put out on some hedges (presumably to dry in the sun). Charlotte told her mistress that she would not put up with this. Further that she would make Mr Barnard "pay for his stock getting out". This was something she would do before leaving that evening.
Later in the day, Mrs Barnard gave Charlotte notice to leave which Carlotte agreed to do, and said "If it is your wish, I will go; don't think I have given you much trouble."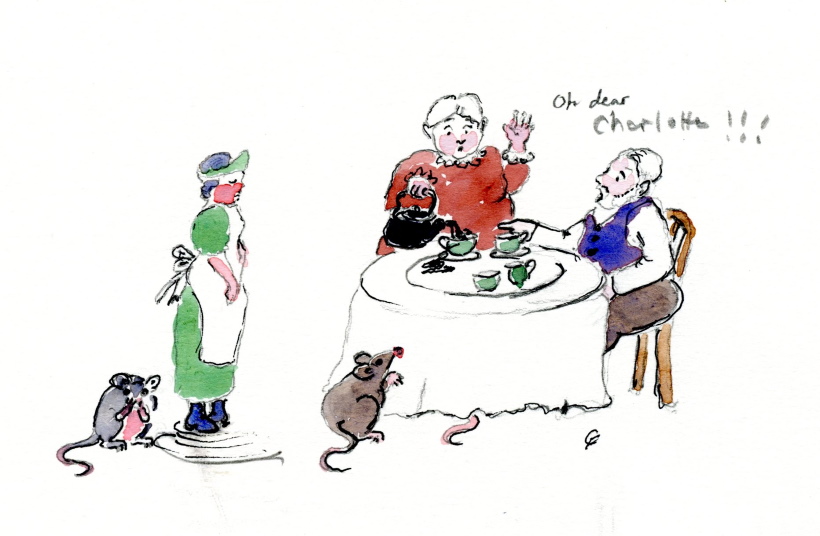 Illustration by Christine Fuller
Poisoned Tea
In the evening, Benjamin Barnard returned home. It was usual for the Barnards then to take tea. Charlotte prepared the tea in the dining-room, which was not the usual place where the Barnards took their tea unless they were entertaining. On pouring the tea, Sarah Barnard noticed that the tea appeared blacker than it should be, and it smelled awful. When pouring more water from the kettle into the teapot, Mrs Barnard found a bluish sediment.
The water from the kettle, teapot and cup was later analysed, and a 'skilled' witness confirmed that the water contained enough phosphorus to kill.
Rat Poison spread on Bread & Butter
Charlotte had access to the poison which her employers kept around the house. It was used for killing vermin. In fact, Charlotte had previously helped Sarah Barnard to spread the poison on bread and butter in order to kill some rats and mice.
Criticism directed at the Barnards
At the trial, the Barnards were critised by the Judge for leaving the poison "within reach of so young a girl as the prisoner".
Life Sentence commuted to 10 years
Charlotte's sentence was penal servitude for life. However, I believe her sentence was commuted and she was subsequently released within 10 years.
Who was Charlotte Fisher?
Early Life to the Court Case
Charlotte was baptised in the Parish Church at Great Ellingham on September 5th, 1852. She was one of at least 9 children of Joseph and Elizabeth Fisher.
1861 census
The 1861 census captures 33 year old agricultural labourer Joseph Fisher with his 32 year old wife Elizabeth and children Joseph 6, Elizabeth 3 and one year old William living in Bow Street, Great Ellingham. 8 year old Charlotte is found at the home of her maternal Aunt, Mary Ann Danby, and her husband James, in Shoreditch, Middlesex.
1871 census
In 1871, Joseph and Elizabeth Fisher together with seven of their children are still living in Great Ellingham. I suspect that they are still in Bow Street, although the census does not specifically say so.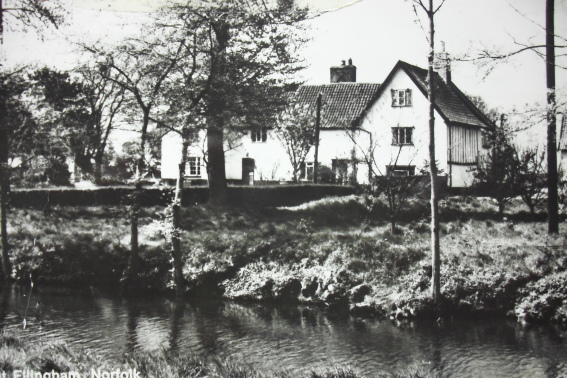 Great Ellingham Hall 1960s. Courtesy of Susan Fay
The same census shows Caroline Fisher aged 19 (born Great Ellingham) as a general servant to Benjamin and Sarah Barnard, who lived at Great Ellingham Hall.
Given the details of the court case which confirms that Charlotte Fisher was working for the Barnards in 1871, I believe reference to Caroline Fisher in the 1871 census is erroneous for Charlotte Fisher.
Release from Prison
At the time of the 1881 census, Charlotte is out of prison. Now aged 29, Charlotte is back with her parents (who are now in their fifties), and two of her brothers, Robert 13 and John 10, in Bow Street. The census describes Charlotte as a domestic servant out of employ.
Marriage and Later Life
Charlotte Fisher married widower Samuel Uttin at the Primitive Methodist Chapel in Fakenham on the 2nd November, 1884. At the time of the marriage, they were both aged 32 and living in Great Ryburgh.
1891 census
The 1891 census finds Samuel and Charlotte Uttin together with Samuel's sons, James 12 and George aged 9, living in Great Ryburgh
The registrations of the births of James and George confirm that their mother was Esther Ann Toll, the first wife of Samuel Uttin. The marriage of Samuel Utting to Esther Ann Toll was registered in the Walsingham District between July and August 1877. Esther Ann Uttin aged 22 years was buried at Great Ryburgh on 6th February, 1882.
By 1891, Samuel's occupation had changed from an agricultural labourer to a Prudential Insurance Agent. Samuel was still working for the Prudential in 1911.
1901 census
The 1901 census captures Samuel and Charlotte Uttin living in Fakenham Road, Great Ryburgh, along with Samuel's 19 year old son George. 25 year old William Willis (born London) is boarding with the family.
1911 census
The 1911 census suggests that Samuel and Charlotte (both then aged 58) were living at or near to the Primitive Methodist Chapel at Great Ryburgh.
Deaths of Samuel and Charlotte
A burial for a Samuel Uttin, a Primitive Methodist Minister, aged 61 appears in the Parish Registers for Great Ryburgh for 2nd February 1914. Charlotte outlived her husband by some 18 years. A death was registered in the June Quarter of 1932 in the Walsingham District for Charlotte Utting aged 79 years.
Sources:
Brooks, Pamela. Ghastly True Tales of the Norfolk Poisoners. Halsgrove. 2007. ISBN 978-1-84114-583-0
Norfolk News 12th August 1871
GRO Index. Free BMD website. https://www.freebmd.org.uk/cgi/information.pl?cite=Ny5FbdgKTieH%2F9%2BqAInd0A&scan=1. Accessed 20.12.2019
GRO Index. Free BMD website. https://www.freebmd.org.uk/cgi/information.pl?cite=7sas4%2Fbdh%2FqhN8Q6bb%2F1Dg&scan=1 Accessed 20.12.2019
GRO Index. Free BMD website. https://www.freebmd.org.uk/cgi/information.pl?cite=3U0Aq%2FEuTIqPayp3ZZZECQ&scan=1 Accessed 20.12.2019
GRO Marriage Certificate. 1884. 2 November 1884. Samuel Uttin and Charlotte Fisher.
Great Ryburgh Parish Registers. Norfolk Record Office. PD/621. Transcript of Great Ryburgh, Burials – 1547 to 1930. Norfolk Family History Society. https://www.norfolkonlinerecordsearch.co.uk/search/Uttin/476-great-ryburgh-burials/
Great Ellingham Parish Registers. Norfolk Record Office PD/609. Also available at FamilySearch.org https://www.familysearch.org/search/image/index?owc=4J8C-CB7%3A29627201%3Fcc%3D1416598
1861 census RG9/1237/85
1871 census RG10/1841/80, RG10/1841/78
1881 census RG11/1984/63, RG11/1974/84
1891 census RG12/1558/150
1901 census RG13/1876/144
1911 census RG14/11552/113
Updated October, 2021