The blog 'Love Letter or Letter of Apology?' touched on a missive written in 1819 by Richard Clarke to Harriet Barnard of Great Ellingham Hall. The couple later married.
I wondered whether any other correspondence between Richard and Harriet Clarke survived. If so, who may have been the custodian of the family letters over the years. I also pondered whether the content of Wills may help with the answer. In the event, I was none the wiser but I did discover something else!
Background
After their marriage in Great Ellingham in 1822, Richard and Harriet Clarke settled in Richard's home town of Upton-upon-Severn, Worcestershire.
Following the death of her father, Robert Barnard in 1823, Harriet's brother Benjamin Barnard, inherited the 'family home' Great Ellingham Hall. Like her four surviving siblings, Harriet inherited a quarter share of her father's residuary estate.
Richard Clarke died in 1834 leaving Harriet a widow at 35 with three young children. However by July 1836, Harriet was left with only two surviving children – her daughters Harriet Maria Clarke (born c.1824) and Selina Barnard Goodman Clarke (born c.1832).
Whilst Harriet Maria left home and found work as a schoolmistress, Selina stayed with their widowed mother in Upton- upon-Severn and, later, when they moved to Cheltenham.
Before his death, Richard Clarke was an agent for the Guardian Fire & Life Assurance Company. Harriet Clarke continued the agency after her husband's death. For some twenty years, Richard Clarke was an Officer in the Hon. East India Company's service (Naval). Did Richard Clarke receive a pension from the East India Company and, if so, did this benefit his widow?
Between 1851 and 1861, Harriet Clarke had a spell as a confectioner. At a similar time, her daughter Selina was an artificial florist.
Although it seems that Harriet Clarke and her two daughters were not penniless, they all worked. Was this by choice or necessity? Maybe it was the latter. Harriet Clarke's two daughters, Harriet and Selina, remained spinsters. Without husbands to support them, the sisters were reliant upon family inheritance and paid work.
Death of Harriet Clarke née Barnard
Widow Harriet Clarke died in Cheltenham on the 14th April, 1863. Surprisingly, Harriet did not leave a Will. Perhaps Harriet's illness was short and/or unexpected.
Letters of Administration were granted to Harriet's eldest daughter, Harriet Maria Clarke of Ipswich, on the 30th June, 1863.
Harriet and Selina inherited an equal share of their mother's estate, including their late mother's possessions. Given that the 1819 letter written by their father to their mother survived some 200 years, the sisters may well have found the letter (and perhaps others) amongst their mother's personal papers.
After the death of their mother, Selina lived with her sister Harriet in Ipswich.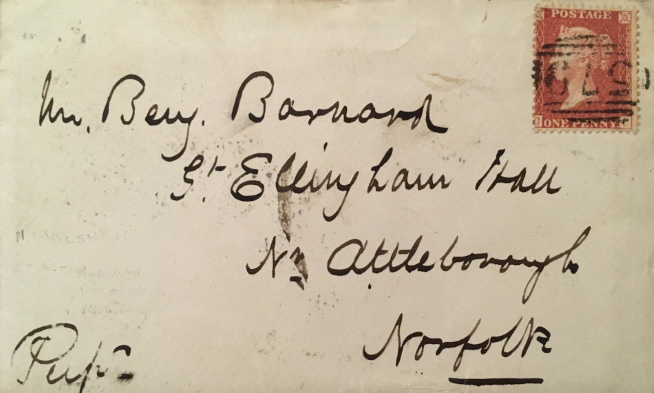 A copy of the original envelope which contained a letter dated 18th July 1858 sent to Benjamin Barnard from John Nichols. Author's Collection
Family Legacies
Following the death in 1877 of their late mother's brother Benjamin Barnard, Harriet and Selina each received a legacy of £100. It is worth noting that the gifts of £100 to each of the sisters were the only pecuniary legacies mentioned in Benjamin Barnard's Will, save for legacies to his wife and to his only son, George Tyrrell Barnard (later known as George Tyrrell Tyrrell).
Further, Harriet and Selina each received a legacy of £500 from their cousin George Tyrrell Tyrrell, who died in Thetford on the 23rd August, 1899. Again, these were the only pecuniary legacies in the Will.
Death of Harriet Maria Clarke
By 1900, the sisters were living at 78 Berners Street, Ipswich, where Harriet died at the age of 78 on the 5th January, 1900. Harriet left her entire estate to Selina. I assume that the sisters' late mother's personal papers (including the 1819 letter), also passed to Selina.
Death of Selina Barnard Goodman Clarke
Following her sister's death, Selina continued to live at 78 Berners Street. She died in Ipswich on the 6th October, 1907.
I wondered whether the content of Selina's Will would provide an indication as to the later custodian of her late mother's personal papers, including the letter of 1819.
In the event, there was nothing conclusive. However, Selina's Will was enlightening.
Grant of Probate
Probate of Selina's Will was granted to spinster Susan Wiseman of Coddenham, Suffolk, one of two executrices appointed by Selina. The other executrix, spinster Emily Jane Hurren of Albert Cottage, Yoxford, Suffolk, renounced.
Pecuniary Legacies
Selina left various pecuniary legacies including the sum of £100 to her servant, Alice Maria Gardiner, providing that Alice was still in her employ at the time of her death. However, if Alice had left Selina's employ to be married, Alice would receive £50.
Residue
Save for the bequest which I mention below, Selina left the residue of her estate to spinster sisters, Susan and Harriet Wiseman, of Coddenham. Were these sisters good friends of Selina or family? Did the 1819 letter come into their possession?
Freehold Cottages & Land in Great Ellingham
However, what I found most interesting (and unexpected) in Selina's Will is the bequest to widow Sarah Rebecca Tyrrell of the Wilderness, Thetford, Norfolk. Selina bequeathed "all my freehold cottages land and hereditaments situate in the parish of Great Ellingham in the County of Norfolk"
Did Selina and her sister Harriet inherit the cottages from their mother? Perhaps this is likely as Selina bequeathed the property to a member of her mother's family i.e. Sarah Rebekah Tyrrell. Sarah Tyrrell was the widow of Selina's cousin, George Tyrrell Tyrrell, the only surviving son of Benjamin Barnard of Great Ellingham Hall.
Family Papers
In conclusion, the Will of Selina Clarke did not provide any specific confirmation as to what may have happened to any of Selina's personal family papers and letters (including her late mother's letters). Of course, it is possible that any family papers came into the possession of the proving executrix, Susan Wiseman.
Did the Great Ellingham Property remain in the Family?
However, the Will does tell us that despite being born and brought up in Worcestershire and later living in Ipswich, Selina Clarke (and likely her sister Harriet) owned cottages and land in Great Ellingham, the birthplace of their mother. By leaving the property to Sarah Tyrrell, Selina ensured that the property remained 'in the family' – but did it?
Sarah Rebekah Tyrrell's Will
In an attempt to find more information about the cottages and land in Great Ellingham, I looked at Sarah Tyrrell's Will. Was there any specific mention of the property in her Will?
Sarah Rebekah Tyrrell died at her home, The Wilderness, Thetford, on the 28th February, 1929. I do not believe that Sarah and her husband George Tyrrell Tyrrell (formerly George Tyrrell Barnard) had children. They were also first cousins.
In her Will, Sarah made substantial gifts to several charities and set up various trust funds. She also left pecuniary legacies to friends, former servants, and to some of the servants in her employ at the time of her death.
The Will also mentions various properties in Thetford. But there is no reference to the cottages and land in Great Ellingham.
However, Sarah left her "cottages and gardens situate at Little Ellingham in the said County of Norfolk to Henry Tyrrell Green for his own use and benefit absolutely".
Accordingly, unless the reference to 'Little Ellingham' is a mistake for 'Great Ellingham' (which I think unlikely), then Sarah disposed of the cottages and land in Great Ellingham prior to her death. Sarah Tyrrell left her residuary estate in trust.
Sources:
Barnard, Benjamin of Great Ellingham. Will dated 18 June, 1870 with Codicil 23 April, 1874. Probate dated 1 May, 1877.
Tyrrell, Sarah Rebekah of Thetford. Will dated 17 February, 1927. Probate dated 23 April, 1929.
Tyrrell, George Tyrrell of Thetford. Will dated 15th February, 1890. Probate dated 28th October, 1899.
Clarke, Harriet Maria of Ipswich. Will dated 29 December, 1899. Probate dated 3 April, 1900.
Clarke, Selina Barnard Goodman of Ipswich. Will dated 6 November, 1900. Probate dated 28 October, 1907.
Copies of the Wills & Probate and reference to 1863 Letters of Administration for Harriet Clarke obtained via https://probatesearch.service.gov.uk/#wills
Barnard, Colin. 2009. 'She loves me not?' Pg. 92-93. Stamp Magazine. March 2009.
Great Ellingham Parish Registers. Norfolk Record Office. PD 609. Also available via https://www.familysearch.org
Upton-upon-Severn Parish Registers.
"England Births and Christenings, 1538-1975", database, FamilySearch (https://familysearch.org/ark:/61903/1:1:J9MT-R7D : 19 September 2020), Richard Flowerdew Clarke, 1826
"England Births and Christenings, 1538-1975", database, FamilySearch (https://familysearch.org/ark:/61903/1:1:N55F-221 : 19 September 2020), Selina Barnard Goodman Clarke, 1832.
"England Births and Christenings, 1538-1975", database, FamilySearch (https://familysearch.org/ark:/61903/1:1:N55F-JZ4 : 19 September 2020), Robert Barnard Clarke, 1828.
"England Births and Christenings, 1538-1975", database, FamilySearch (https://familysearch.org/ark:/61903/1:1:J7RB-DX7 : 19 September 2020), Harriett Clarke, 1824.
Upton upon Severn: St Peter & St Paul: Extract of a Register. Burials. Viewed via FreeReg website. https://www.freereg.org.uk/search_queries/61055c3df493fd0f5206b435?locale=en 31 July 2021
Bath Chronicle and Weekly Gazette. 28th August 1834. Viewed via https://www.britishnewspaperarchive.co.uk 30 July 2021
Norwich Mercury. 23 August 1834. Viewed via https://www.britishnewspaperarchive.co.uk 30 July 2021
Worcester Herald. 3 July 1830. Viewed via https://www.britishnewspaperarchive.co.uk 31 July 2021
1851 census HO107/2043/478, HO107/1792/11
1861 census RG9/1800/116
1881 census RG11/1869/68
1891 census RG12/1466/31
GRO Index. https://www.gro.gov.uk. Also available via FreeBMD. https://www.freebmd.org.uk
https://www.freebmd.org.uk/cgi/information.pl?cite=N%2FRy1ZYXcyastf3mc1vsnA&scan=1
https://www.freebmd.org.uk/cgi/information.pl?cite=c%2BPh0UopM8%2F9nqCxmagraA&scan=1
https://www.archives.norfolk.gov.uk/help-with-your-research/family-history/parishes-and-churches/marriage-licence-bonds accessed 31 July 2021
Thanks to John Forster