The above letter was written by John Nichols, a farmer, living in Northrepps on the 18th July 1858. It was addressed to Benjamin Barnard of The Hall at Great Ellingham.
The content of the letter referred to the payment of an annuity due to Mrs Barnard from the 'Stanfield Estate'. It seems that there had been some delay with the payment. Benjamin Barnard had written previously to Mr Nichols suggesting that he, or his wife, had interfered or had some influence in the matter.
John Nichols' wife Elizabeth was the sister of Benjamin Barnard's wife Sarah Ann. Both born in Northrepps, Elizabeth and Sarah Ann were the children of John Cross and his wife Elizabeth. At the time of the exchange of correspondence, Sarah Barnard (neé Cross) was aged 51 and her sister Elizabeth Nichols aged 49.
Sarah and Elizabeth's father, John Cross, died on the 4th December, 1854. Amongst the provisions in his Will dated the 26th December 1853, John Cross left a legacy of £1,000 to his daughter Sarah Ann. In addition, Sarah Barnard was one of the benecifiaries of a trust set out in the Will.
In his letter, John Cross states that "neither my wife nor my self have at any the time had either interest or used any influence in this matter, nor do I intend to interfere in any way as I should in all probability meet with similar injustice from Mrs Barnard as I did on settling her Legacy…"
We can only wonder how many more letters were exchanged on the subject and marvel that the letter has survived for over 160 years!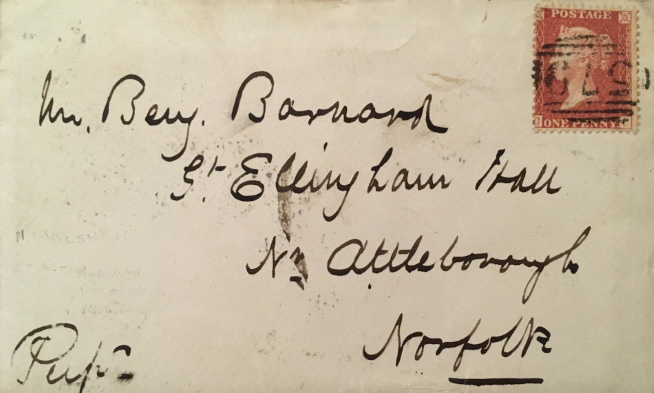 The envelope which contained the letter dated 18th July 1858 sent to Benjamin Barnard from John Nichols
Sources:
1858, July 18th. Letter from John Nichols to Benjamin Barnard. Author's own collection
1851 census HO107/1809/242
1861 census RG9/1201/164
1854 Will & Probate of John Cross. Norfolk Record Office. Probate/GS#0167184/02434. Viewed Norfolk County Council Norfolk Sources http://www.norfolksources.norfolk.gov.uk/DserveNS/dserve.exe?dsqServer=NCC3CL01&dsqIni=dserveProbate.ini&dsqApp=ArchiveNS&dsqCmd=Show.tcl&dsqDb=Catalog&dsqPos=22&dsqSearch=%28%28text%29%3D%27Cross%27%29 Accessed 21.03.2019
Northrepps Parish Registers. Norfolk Record Office PD/707. Also available at FreeReg. https://www.freereg.org.uk/search_queries/5e75fe334325a65af0fb7112?locale=en