I am always pleased to hear from visitors to the website. An email from John Forster from Northamptonshire was no exception.
John came across my article 'Robert Barnard of Great Ellingham Hall'. He told me of the existence of a letter dated July 12th, 1819, addressed to Harriet Barnard at Great Ellingham Hall. The sender was no less than Richard Clarke, her future husband! Clarke wrote from his address at 47 Devonshire Street, London.
The letter appeared in the March 2009 issue of "Stamp Magazine" together with a write-up by Colin Barnard, who, coincidentally, shares the same surname as the recipient of the letter. If Colin researched his family history, I wonder whether he would find a connection to the Barnard family of Great Ellingham Hall?
Colin's write-up is interesting. He points out the difficulties is deciphering the meaning and tone of a letter which was written over 200 years ago. It is clear that the use of language has changed somewhat over the last two centuries.
Richard Clarke's Visits to Great Ellingham Hall
What we do know is that Richard Clarke was a visitor to Great Ellingham Hall in the summer of 1819. Clarke had also visited Shipdham. He may have called back at 'Ellingham' en route to London from Shipdham. He left Great Ellingham to return to London Thursday 1st July.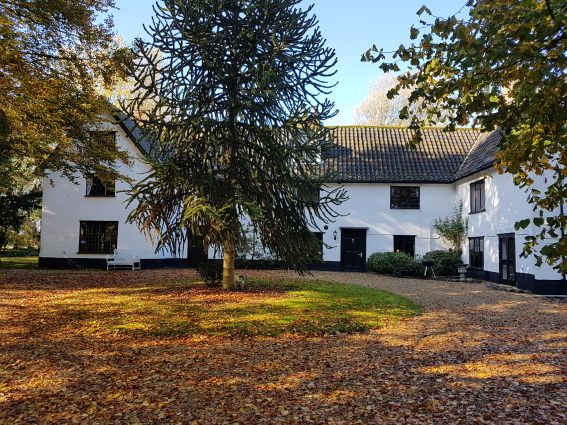 Great Ellingham Hall courtesy of Tracy Knowles. 2020
On leaving for London, it seems that Harriet Barnard had not shown him the same 'emotion' that he had encountered the first time he had arrived at Ellingham Hall. Was this the previous Saturday, which Clarke mentions in his letter, or had Clarke previously visited the family and, if so, in what capacity? What was his connection to the family? Was he in Norfolk on business?
Nevertheless, it appears that Richard Clarke called at Great Ellingham Hall before visiting Shipdham. There seems to have been some lack of communication between the couple just before Clarke left the Hall for Shipdham. This resulted in Harriet allegedly showing agitation towards Clarke when he called back at the Hall before returning to London.
Apparently, Harriet had given Richard Clarke a 'sermon' (i.e. a rebuke or reprimand) for his 'amusement' on the journey back to London. Clarke had torn this into pieces. However, he then put the pieces back together before writing the letter to Harriet.
Whatever happened between Harriet Barnard and Richard Clarke in the summer of 1819, will likely remain a mystery. However, I assume that it was all a 'storm in a teacup' as the couple married three years later!
Richard Clarke & Harriet Barnard
Harriet was the youngest daughter (and the tenth child) of Robert and Frances Barnard (née Catton) of Great Ellingham Hall. She was likely born at the Hall. On the 9th June, 1799, just like her brothers and sisters before her, Harriet was baptised in the Church of St James.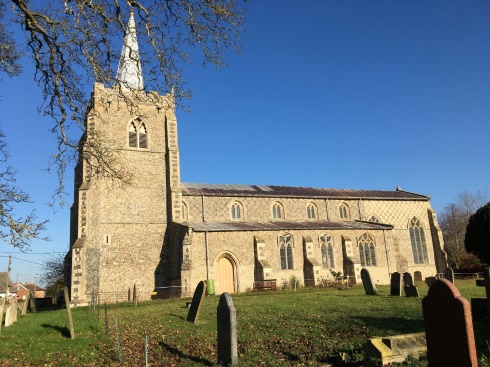 Church of St James, Great Ellingham
On the 15th October, 1822, she married Richard Clarke of Upton-upon-Severn, Worcestershire in the Church of St James, Great Ellingham.
Most marriages took place after banns. However, some marriages were by licence as is the case here. There were several reasons why Richard and Harriet may have chosen to obtain a licence rather than have the banns read out in church. Perhaps there was some haste? It may have been because Richard Clarke's parish was in Worcestershire. Having said that, it may well have been 'to keep up appearances'. A marriage by licence was seen as a status symbol to the 'well-to-do'.
Following the marriage, Richard and Harriet Clarke made their home in Upton-upon-Severn.
Children
The couple had four children who were also baptised in Upon-upon-Severn: Harriet Maria on the 29th March, 1824, Richard Flowerdew on the 12th May, 1826, Robert Barnard on the 16th February, 1828 and Selina Barnard Goodman on the 31st May, 1832. Sadly, Robert Barnard Clarke died shortly after his baptism in 1828.
Richard Clarke dies at 47
Tragically, 47 year old Richard Clarke died on the 13th August, 1834, leaving 35 year old Harriet a widow with three young children. Harriet laid her husband to rest in the churchyard of St Peter & St Paul, Upton-upon-Severn.
Officer with the Hon. East India Company
Notice of Richard Clarke's death was published in the Bath Chronicle & Weekly Gazette as well as the Norwich Mercury. The notices confirmed that Richard Clarke Esq. was for 20 years an Officer in the Hon. East India Company's service (Naval). Although the report in the Norwich Mercury states that Richard Clarke died in his 46th year, the burial register records his age as 47.
Richard Clarke was also an agent for the Guardian Fire & Life Assurance Company.
What Happened to Harriet & her Children after Richard's Death?
Sadly, Harriet's son Richard Flowerdew Clarke died aged 10 years in July 1836, leaving Harriet with two surviving daughters, Harriet Maria and Selina Barnard Goodman.
The 1851 census finds 45 year old widow Harriet Clarke with her 17 year old daughter Selina in Old Street, Upton-upon-Severn. Like her late husband, Harriet is an agent for the Guardian Fire & Life Assurance Company. They have a 42 year old servant.
The same census captures Harriet's 27 year old daughter Harriet Maria (as Maria) as a teacher at a School for Young Ladies in Bury St Edmunds, Suffolk.
By 1861, Harriet and her daughter Selina lived at 3 Manchester Place, Cheltenham. The census describes 60 year old Harriet as 'formerly confectioner'. Selina is working as an artificial florist.
Death of Harriet Clarke
Harriet Clarke née Barnard died in Cheltenham in April, 1863. Her body returned to the town of Upton-upon-Severn where Harriet had made her home following her marriage to Richard Clarke. She was buried in the churchyard of the Parish Church of St Peter & St Paul, the same churchyard in which she had laid her husband to rest in 1834.
Daughters Harriet & Selina
The census of 1881 finds 56 year old Harriet M Clarke with her sister, 48 year old Selina B Clarke at 106 London Road, Ipswich. Harriet is a private schoolmistress. Selina is her assistant. The sisters have three pupils and two servants. Harriet and Selina are still together in 1891. They both remained unmarried.
At the age of 75, Harriet Maria Clarke died. Her death was registered in the Ipswich District during the March Quarter of 1900. Selina Barnard Goodman Clarke died aged 73 in 1907. Her death was registered during the December Quarter.
Further Letters?
It seems likely that following their mother's death in 1863, Harriet and Selina came across the letter dated July 12th, 1819 which their father, Richard Clarke, sent to their mother, Harriet Barnard. Were there further letters which their mother also treasured? If so, where are those letters now?
Sources
Barnard, Colin. 2009. 'She loves me not?' Pg. 92-93. Stamp Magazine. March 2009.
Great Ellingham Parish Registers. Norfolk Record Office. PD 609. Also available via https://www.familysearch.org
Upton-upon-Severn Parish Registers.
"England Births and Christenings, 1538-1975", database, FamilySearch (https://familysearch.org/ark:/61903/1:1:J9MT-R7D : 19 September 2020), Richard Flowerdew Clarke, 1826
"England Births and Christenings, 1538-1975", database, FamilySearch (https://familysearch.org/ark:/61903/1:1:N55F-221 : 19 September 2020), Selina Barnard Goodman Clarke, 1832.
"England Births and Christenings, 1538-1975", database, FamilySearch (https://familysearch.org/ark:/61903/1:1:N55F-JZ4 : 19 September 2020), Robert Barnard Clarke, 1828.
"England Births and Christenings, 1538-1975", database, FamilySearch (https://familysearch.org/ark:/61903/1:1:J7RB-DX7 : 19 September 2020), Harriett Clarke, 1824.
Upton upon Severn: St Peter & St Paul: Extract of a Register. Burials. Viewed via FreeReg website. https://www.freereg.org.uk/search_queries/61055c3df493fd0f5206b435?locale=en 31 July 2021
Bath Chronicle and Weekly Gazette. 28th August 1834. Viewed via https://www.britishnewspaperarchive.co.uk 30 July 2021
Norwich Mercury. 23 August 1834. Viewed via https://www.britishnewspaperarchive.co.uk 30 July 2021
Worcester Herald. 3 July 1830. Viewed via https://www.britishnewspaperarchive.co.uk 31 July 2021
1851 census HO107/2043/478, HO107/1792/11
1861 census RG9/1800/116
1881 census RG11/1869/68
1891 census RG12/1466/31
GRO Index. https://www.gro.gov.uk. Also available via FreeBMD. https://www.freebmd.org.uk
https://www.freebmd.org.uk/cgi/information.pl?cite=N%2FRy1ZYXcyastf3mc1vsnA&scan=1
https://www.freebmd.org.uk/cgi/information.pl?cite=c%2BPh0UopM8%2F9nqCxmagraA&scan=1
https://www.archives.norfolk.gov.uk/help-with-your-research/family-history/parishes-and-churches/marriage-licence-bonds accessed 31 July 2021
Thanks to John Forster