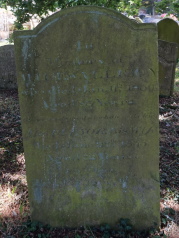 Headstone for Miles Allison and his wife Eleanor in the churchyard of Great Ellingham Parish Church
Baptisms for two children of Miles Allison and his wife Eleanor née Corthorne (Cawthorne) appear in the Great Ellingham Parish Registers. Samuel was baptised on October 18th, 1807 and Miles on January 5th, 1812. Samuel was buried at Great Ellingham on 24th November, 1833 aged 26 years.
The 1841 census captures the couple with sons Miles aged 30 and 15 year old Thomas living in Church Street, Little Ellingham. The family have two servants James Rose and Harriet Houchen.
Ten years later, Miles and Eleanor Allison aged 73 and 68 respectively are living in Ellingham Road, Rockland All Saints. Miles is described as a landed proprietor. The census also tells us that Miles was born in Billingford and his wife at Great Bircham.
Although both Miles and Eleanor are buried in the churchyard at Great Ellingham, they may not have returned to Great Ellingham to live.
The burial entry for Eleanor Allison of July 2, 1855 gives her place of abode as Deopham. Nearly four years later, the burial entry for Miles Allison on January 14th, 1859, gives his place of abode as Hingham.
Sources:
Great Ellingham Parish Registers. Norfolk Record Office PD/609.Also available at FamilySearch.org https://www.familysearch.org/search/image/index?owc=4J8C-CB7%3A29627201%3Fcc%3D1416598
1841 census HO107/785/18
1851 census HO107/1823/154