A reward of £200 was offered by the victim, Mr John Barnard, the Lord of his Majesty's Treasury and the Norwich Union Fire Office following an arson attack at Great Ellingham.
Details of the Fire
It was reported in the edition of the Norfolk Chronicle & Norwich Gazette of Saturday, May 27th, 1832, that about 11 pm on the previous Friday night, a fire was discovered on the premises of Mr John Barnard at Great Ellingham. The fire totally destroyed a barn, shed and a quantity of farming implements.
The previous day, letters threatening to fire premises in the village had been picked up.
£200 Reward and Pardon
A separate Reward Notice was inserted in the same edition of the newspaper offering the £200 reward to 'whoever shall give such information as shall lead to the conviction of the Incendiary or Incendiaries'. There was also a promise of a pardon to any accomplice (except the perpetrator) who gave evidence leading to the conviction of the perpetrator.
The Reward was funded by £50 from John Barnard, £50 by the Norwich Union Fire Office and the balance of £100 by the Lord of his Majesty's Treasury.
Swing Riots
It is possible that this arson attack was connected to the period of unrest leading to riots which affected many country parts of England (including East Anglia) in the late 1820s and early 1830s.
With the introduction of threshing machines to do work which the agricultural labourers had previously carried out (particularly in the winter months), many farm labourers found themselves with no work and no money to buy food, clothes and other essential goods. Unemployment, low wages and some years of poor harvest resulted in hunger, protests and disturbances.
The rioters used the name "Captain Swing", a fictitious name, in the hope of spreading fear amongst landowners – and to hide their real identity. Threatening letters were sent to farmers and landowners which, in some cases, resulted in farm buildings set alight.
Nearby Attleborough was affected by the 'Captain Swing Riots'. Rioting took place over three days and "labourers marched on the workhouse and forced the governor to give them bread and cheese." The protestors destroyed machinery on neighbouring farms and made demands with menaces of money and drinks from householders and anyone else who passed by.
Where Did the Attack take Place?
John Barnard's farm was in Town Green, near to the junction with Penhill Road. The farm later became known as Chestnut Grove.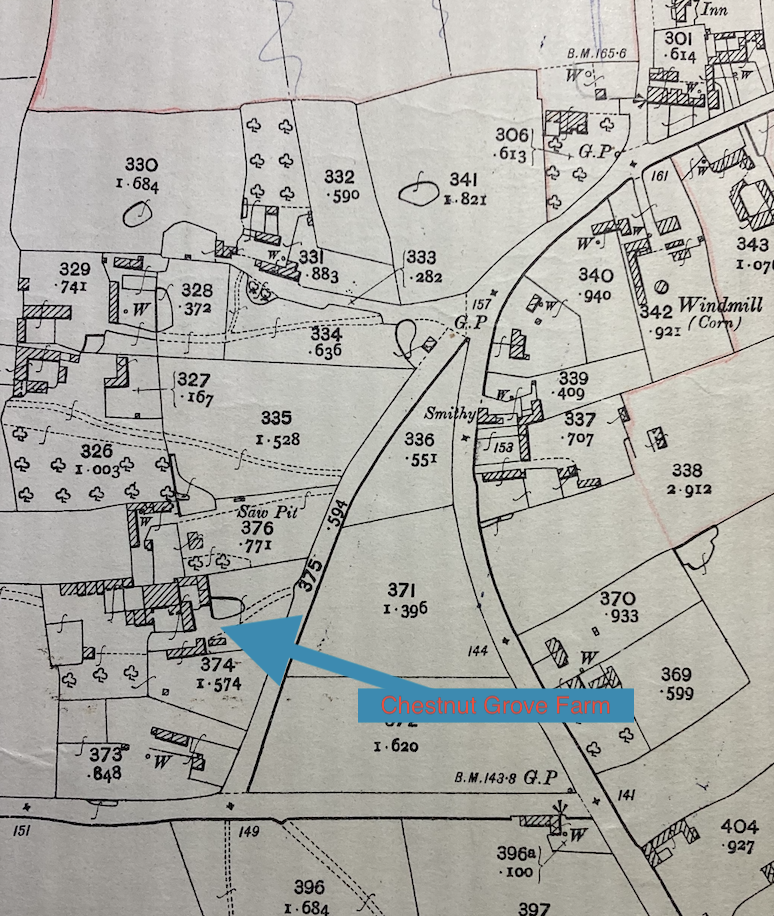 Extract from 1906 Ordnance Survey Map. Second Edition. Surveyed in 1881. Revised 1904.
[Updated 1 February 2023]
Sources:
1841 census HO107/781/8
Norfolk Chronicle & Gazette May 27th, 1832
Great Ellingham Estate Map: estate of John Barnard. 1842. Norfolk Record Office DS 80.
Map of the Estate of John Barnard at Great Ellingham. 1819. Norfolk Record Office MC 2580
National Archives https://www.nationalarchives.gov.uk/education/politics/g5/ Accessed 19/10/2019
Hobsbawm, Eric. Rude, George. 2001. Captain Swing. Phoenix Press, The Orion Publishing Group Ltd., Orion House, 5 Upper St Martin's Lane, London WC2H 9EA. Page 158