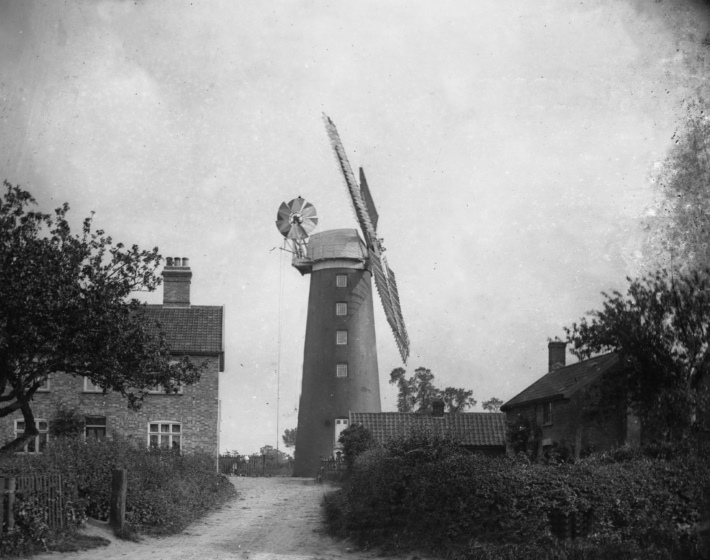 Mill House, Mill and Cottage at Great Ellingham. Photograph courtesy of Attleborough Heritage Group
Purchase
On the 12th October, 1854, Samuel Le Grice purchased a tower windmill and other premises at Great Ellingham from Jeremiah Fielding.
Le Grice paid the sum of £825 for the mill, a nearby messuage with baking office, barns, stables, outbuildings, yards, gardens as well as three cottages with outbuildings and yards, and a piece of land which adjoined the messuage and cottages.
The sale to Le Grice also included all other premises and land owned by Jeremiah Fielding in Great Ellingham. However, I do not know whether Fielding owned any other property in the village. It may be that the lawyers inserted a 'catch all' into the Conveyance document.
I believe Samuel Le Grice purchased the properties as an investment. He did not live in any of the properties.
The above postcard shows the windmill complete with its sails. I am confident that the building to the right of the postcard is one of the cottages which was included in the sale. However, the postcard shows the later Mill House which replaced an earlier thatched dwelling which was partly destroyed by fire in 1904.
Samuel Le Grice
The 1851 census captures 31 year old Samuel Le Grice with his 37 year old wife, Rebecca, living at Church Green, Banham. Foulsham born Samuel is a grocer and draper. Rebecca was born in Ellingham, a village not far from Bungay. The couple were still living in Banham in 1861.
Occupier, Robert Le Grice
The 1861 census finds Samuel's brother, 33 year old Robert Le Grice with his wife and children (Harriot 5, Albert 3, Walter 2 and Herbert 1) in Church Street, Great Ellingham.
Given that Robert's occupation is 'miller', it is reasonable to think that Robert Le Grice was working the mill, and he and his family were living in the main house.
Completing the household is 29 year old Rockland born baker's assistant John Wyer, and 15 year old Caston born servant Hannah Skitmore.
Marriage to Rosina Burrell
Robert Le Grice married Rosina Burrell in 1853. As the children were all born in Great Ellingham, Robert and Rosina Le Grice must have been living in the village from at least c.1855. Perhaps Robert Le Grice was his brother's first tenant of the mill?
Tragically at the age of 32, Rosina Le Grice died. She was buried in the churchyard at St James on the 4th September, 1862.
Assistant Overseer
Robert was a man of 'good standing' in the community. Harrod & Co.'s Directory of 1863 lists Robert Le Grice, junior, as a miller, baker, farmer and assistant overseer.
Marriage to Emma Lebbell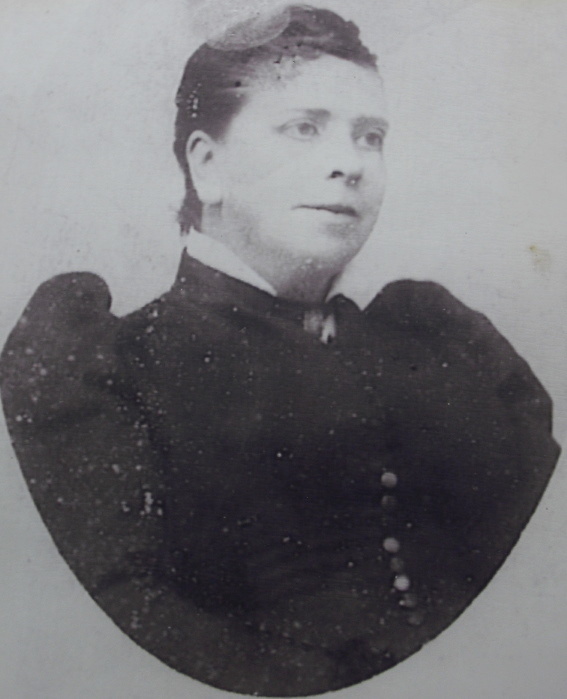 Emma Le Grice née Lebbell. Photograph courtesy of Susan Fay
Four years after Rosina's death, on the 5th July, 1866, in the Parish Church, Great Ellingham, widower Robert Le Grice married spinster Emma Lebbell. Robert was then aged 34 and Emma was 23. She was a daughter of local blacksmith and innkeeper, Robert Lebbell, of the Crown Inn.
By 1871, Robert and Emma Le Grice had moved from Great Ellingham to South Elmham All Saints, Suffolk.
Occupier, George Butler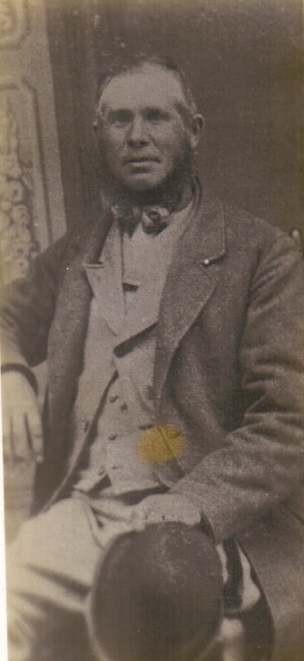 George Butler. Miller & Baker at Post Mill and subsequently at the Tower Mill. Photograph courtesy of Joan Barnard
Samuel Le Grice's next tenant was George Butler. The Butler family had previously been at the post mill in Mill Lane.
1881 census captures 47 year old George Butler at the Mill in Great Ellingham. With George is his 48 year old wife Mary Ann and daughters Emmeline aged 17 and Emma 13. George is described as a corn miller who employed two men. Emmeline is described as an assistant. Perhaps Emmeline is working for her father in the mill or in the baker's shop (baking office). Emma is attending school.
28 year old James Carter and his wife, 27 year old Sarah, are living in the Mill Yard. James is a miller's assistant. Accordingly, he is likely to be working for George Butler. 19 year old general labourer Elijah Fox is boarding with the couple. He too may have been employed by the miller.
George Butler and his family are still at the mill in 1891. Kelly's Directory of 1896 lists George Butler as a miller and baker at the mill.
Occupier, Arthur Kemp
The 1901 census shows 36 year old Little Ellingham born Arthur R Kemp as the miller and baker in Great Ellingham. George Butler is still in Great Ellingham, but his occupation is now a farmer.
With Arthur is his 26 year old wife Henrietta and young sons, Arthur R aged 2 and one year old Albert. The family have a domestic servant: 15 year old Florence Rivett. By 1904, the Kemp family had moved on.
1902 Auction
After owning the property for nearly 50 years, Samuel Le Grice put his windmill up for auction in May 1902. The dwelling house, baking house, stable, granary, outbuildings, cottage and land were also included in the sale.
Assuming that the auction did go ahead at the Royal Hotel in Attleborough on the 15th May, 1902, I do not believe the property sold. It may, of course, have been withdrawn prior to the auction.
1904 Fire at Mill House
At the beginning of August 1904, a fire in the thatched roof of the clay lump Mill House (which had a combined baking office), resulted in the partial destruction of the property.
Kelly's Directory of 1904, lists Lewis Storey as the miller at the windmill in Great Ellingham at this time.
1904 Conveyance of Land to Samuel Le Grice Jnr
Around three weeks after the fire, Samuel Le Grice, described as a gentleman of Attleborough, gifted a piece of freehold land to his nephew (and namesake), Samuel Le Grice Jnr. Also of Attleborough, Samuel Jnr was a grocer and draper.
Being a gift, no money exchanged hands. The conveyance was made in consideration of the 'natural love and affection' Samuel had for his nephew.
The piece of land was described as "All that piece or parcel of land of him the said Samuel Le Grice (upon which a Messuage Bake Office and other buildings formerly stood) situate lying and being in Great Ellingham…."
It would seem that the thatched roofed Mill House with the baking office and some other buildings were pulled down following the earlier fire.
The same document mentions that George A Hales had been in occupation of the property.
Rebuilding of the Mill House & Baking Office
It was around this time (1904) that Samuel Le Grice's nephew (Samuel Le Grice Jnr) commissioned the rebuilding of the Mill House, which still stands today.
1905 Death of Samuel Le Grice Snr
Samuel Le Grice died on the 26th September, 1905. His wife, Rebecca, had predeceased Samuel. She died on the 15th June, 1891. I do not believe the couple had any children.
Samuel appointed his brother, Charles Le Grice, as his executor.
1906 Conveyance to Samuel Le Grice Jnr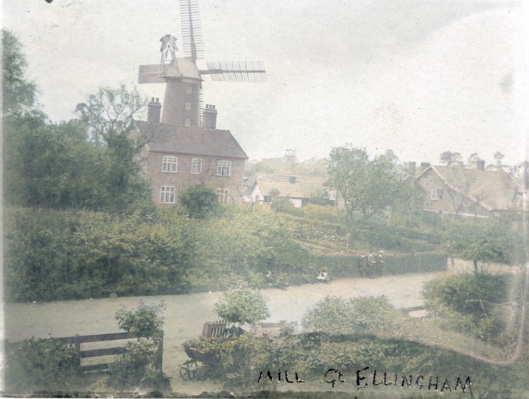 Mill House with the Mill behind. Postcard postmarked 1905
On the 11th October, 1906, Charles Le Grice (as his brother's executor) conveyed the brick tower windmill in Great Ellingham, together with a cottage with garden and well of water, stable, cart shed, granary and a piece of pasture land, to Samuel Le Grice (his son, and the nephew of his brother Samuel Le Grice). Samuel paid the sum of £165 for the property and land.
At that time, the premises were occupied by Hales and Storey.
Samuel Le Grice, the nephew of Samuel Le Grice, now owned the whole of the property and land which his uncle had in 1854 purchased from Jeremiah Fielding.
1906 Samuel Le Grice sells to Josiah Carter
On the 26th October, 1906, Samuel Le Grice Jnr sold all the premises to local farmer Josiah Carter for the price of £507.
The premises comprised the windmill together with cottage, messuage and bake office land, as well as the messuage (Mill House), bake office and other buildings which had recently been built.
Sources:
Great Ellingham Tower Mill. 1854-1906. Transcripts of appointment and release between Jeremiah Fielding of Great Ellingham, Miller and Samuel Le Grice of Banham, Grocer & Draper of a freehold estate in Great Ellingham (12 October 1854), conveyance of freehold land in Great Ellingham from Samuel Le Grice to Samuel Le Grice (junior) in 1904 and abstract of the trustee of sale under the will of Samuel Le Grice (1906). Harry Apling; 1904-1990; historian, author; Essex, Hingham, Norfolk (1904-1990). Norfolk Record Office. Catalogue Ref: C/WT/1/19/50. Harrod & Co's Directory 1863. Norfolk Record Office.
1851 census HO107/1822/78
1861 census RG9/1235/3, RG9/1237/91
1871 census RG10/1774/37
1881 census RG11/1974/91
1891 census RG12/1549/69
1901 census RG13/1867/70
GRO Index. Free BMD website. https://www.freebmd.org.uk/cgi/information.pl?cite=MspPXp8Tkbj%2Fxi2KoSdOFw&scan=1 Accessed 24 March 2021
Great Ellingham Parish Registers. Norfolk Record Office PD609. Also available at www.familysearch.org
Kelly's Directory 1906. Author's own collection
Kelly's Directory 1904. Attleborough Heritage Group. Attleborough Community & Enterprise Centre, Church Street, Attleborough, NR17 2AH
Eastern Daily Press 15th May, 1902
Norfolk News 6th August, 1904