Where was the Post Mill?

Extract from 1802 Map of Great Ellingham. Original held at Norfolk Record Office. Russell James Colman Plans. Cat. Ref. C/Ca 1/84. With kind permission of NRO
The above extract from an 1802 map shows the position of the Post Mill in Mill Lane, Great Ellingham. The map also clearly shows the zig-zag route of 'Crinkle Crankle Lane' to the north of the mill.
The Stackwoods move out and the Butlers move in
Following the departure of miller William Stackwood from the Post Mill, George Butler with his wife and four young daughters moved in.
A master miller, George Butler was born in Repps, Norfolk around 1831. The 1861 census captures George with his wife Mary Ann and two young daughters, two year old Mary Ann and one year old Eliza, at the home of Mary Ann's parents, John and Eliza Pierce, in Forncett St Peter.
From there, George and Mary Ann Butler had a brief spell in Hingham (where their daughter Emmeline Hannah was born in 1864), before arriving in Great Ellingham at the Post Mill prior to the birth of their last child, Emma Sophia, in 1868.
George Butler may well have been the last miller at the Post Mill.
By 1871, the Butler family had left the Mill in Mill Lane, and were at the Tower Mill in Church Street. The 1871 census finds 39 year old master miller with his wife Mary Ann and five daughters, Mary Ann (known as Polly) 12, Eliza 10, Amelia 9, Emmeline 7 and three year old Emma in Church Street. George Butler was a miller and baker for over 30 years.
Mary Ann Butler (neé Pierce) and her husband, George Butler. Photographs courtesy of Joan Barnard (dates unknown)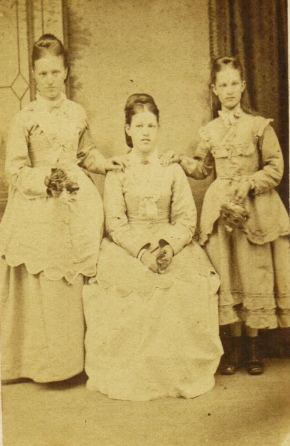 Three of the five daughters of George Butler and his wife Mary Ann. Miller of Great Ellingham. Date unknown. Photograph courtesy of Joan Barnard
George and Mary Ann Butler had five daughters. Sadly, Amelia born in 1861 in Forncett St Peter, died in 1874 aged just 13 years.
Mary Ann (Polly) married William Kybird and settled in Great Ellingham; Eliza married William's brother, James Kybird; Emmeline (known as Ina) did not marry; and the youngest Emma married local farmer, George Downes.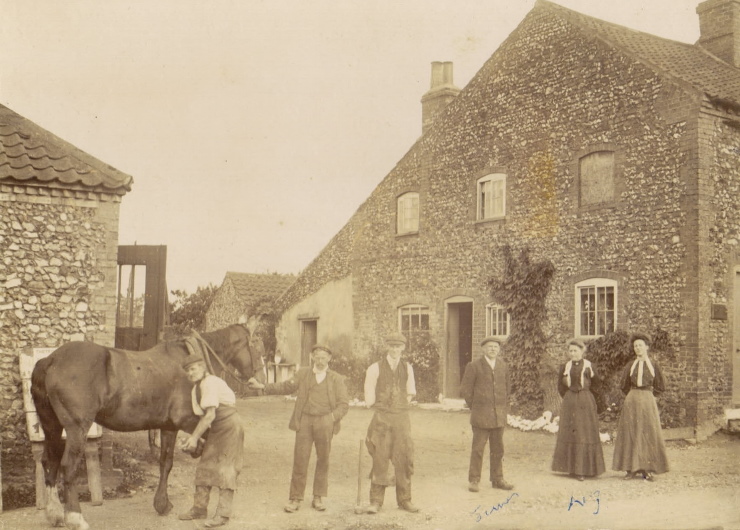 James Kybird and his wife Eliza neé Butler third and second from right (as facing the photograph). Taken outside James's wheelwright's and carpenter's shop at Croxton. Courtesy of Joan Barnard
Sources:
1861 census RG9/1234/33
1871 census RG10/1841/87
1881 census RG11/1974/91
1891 census RG12/1549/69; RG12/1578/103
1901 census RG13/1902/15
GRO Index https://www.gro.gov.uk accessed 9th August 2020
GRO Index via FreeBMD https://www.freebmd.org.uk/cgi/information.pl?cite=nTRcIEg49ZZGd1PoXzBL3w&scan=1 accessed 9th August 2020
1802 Map of Great Ellingham. Norfolk Record Office. Russell James Colman Plans. Cat. Ref. C/Ca 1/84
Thanks to Joan Barnard