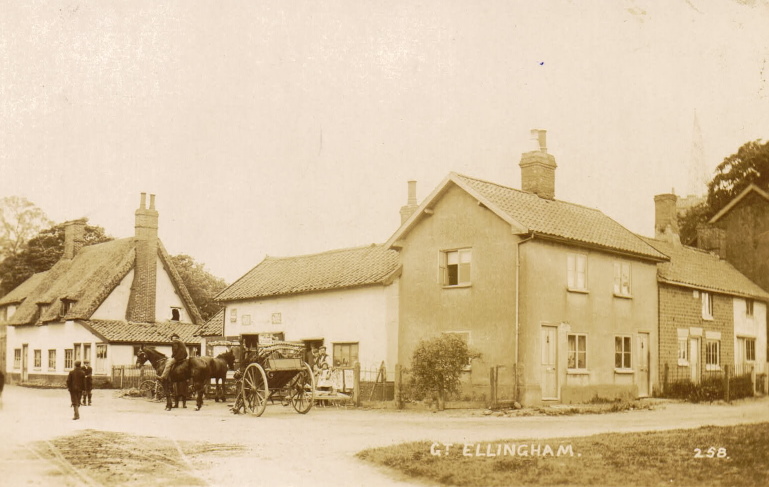 Wheelwright and Carpenters Shop of William Kybird taken before 1939. Postcard Joan Barnard
23 year old wheelwright William Kybird settled in Great Ellingham with his wife Mary Ann (known as Polly) after their marriage in 1880 but before the 1881 census. The census of 1881 shows the couple at the Wheelwright's Shop on the Attleborough Road in the village.
Mary Ann Butler
Although born in Forncett St Peter, William's wife Polly (Mary Ann) had been living with her parents George and Mary Ann Butler in Great Ellingham since around 1868. The 1871 census finds George Butler, a 39 year old miller, with his wife and their five daughters in Church Street.
William Kybird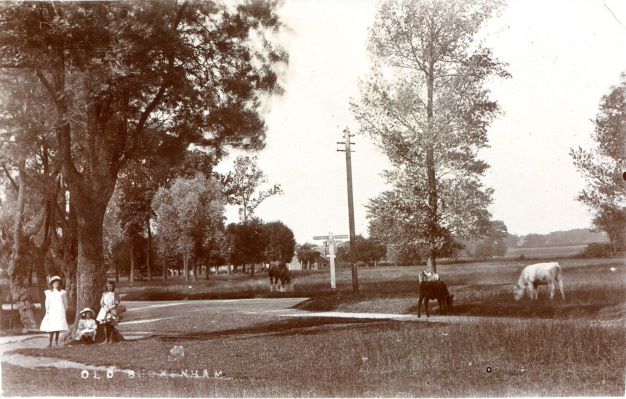 Old Buckenham Green
The son of a wheelwright, William Kybird was born in Old Buckenham in 1857. The 1871 census shows 13 year old William with his parents Robert W and Amelia Kybird, and four brothers James (12), John (10), Joseph (8) and seven month old Richard living in Old Buckenham.
Daughters for William & Polly Kybird
The couple had two daughters: the birth of Edith May was registered between April to June 1882 and Ina Louisa (Ina Louise) registered between January and March 1887.
1891
The 1891 census captures the family in Attleborough Road, Great Ellingham. William is now described as a wheelwright and carpenter. Edith May is listed as "Edith Ann". However I believe this is an error on the census.
1901
Ten years later, the 1901 census shows that William and Polly (Mary Ann) and their 14 year old daughter Ina Louisa (referred to on the census as Louisa) are still at Attleborough Road.
19 year old Edith is captured at the home of her maternal aunt Emma Downes (nèe Butler) and her husband George Downes and children Nellie, William and Sydney at Norrell Farm House (Norrolds Farm), Rockland All Saints. Edith is described as a general domestic servant. Edith also made butter which was then taken to a public house in Scoulton for collection to be taken onto Norwich.
1911
By 1911, both daughters had left home. Edith had married Philip Nurse (marriage registered between January and March 1911) and the couple were living in Scoulton.
Louisa (Ina Louisa) was working for physician James Fielding and his wife Martha as a cook at their ten-roomed property at 18 The Crescent, Norwich.
William and Polly remained living in Attleborough Road, Great Ellingham in a 5 roomed dwelling. The census confirmed that the couple had completed 30 years of marriage.
1925
Kelly's Directory of 1925 lists William Robert Kybird as a wheelwright in Great Ellingham. By then, William would have been around 68 years of age.
Churchwarden
William was a churchwarden for many years at the Church of St James. He was presented with a chair on retiring from the position.
Burials of William & Mary Kybird
Both William and Polly are buried in the churchyard of St James. William was buried on December 11th 1939 aged 82 years and Polly (Mary Ann) on May 29th, 1940 aged 81 years.
Sources:
1871 census RG10/1838/60 RG10/1841/87
1881 census RG11/1974/93
1891 census RG12/1549/80
1901 census RG13/1867/80 RG13/1867/81 RG13/1867/107
1911 census RG14/11473/140 RG14/11489/21 RG14/11323/22
Kelly's Directory 1925
Great Ellingham Parish Registers Norfolk Record Office PD/609
Free BMD Website:
https://www.freebmd.org.uk/cgi/information.pl?cite=%2F225Op2JYeCKORGLttI0hA&scan=1 Accessed 05.09.2019
https://www.freebmd.org.uk/cgi/information.pl?cite=%2BG2hRC3uJClJ76eboX1%2ByA&scan=1 Accessed 04.09.2019
https://www.freebmd.org.uk/cgi/information.pl?cite=swSBBgF6xu80sbXN%2Bjjymw&scan=1 Accessed 04.09.2019
https://www.freebmd.org.uk/cgi/information.pl?cite=%2FJqUK4ykqtj85g28fB8L4w&scan=1 Accessed 05.09.2019
https://www.freebmd.org.uk/cgi/information.pl?cite=eYhJFZo%2FnsEwM4ypKUKrVQ&scan=1 Accessed 05.09.2019
Joan Barnard