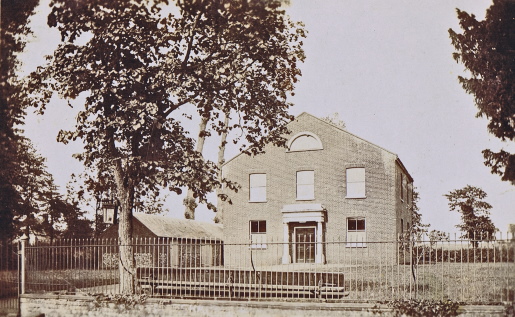 Baptist Chapel, Long Street, Great Ellingham. Courtesy of Attleborough Heritage Group
Wedding Report
The Bury Free Press of Saturday 10th November 1894, reported on a wedding which had taken place at the Baptist Church in Great Ellingham on Wednesday, 31st October.
The marriage of Josiah Carter and Sarah Ann Elizabeth Downes had 'roused an unusual amount of interest' in the village. Both Josiah and Sarah were from well-known Great Ellingham families.
Pastor T H Sparham officiated at the ceremony, which took place just after the parties were conveyed to the Baptist Church at 11.30 am. Sarah, the second daughter of John and Maria Downes, was given away by her brother in law, (named only as 'Mr Melton'), and not her father, John Downes, as tradition would usually dictate.
I have written an account of the later marriage in 1901 of Sarah's sister Annie to Edwin Alfred Clarke where (again) John Downes did not give his daughter away. In fact, the name of John Downes was not mentioned at all in the newspaper report of that marriage.
Wedding Attire
With few photographs appearing in newspapers at that time, reports of weddings usually provide a very detailed account of the wedding attire.
Here, the bride was 'neatly attired' in an emerald green velvet dress trimmed with white silk. Two of the four bridesmaids, Sarah's sister Annie and Josiah's sister Kate, were dressed in pale green 'nun's veiling' with white lace trimming.
The other two bridesmaids, Flora and Gertie Downes of Rockland, wore fawn coloured dresses which were trimmed with green velvet.
The bride and her four bridesmaids all carried 'elegant bouquets'. Josiah chose his brother, John Carter (then of Thetford), to be his best man.
Family travelled from Dublin
The bridal party was said to comprise of relatives and friends of both Josiah and Sarah. Particular mention was given to the attendance of Mr and Mrs Melton of Dublin, Ireland, Mr and Mrs Tufts, of Scoulton, and Mr and Mrs Websdale of Hingham.
Wedding Feast at John Downes' Granary
The wedding feast was served in the spacious granary belonging to Sarah's father, John Downes, which was 'scrupulously made comfortable for the occasion'.
Celebrations continued into the evening when some 60 to 70 guests attended, with the Great Ellingham Brass Band providing some of the entertainment which continued into the early hours. The Downes family lived at Chestnut Farm at Town Green.
Wedding Gifts
It was also reported that the bride received many presents, some of which 'were expensive and handsome all testifying to the high esteem in which she was deservedly held'.
The Couple's Home in Town Green
Just over 6 years after the marriage, the 1901 census captures the couple living in Town Green, Great Ellingham, near to Sarah's parents, John and Maria Downes.
Aged 34 and 28 respectively, Josiah and Sarah have a two year old son, Harold. The family also have a domestic servant – 13 year old Griston born Alice Crane.
Josiah likely purchased the property in Town Green in September 1899. Confirmation of the sales of various local properties which took place at the Royal Hotel, Norwich on the 16th September, 1899, appeared in the Eastern Evening News on the following Monday.
Lot 11 described as "the dealer's small occupation farm at Great Ellingham containing 28a 0r 3p" was purchased by Josiah Carter at the price of £500.
By 1911, Josiah with his wife Sarah and two sons, Harold and Russell, had moved to the Mill House, Great Ellingham.
Sources:
Bury Free Press 10th November, 1894. Viewed via British Newspaper Archive website www.britishnewspaperarchive.co.uk 17 December 2020
1901 census RG13/1867/69
1911 census RG14/11473/120
Eastern Evening News 18th September 1899. Viewed via British Newspaper Archive website www.britishnewspaperarchive.co.uk 17 December 2020