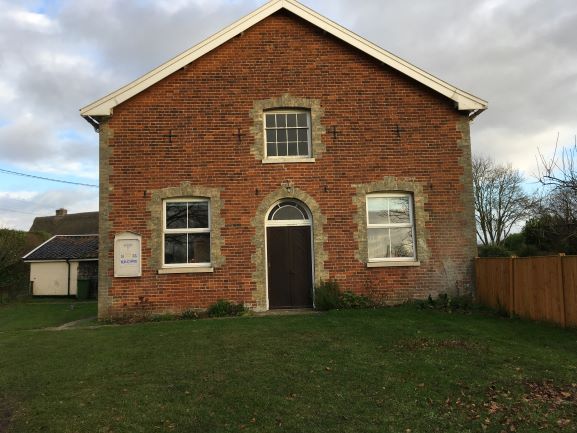 The Primitive Methodist Chapel at Great Ellingham
Marriage
Edwin Alfred Clarke of Deopham and Annie Elizabeth Downes of Great Ellingham married at the Primitive Methodist Chapel at Great Ellingham on Wednesday 18th September 1901.
The Eastern Evening News of the following Saturday, reported that it was a "pretty wedding". The bride was "tastefully dressed in cream and carried a shower bouquet of lilies and roses".
The best man was H W Brunton. The bridesmaids were Annie's nieces, Queenie and Else Downes, as well as a Miss J Carter and Annie's cousin referred to as Miss Brunton.
Queenie and Elsie were dressed in white lace frocks with white satin Dutch bonnets. They each carried a basket of flowers. The two other bridesmaids were dressed in blue and wore large black picture hats.
The Bride and Groom received 'numerous and valuable gifts'.
Annie's Father
Whilst the newspaper article mentions Alfred's father as the late Mr Alfred Clarke, the report did not provide the name of Annie's father. Annie was given away by Mr H Futter of Great Yarmouth – not her father.
According to the census returns, Annie was born about 1874 at nearby Rockland All Saints. Her parents were John and Maria Downes both of whom were born in Attleborough. Annie's parents were living at Chestnut Grove, Great Ellingham in 1911.
Was the omission of Annie's father's name from the newspaper report deliberate or merely because the submitter did not know the name of Annie's father? Did Annie's father approve of the marriage?
Annie was around the age of 27 at the time of her marriage and would not have required her father's consent. However, there could well have been a very good explanation as to why John Downes did not give his daughter away. For example, John Downes may have been unwell and Mr Futter stepped in at the last moment to save the day.
The Mr H Futter referred to in the report could have been the Henry Futter, described as a local Methodist Preacher, living at 14 Paget Road, Great Yarmouth in 1891.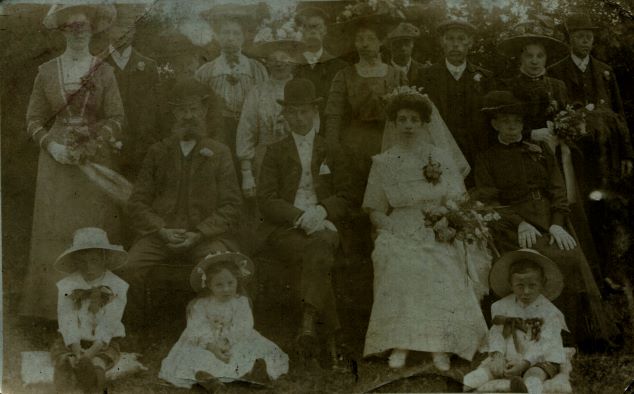 This photograph is thought to be a Wedding at Great Hockham in 1902 of John E Lister & Elizabeth A Atkinson. Although unconnected with the Clarke/Downes families, the photograph gives an example of a wedding group and the fashions of the early 1900s
Sources:
Eastern Evening News September 21st 1901
1911 census RG14/11340, RG14/11473
1901 census RG12/1502/125, RG13/1867/69
1891 census RG12/1549/70, RG12/1502/125