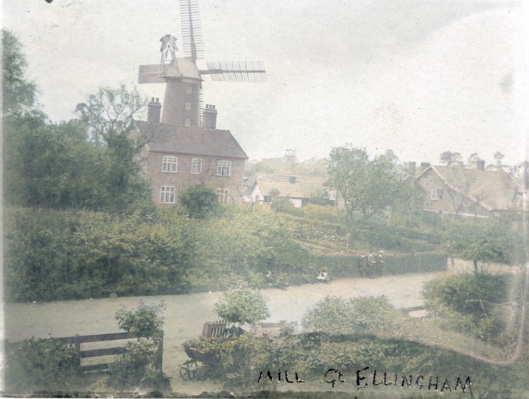 Mill House with the Mill behind. Postcard postmarked 1905.
Newspaper Report
The Norfolk News of Saturday, 6th August 1904, reported on the fire which occurred at the Mill House at Great Ellingham the previous Thursday.
The Mill House, built of clay with a thatched roof with a combined bake-office, was partly destroyed before the arrival of the Fire Brigade from Attleborough. The chimney fell to the ground. However, most of the furniture survived having been removed from the property.
Witness George Lusher
George Lusher, who was working at the property putting a new thatch on the house, raised the alarm having noticed a fire quite close to the chimney of the bake-office. It was thought that the fire was probably caused through a crack and hole in the brickwork of the chimney.
Who was living at the Mill House at the time of the Fire?
Kelly's Directory of 1904 lists Lewis Storey as the miller (wind.) in Great Ellingham. Lewis Storey was not at the Mill at the time of the 1901 census.
The Mill (with the bake-office, dwelling and associated buildings) had been advertised for sale at Auction by Samuel Le Grice two years earlier in 1902.
Lewis Storey & Harriet Rivett
Lewis Storey, a 25 year old single man described as a miller, married 29 year old Harriet Rivett, in Attleborough on February 4th, 1907. Both were living in Attleborough at the time of the marriage.
1911
The census of 1911 captures Lewis and Harriet Storey with their 2 year old son Walter Edward living at 48 Church Street, Cromer. Lewis Storey is described as a fish merchant. Lewis Storey was born in Hasbro (Happisburgh) and his wife, Harriet, in Great Ellingham.
1901
Ten years earlier in 1901, Harriet (then aged 23) was living with her parents Charles and Letitia Rivett and siblings, 25 year old Charles and 20 year old Letitia, at Attleborough Hills (between Attleborough and Great Ellingham).
Both Harriet and her father were baptised at the Church of St James in Great Ellingham.
Sources:
Norfolk News 6th August, 1904
Attleborough Parish Registers Norfolk Record Office PD/438. Transcription available at Norfolk Family History Society https://www.norfolkonlinerecordsearch.co.uk/search/Storey–Lewis/71-attleborough-marriages/69041-04.02.1907/ accessed 18.11.2019
Great Ellingham Parish Registers Norfolk Record Office PD/609
1911 census RG14/11165/1
1901 census RG13/1867/34, RG13/1867/70