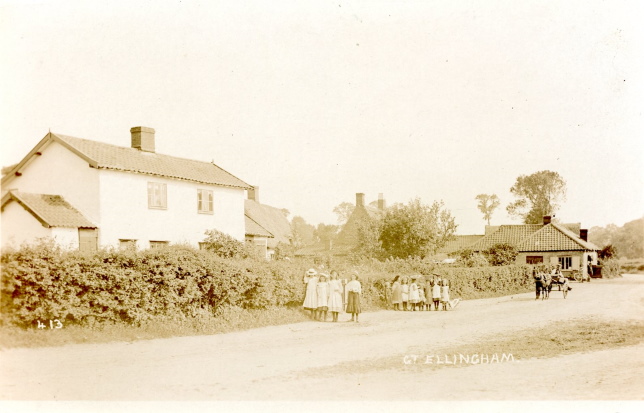 To the far right of the above postcard is William R Lebbell's smithy in Long Street.
1911 census
The 1911 census shows 26 year old William Robert Lebbell with his wife Lily (née Wigby) and their two year old son, Owen William, living in a 5-roomed dwelling in 'the Street', Great Ellingham. Self employed, William is a shoeing and general smith, and wheelwright.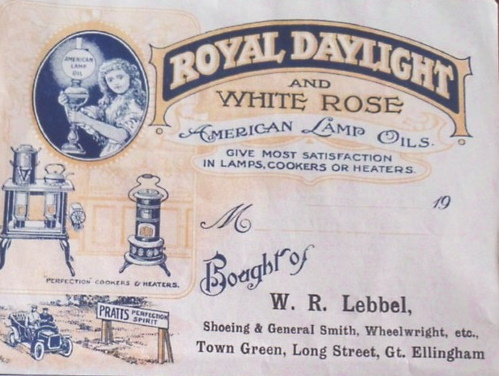 Invoice Head W R Lebbel. Shoeing & General Smith, Wheelwright etc., Town Green. Courtesy of Veronica Jenness & Jimmy Friend
The census states that the family lived in 'the Street'. The above invoice header (undated) shows W R Lebbel at Town Green. William's WW1 service record (1916-1919) mentions his home address as Poplar Farm, Great Ellingham.
William may well have worked at his smithy but lived nearby.
Both the smithy and Poplar Farm are in the road which today we know as being part of Long Street. However, the smithy has now disappeared.
Historical deeds which include the two cottages shown to the left of the above postcard, confirm that at one time 'the Street' included the northern end of of Town Green/Long Street. However, I have not found any evidence to suggest that 'the Street' extended along Long Street to Poplar Farm.
William Lebbell's Early Life
William Robert Lebbell was born on the 18th December, 1884 in Great Ellingham. He was the youngest of three children of Robert Barnard Lebbell and Mary née Mann. His baptism took place in the Church of St James on the 8th February, 1885.
William's two siblings were also baptised in the Parish Church in Great Ellingham. Herbert Barnard Lebbell on the 5th October, 1873 and Mary Elizabeth Lebbell on the 26th September, 1879.
William came from a long line of blacksmiths. His father was local farmer and blacksmith Robert Barnard Lebbell.
William's paternal grandfather, Robert Lebbell, was also a farmer and blacksmith, as well as the landlord of the Chequers Inn, and then of the Crown Public House for over 50 years.
His paternal great grandfather was blacksmith James Lebbell.
1901 census
The 1901 census finds 16 year old farmer's son William R Lebbell with his parents, Robert B and Mary Lebbell in Long Street. William's 21 year old sister, Mary, is carrying out domestic work at home.
William's elder brother, Herbert is living nearby in Long Street with his wife Selena. Following the Lebbell family's trade, Herbert is also working as a self-employed blacksmith.
Marriage
William married Lily Wigby on the 1st January, 1908 in the Parish Church of Great Ellingham.
Lily was born on the 8th March, 1884 in Morley St Botolph. She was the daughter of Obadiah and Louisa Wigby, who at the time of their daughter's marriage, lived at Mill Farmhouse in Great Ellingham.
Children
On the 3rd February, 1909, William and Lily welcomed their first born son, Owen William. Owen was baptised in the Parish Church of St James some six weeks later on the 21st March.
Owen was followed by Dick Robert on the 19th April, 1911, and Louis Frank on May 17th, 1912.
Lily Mary Louise, the only daughter of William and Lily Lebbell, was born on February 6th, 1914. Claud Tom completed the family, arriving on the 3rd May, 1915.
All the children were baptised in the Church of St James.
WW1 Service
At the age of 32, on the 28th June, 1916, William enlisted for First World War service. He was 'called up' on the 30th June, 1917 and posted to the 103rd Training Reserve Battalion. On 23rd November, 1917, William transferred to the 428th Agricultural Company Labour Corps. He was discharged from service in 1919.
Blacksmith, Farmer & Assistant Overseer
Kelly's Directory of 1925 lists William Robert Lebbell as a blacksmith and assistant overseer. I assume this to mean that William had been appointed to deal with the rates and administration for the parish.
Kelly's of 1929 and 1937 lists William's occupation as a farmer.
1939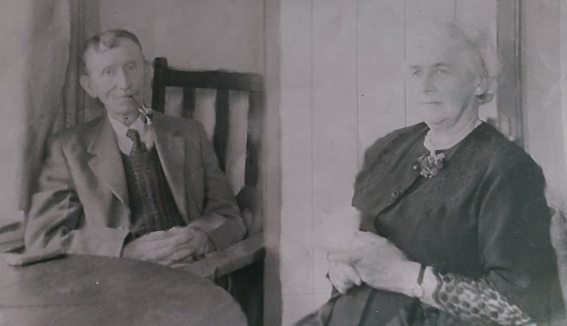 William R Lebbell (1884-1965) & wife Lily née Wigby (1884-1973). Photograph [date unknown] courtesy of Horrie Harvey, a great-grandson
The 1939 Register captures William and Lily Lebbell still living in Long Street, Great Ellingham, with their sons, Dick and Claude.
Sadly eight years later, 36 year old Dick Robert Lebbell was buried in the churchyard at Great Ellingham on June 11th, 1947.
Stonehenge
William Robert Lebbell died on the 9th February, 1965. His widow, Lily, died eight years later on the 17th February, 1973.
Their final home was 'Stonehenge' in Long Street, near to the old smithy. The original house known as 'Stonehenge' and the smithy have since been demolished.
Local History
William Lebbell had an interest in the history of the village.
With Susan Fay (née Lebbell), William produced a booklet 'A Little History of Great Ellingham' which provides invaluable information about the history of the village.
However, I am unclear as to when the booklet was produced. William died in 1965, but there are references in the booklet to the 1970s. I suspect that Susan Fay completed the works after William's death.
My aim is to continue to record the history of our village.
Sources:
1911 census RG14/11473
1901 census RG13/1867/78
Kelly's Directories 1925 & 1937. Attleborough Heritage Group, Attleborough Community & Enterprise Centre, Church Street, Attleborough, NR17 2AH
Kelly's Directory 1929. Norfolk Family History Society, Kirby Hall, 70 St Giles Street, Norwich NR2 1LS
Great Ellingham Parish Registers. Norfolk Record Office PD 609. Also available at www.familysearch.org
England & Wales, National Probate Calendar (Index of Wills and Administrations), 1858-1995.
Viewed via Ancestry.com. England & Wales, National Probate Calendar (Index of Wills and Administrations), 1858-1995 [database on-line]. Provo, UT, USA: Ancestry.com Operations, Inc., 2010. Original data: Principal Probate Registry. Calendar of the Grants of Probate and Letters of Administration made in the Probate Registries of the High Court of Justice in England. London, England
UK, British Army World War I Service Records, 1914-1920. The National Archives; Kew, Surrey, England; War Office: Soldiers' Documents, First World War Wo363. Viewed via Ancestry.com. UK, British Army World War I Service Records, 1914-1920 [database on-line]. Lehi, UT, USA: Ancestry.com Operations Inc, 2008. The National Archives of the UK (TNA): Public Record Office (PRO).
The National Archives; Kew, London, England; 1939 Register; Reference: RG 101/6590H. Viewed via Ancestry.com. 1939 England and Wales Register [database on-line]. Lehi, UT, USA: Ancestry.com Operations, Inc., 2018.