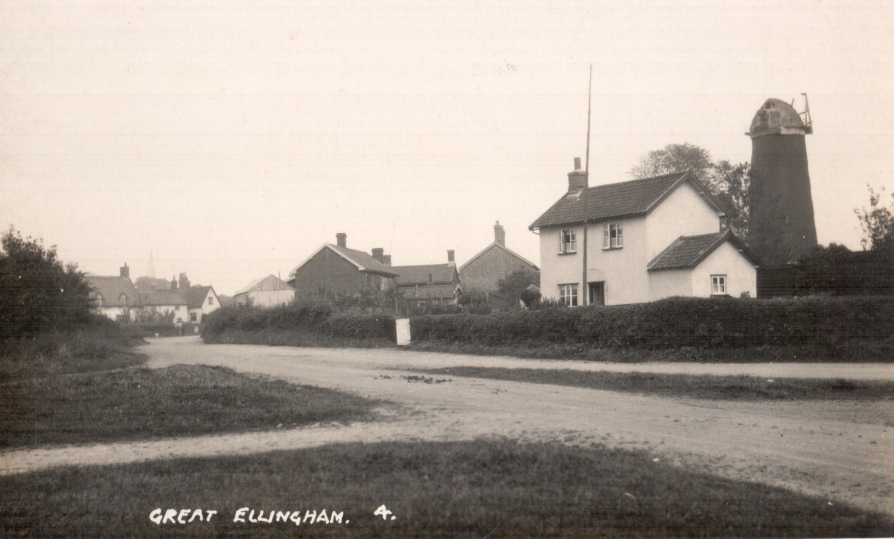 Long Street with Mill in background. Postcard Carol Ewin
1897: Purchase of Three Cottages by James Houchen
By an Indenture (property deed) dated 11th October, 1897 three cottages with gardens and grounds were conveyed to James Houchen of Great Ellingham.
An earlier deed of 1874 and a later deed of 1920, described the cottages as being 'in the street then or late called Churchgate Street'. I believe that Churchgate Street included the northern part of what we know today as Long Street and the part of Long Street near Town Green.
The postcard above shows one of the three cottages purchased by James Houchen. The other two cottages were a neighbouring pair of semi-detached cottages to the south. All three cottages are still standing today albeit that the above cottage has been extended and altered.
Carpenter James Houchen was around the age of 50 when he purchased the properties for £150. The Sellers were the Executors of James Farrow. Farrow was not a local man. On the same day as purchasing the properties, James Houchen mortgaged all three properties to Frederick Oddin Taylor for £100 (two thirds of the purchase price).
James Houchen – 1881 to 1901
The census returns of 1881, 1891 and 1901 show James Houchen and his family living in Long Street. I believe they were living in one of the three cottages which James Houchen purchased in 1897 – most likely the cottage shown in the postcard. I also believe it possible that prior to purchasing the properties, James Houchen was a tenant of the previous owner, James Farrow, who had purchased the properties in 1874 from John and Susannah Dye who, I discovered, were the parents of James Houchen's wife Hannah.
James Houchen – 1871
The 1871 census captures James and Hannah Houchen with their one year old daughter Louisa living with Hannah's great uncle 82 year old John Ayers at Bush Green. Hannah is described as a housekeeper to John Ayers. James Houchen and Hannah Dye had married between January and March 1870.
John & Susannah Dye
The 1871 census also finds Hannah's parents, labourer John Dye and his wife Susannah (both aged 48) with seven children possibly living in Long Street. Again, quite likely the same cottage which was later occupied by their daughter Hannah and her husband James Houchen and which James Houchen later purchased.
Ten years earlier (1861), the census shows the Dye family in Long Street. John Dye (then aged 38) was said to be a farmer of 40 acres. Hannah Dye (then aged 11) was at that time lodging with her great uncle John Ayers and his wife Susannah in 'Stolling Common' (near Bush Green).
Property deeds confirm that Hannah Dye's parents, John and Susannah Dye once owned the three cottages in Long Street which Hannah's husband James Houchen purchased in 1897.
An Indenture dated 17th October 1874, conveyed the three cottages from John Dye and his wife Susannah to James Farrow and John Odin Howard Taylor (whom I believe was a lender). Given that the 1861 census shows John Dye to be a farmer of 40 acres and ten years later the census shows John Dye to be a labourer, I wonder whether John Dye found himself in financial difficulties which meant he had no choice but to sell the three cottages. However, it does appear that Susannah Dye inherited land and property in Great Ellingham, Little Ellingham and Rockland (which may well include a property a Bush Green), on the death of her Uncle John Ayres in October 1871.
The 1881 census finds John and Susannah Dye with six children and a grandson living in Bush Green. Their daugher Hannah with husband James Houchen had moved from the home of John Ayers in Bush Green to Long Street. As mentioned, I think it quite possible that James and Hannah Houchen moved into one of the three cottages which Hannah's father had sold to James Farrow and which later, in 1897, James Houchen purchased from James Farrow.
James Houchen – 1911
By 1911, James Houchen was a self-employed carpenter. The census of that year shows James Houchen now aged 64 and his 61 year old wife Hannah living in a six-roomed dwelling in Long Street. Granddaughter, nine year old Gladys Lebbell, is with her grandparents. The census also tells us that James and Hannah had completed 40 years of marriage and that they had had four children all of whom were still living.
Houchen Children
The GRO Index shows birth registrations in the Wayland District for the four children of James and Hannah Houchen as follows: 1870 between January and March Jane Louisa (Louise), 1872 between October and December Selina Hannah and Alfred James (twins), 1874 April to June Adah Alice (Ada).
James Houchen's Parents
Born around 1847 in Great Ellingham, James Houchen was a son of Francis and Matilda Houchen.
Last Will & Testament and Death of James Houchen
James Houchen signed his last Will and Testament on January 6th, 1910. In the Will, he appointed his wife Hannah, his son Alfred and his son in law Hashibiah Harding Kemp as his Executors and Trustees. James provided that after his death, Hannah could have the use of all of his real estate (including the cottages) for life or until she should remarry.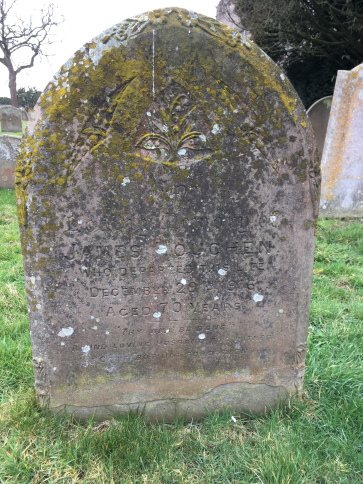 James Houchen died on the 29th December 1916 and was buried in the churchyard at St James on January 3rd, 1917. It is not clear how long Hannah remained living in Great Ellingham after James's death. However, by 1920 Hannah had moved to Gallows Hill in Sudbury. The three properties in Long Street were then sold by the Executors of James Houchen (including his widow Hannah) to local man, Maurice Pilgrim.
Updated 01 January 2021
Sources:
Private Deeds and Documents: Butler Family
GRO Index https://www.gro.gov.uk/gro/content/certificates/contact_us.asp
Photographs of the cottage in Long Street courtesy of the Butler Family
Great Ellingham Parish Registers. Norfolk Record Office PD/609
1911 census RG14/11473/90
1901 census RG13/1867/69
1891 census RG12/1549/78
1881 census RG11/1974/91, RG11/1974/95
1871 census RG10/1841/83, RG10/1841/94
1861 census RG9/1237/97, RG9, 1237/94
Free BMD website https://www.freebmd.org.uk/cgi/information.pl?cite=2LnNtlvkpgSGaiDTz3BAaQ&scan=1 accessed 04.12.2019
Will of John Ayres dated 23rd August 1871. Obtained via https://probatesearch.service.gov.uk/#wills