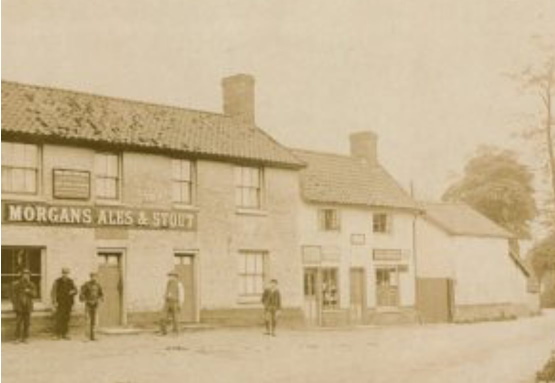 Crown Inn with adjoining shops. Postcard courtesy of Carol Ewin
An' Old Correspondent' of Great Ellingham sent a letter to the Editor of the Eastern Evening News which was subsequently published in the newspaper dated 13 February 1885.
The 'Old Correspondent' reported the death of Mr Robert Lebbell, the landlord of the Crown Inn for nearly 50 years saying that "he (Robert Lebbell) kept the house with credit to himself and the village". He (or she) also trusted that "his successor may be as fortunate."
Norfolk Pubs website record that Charles William Barnard was Robert Lebbell's successor as landlord and that Charles Barnard was at the Crown until 1896.
Accordingly, Charles Barnard was landlord for a mere 11 years compared to the 50 years of Robert Lebbell.
The 1891 census shows Charles Barnard living at the Crown Inn, Great Ellingham with his wife Harriet and daughter Fanny. Charles is described as an Innkeeper and bricklayer. His 27 year old nephew Barham L Houchin (described as a waiter) is also with the Barnard family at the Crown. Whilst Charles, his wife and daughter were all born in Great Ellingham, nephew Barham was born in Mile End London.
By 1901, Charles Barnard had left the Crown Inn. The census of that year finds Charles (described as a bricklayer) with Harriet and Fanny living in Long Street.
Charles and Harriett Barnard were still living in the Long Street area (in a three roomed dwelling in Town Green) in 1911. Charles was still working as a self-employed bricklayer. The couple were fortunate to have completed 45 years of marriage with both their two children still living.
By the way, did you know that the Crown was once known as "the Bell and "the Rose & Crown"?
Sources
Eastern Evening News 13 February 1885
http://www.norfolkpubs.co.uk
1891 census RG12; Piece: 1549; Folio: 79A; Page: 6
1901 census RG13; Piece: 1867; Folio: 79; Page: 4
1911 census RG14; Piece: 11473; Schedule Number: 105