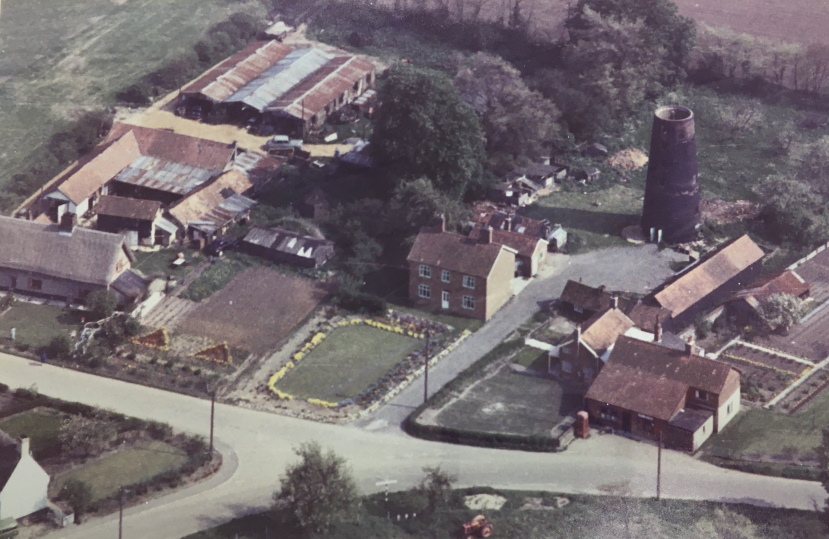 1965. Mill Farm to the left of the photograph. Courtesy of Angela Crocker
Funeral and Burial of Mrs Louisa Wigby
Two days after Louisa Wigby was buried in the churchyard at St James, Great Ellingham on January 16th, 1939, a report of the funeral appeared in the Eastern Daily Press.
The funeral service, conducted by the Reverend R M Boys, was well attended by family, friends and villagers. The Reverend Boys also accompanied the hymns, 'Peace Perfect Peace" and 'Abide with Me'.
The report mentioned that Louisa Wigby was the wife of Obadiah Wigby, and that together they had twelve children (ten of whom survived Louisa), 37 grandchildren and 14 great-grandchildren.
Mill Farm
Kelly's Directory of 1925 lists Obadiah Wigby as a farmer at Mill Farm, Great Ellingham.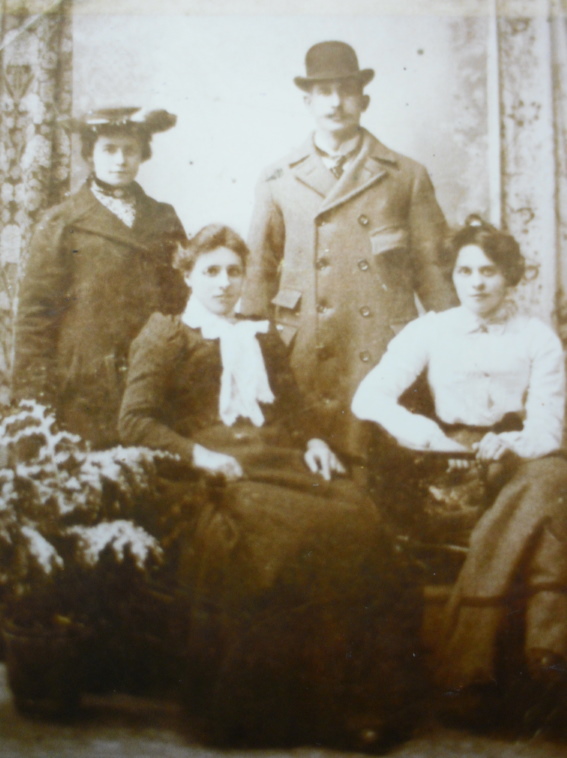 Dec 1908-Jan 1909. Left to right, Lily Lebbell née Wigby, Louisa Wigby, Obadiah Wigby, and Ada Jude née Wigby. Courtesy of Sue Fay
The 1911 census captures 50 year old farmer, Obadiah Wigby with his wife Louisa (also 50) in the Street, Great Ellingham. Although the census does not specifically say, the Wigby family were probably then at Mill Farm.
With the couple are six of their children Frank 20, Flora 13, May 11, Edward 6 and two month old John. James, Frank and Flora were said to be working for their father on the farm. The two younger children, Edward and John, were born in Great Ellingham. James was born in Wicklewood and the other children born in Morley (St Peter), where the family were living at the time of the 1901 census.
Homes in Besthorpe, Wicklewood and Morley St Peter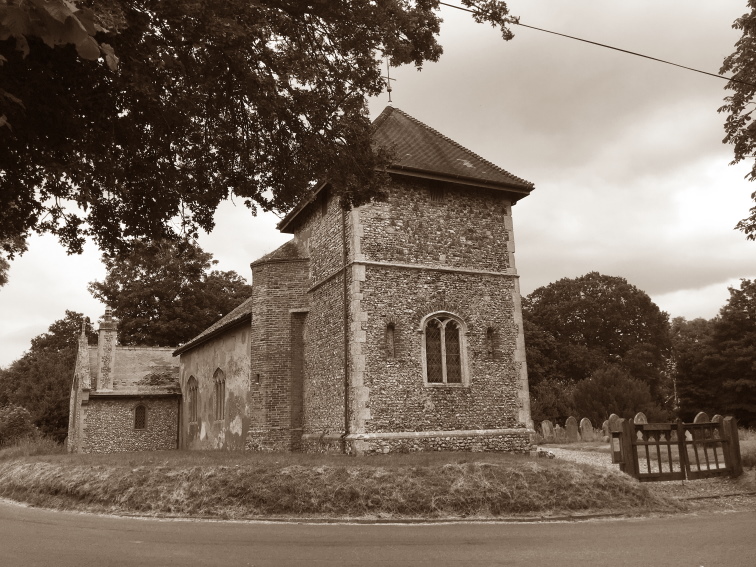 Morley St Peter. Photograph taken July 2021
The son of James and Mary Ann Wigby, Obadiah was baptised at the parish church of Morley St Peter on the 1st November, 1865. At the age of 21, Obadiah, then a carpenter by trade, married 19 year old Louisa Castleton in nearby Besthorpe on the 10th June, 1880.
Following the marriage, the couple made their home in Besthorpe. The 1881 census finds Obadiah Wigby, described as a wheelwright, with his wife Louisa at a cottage in Turnpike Road.
Ten years later, Obadiah and Louisa are living in Wicklewood. Then aged 32, Obadiah is described as a wheelwright and dealer. He and Louisa have 6 children – Ada aged 10 born in Besthorpe, Ellen 8, Lilly 7, Mabel 5 and Gertrude 2 all born in Morley St Botolph, and newborn son James born in Wicklewood, said to be under one month.
By 1895, the Wigby family had moved to Morley St Peter. The 1901 census lists the Wigby family as 41 year old farmer and dealer Obadiah Wigby, wife Louisa and children Mabel 15, Gertrude 12, James 10, Kate 9, Frank 6 and three year old Flora.
By 1904, the family had moved to Great Ellingham.
Burial of Obadiah Wigby
Obadiah Wigby outlived his wife by around 5 years. He was buried in the churchyard at St James on April 3rd, 1944.
Sources:
Eastern Daily Press. 18th January 1939. Viewed via localrecall.co.uk 10th August 2020
Morley St Peter Parish Registers. Norfolk Record Office. PD/3. Transcript of Morley St Peter Baptisms 1813-1902. Norfolk Family History Society. https://www.norfolkfhs.org.uk/ Accessed 17th August 2020
Besthorpe Parish Registers. Norfolk Record Office. PD/309. Transcript of Besthorpe Marriages 1559-1930. Norfolk Family History Society. https://www.norfolkfhs.org.uk/ Accessed 17th August 2020
Great Ellingham Parish Registers. Norfolk Record Office. PD/609
1881 census RG11/1974/74
1891 census RG12/1534/17
1901 census RG13/1850/78
1911 census RG14/11473/121
1925 Kelly's Directory. Attleborough Heritage Group. Attleborough Community & Enterprise Centre, Church Street, Attleborough, NR17 2AH