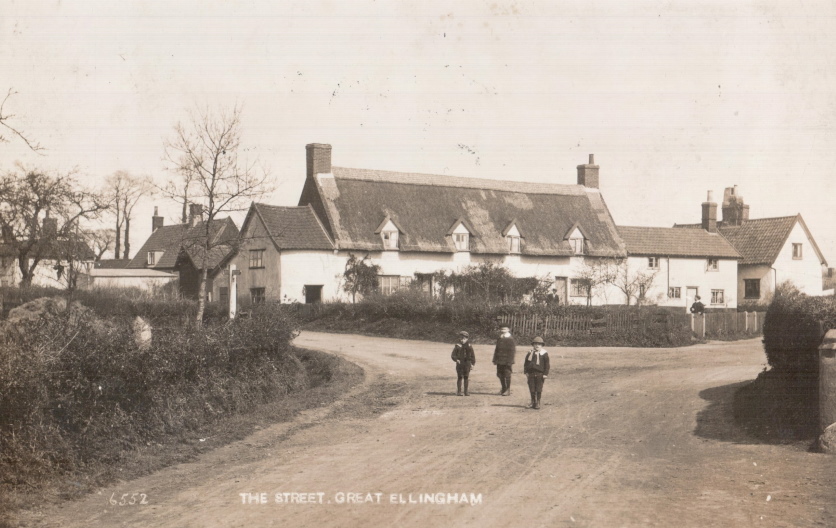 Semi-detached cottages (once referred to as the 'Messuage built upon the tenement Greenhouse') with adjoining cottages on the right. Corner of Chequers Lane/Long Street & Church Street. Postcard courtesy Carol Ewin
The Story of the Owners and Occupiers of the House
In Parts I, II and III, I have taken the history of this delightful thatched house (now semi-detached cottages) in Great Ellingham from the early 1700s to 1868. In the 18th century, a pair of cottages were erected onto the eastern wall of the thatched house. Accordingly, the later history will include these cottages.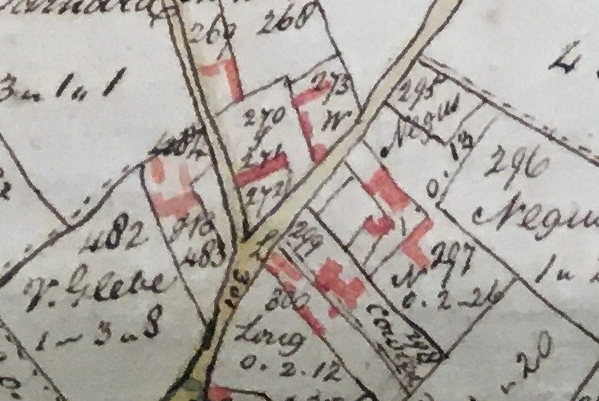 Extract from 1802 Map of Great Ellingham. Original held at Norfolk Record Office. Russell James Colman Plans. Cat. Ref. C/Ca 1/84. With kind permission of NRO
The thatched house is shown by a shaded red rectangle between numbers 271 and 272 on the above extract of an 1802 map. Given that the map indicates that the building is some way from the eastern boundary of the property, it follows that the adjoining two cottages did not exist at that time.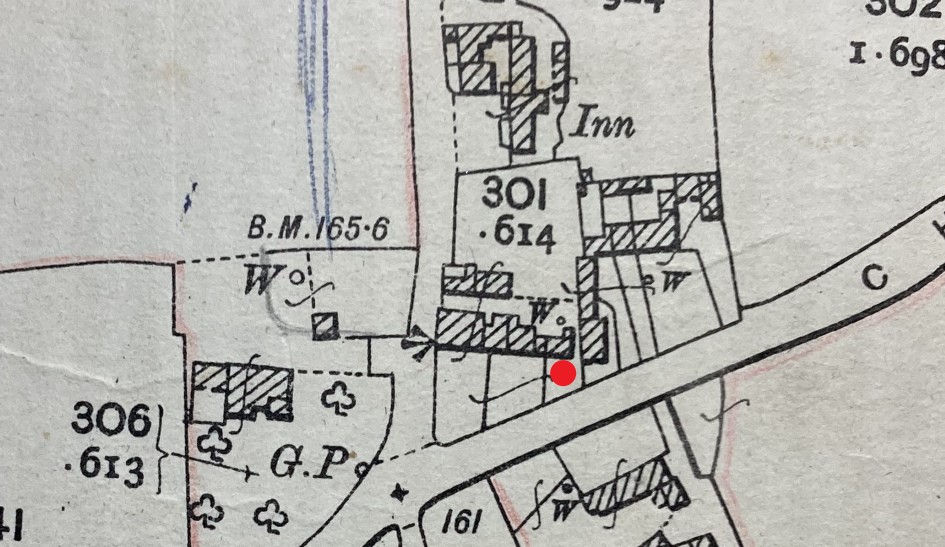 Extract from 1906 Ordnance Survey Map. Second Edition. Surveyed in 1881. Author's Collection
The above extract from a 1906 map shows the cottages (indicated by a red dot) abutting the eastern side of the house. These cottages were built within the boundaries of the land surrounding the original house. Given that the 1906 map was produced from a survey carried out in 1881, it follows that the additional cottages were built by 1881.
Copyhold
Until 1861, the thatched house was copyhold of the Manor of Buckenham Close Outsoken. Accordingly, every transaction concerning the ownership of the property is recorded in the Court Books. Further, the Court Books contain a fairly consistent description of the property i.e. "all that one rood of land with a messuage thereupon built of the tenement Greenhouse lying and being in Great Ellingham …".
Enfranchisement
Following the enfranchisement of the copyhold tenure, the property became freehold. Accordingly, no further entries concerning the property appear in the Manor Court Books. Therefore, the only way to discover the owners and occupiers of the property after 1861 is to view the freehold deeds. This is exactly what I have been able to do!
Moving Forward
In this blog, we take the property forward from the tenure of Sarah Ellis in 1868 to 1907, when Harry Edward Leonard Smith became the new owner of the property.
Owner Sarah Ellis
Conveyance
Widow 71 year old Sarah Ellis of Haw Common, Richmond, Surrey, purchased the following described property for the price of £215 at an auction in Attleburgh (Attleborough) on the 13th August, 1868.
'ALL THAT one rood of land with a Messuage thereupon built of the tenement Greenhouse lying and being in Great Ellingham  between the Queens Highway leading to Gatesend on the part of the West and a tenement formerly of George Nicholson and now of ___________ on the part of the East and abutteth upon the land late of the said George Nicholson and now of _________ towards the North and upon lands late parcel of the common pasture of Great Ellingham towards the South ....'
The 1868 Conveyance Deed also goes on to say:
'....and which Messuage is now divided into four cottages and are in the several occupations of William Mallows, Robert Dawes, ____ Lebbell and _____ ...'
Amelia Rose (a widow) was the fourth occupier of the cottages. She died just weeks before the auction and, accordingly, her name is not included in the final Conveyance Deed.
Given that the 1868 Conveyance Deed refers to four cottages, it is possible that the two additional cottages abutting the eastern side were in existence at this time.
Rentcharge
The whole property was subject to an annual rentcharge of £1 4s 9d to the Lord of the Manor of Buckenham Close Outsoken. This rentcharge was imposed on the enfranchisement of the property in 1861.
Investment
I have no doubt that Sarah Ellis purchased the property as an investment and, accordingly, the cottages continued to be occupied by tenants. Did Sarah Ellis have any prior connection to Great Ellingham – or Norfolk?
Clergyman's Widow
The 1871 census captures 74 year old Sarah Ellis, described as a clergyman's widow, living in Haw Common, Surrey. Apart from her general servant, 28 year old Besthorpe born Emma Palmer, Sarah Ellis is living alone.
At that time, Sarah's 46 year old son, Carteret George Ellis, is living in Attleborough.
Death of Sarah Ellis
Sarah Ellis owned the property for just over 12 years before she died in Attleborough on the 16th February, 1881. I think it reasonable to think that Sarah was living with her son Carteret at the time of her death. After all, Carteret George Ellis was a general practitioner and surgeon.
Following her death, the body of Sarah Ellis was transported to Thames Ditton, Surrey. The burial took place at St Nicholas, Thames Ditton on February 23rd, 1881.
Carteret George Ellis
Carteret Ellis inherited his mother's property in Great Ellingham. The cottages continued to be tenanted during his ownership.
Early Life
The son of clergyman William Ellis and his wife Sarah, Carteret George Ellis was born around 1825 in Thames Ditton, Surrey. William Ellis officiated at his son's baptism in the parish church of St Mary Thames Ditton on the 22nd August, 1825.
Marriage to Emma Martha Cooke
In 1843, Carteret married Emma Martha Cooke. By 1851 (and then aged 26), Carteret was working as a general practitioner in Kingston upon Thames, Surrey. He was also a Member of the Royal College of Surgeons of England.
Between 1851 and 1861, Carteret and Emma Ellis arrived in Attleborough. The census of 1861 captures 36 year old Carteret G Ellis with his 39 year old Garboldisham born wife Emma Martha in Market Street, Attleborough. The couple have two servants – married couple, William and Louisa Boddle. 32 year old Charlotte Dean is boarding with the household.
Where is Emma Martha Ellis?
Ten years later, the 1871 census finds Carteret Ellis still practising as a general practitioner in the Street, Attleborough. However, Carteret's wife Emma is not listed in her husband's household.
The household comprises 46 year old Carteret G Ellis, 27 year old housekeeper Sophia J Beart, Carteret's assistant, 28 year old George Guthrie and three servants.
Where was Emma? Was it just by coincidence that Emma Ellis was elsewhere on the respective census nights of 1871 and 1881? Alternatively, is Emma in an institution, or, did the couple just agree to live apart?
Emma Martha Ellis does not appear on a census with her husband again until 1891.
Bigamous Marriage in London
Further, I believe that Carteret George Ellis entered into a bigamous marriage with his housekeeper.
A marriage between Carteret George Ellis and Sophia Jane Beart took place in the Parish Church of St Dunstan's West in the city of London on March 22nd, 1865.
The entry in the marriage register states that Carteret Ellis is a widower and a surgeon of Fleet Street. His father's name is stated to be William Ellis, clergyman. Sophia Jane Beart is described as a spinster and, at the time of the marriage, is said to be living in Hockham (Norfolk). Her father is Robert Gates Beart, gentleman.
Given the details provided by the entry in the marriage register, I have no doubt that this couple is the same Carteret George Ellis and Sophia Jane Beart who are in Attleborough in 1871.
Marriage by Licence
With the marriage being bigamous, it is no wonder that the marriage took place well away from Norfolk. For obvious reasons, Carteret and Sophia would have wanted to keep the marriage quiet for fear of being 'found out'. Bigamy was unlawful, and the offence carried a prison term of up to 7 years.
Unsurprisingly, the marriage was by way of a licence, which dispensed with the reading of the banns. However, when applying for the licence, Carteret must have misinformed the authorities with regard to his status i.e. by stating he was a widower when, in fact, he was not.
Although I do not know the whereabouts of Carteret's wife Emma at the time of the bigamous marriage, I am certain that Emma was still alive, as she appears back living with Carteret some years later.
What prompted a seemingly respected surgeon Carteret Ellis to enter into a bigamous marriage with his housekeeper? Did either Carteret or Sophia have 'a hold' over the other?
Back in Attleborough
In any event, six years after the 'marriage' in London, the 1871 census captures Carteret Ellis and Sophia Beart in the same household in Attleborough. Sophia is using her maiden name 'Beart' and the census describes her as unmarried and a housekeeper.
Perhaps on reflection, the couple regretted the bigamous marriage!
1881 census
Just weeks after his mother's death, the 1881 census captures 55 year old Carteret Ellis in Lebbell (Levell) Street, Attleborough. Carteret is described as 'married'. However, his wife Emma Martha Ellis is, again, not listed with him.
Further, Carteret's housekeeper Sophia Jane Beart has married Carteret's assistant surgeon. Robert James Horn and his wife Sophia Jane Horn are living with Carteret Ellis as boarders. Was there any coercion by Carteret Ellis for this marriage to take place?
8 year old Alice Mary Beart and 6 year old Walter A Beart (also described as boarders), and 21 year old general servant Great Ellingham born Angelina Wright complete the Ellis household.
1891 census
The 1891 census finds 65 year old Carteret G Ellis and his 63 year old wife Emma living at Halford House in Attleborough. Carteret is still working as a general practitioner.
Given that Emma has not been captured with Carteret on a census since 1861, where has Emma been for the last thirty years?
The couple have a housekeeper, 33 year old Clara M Harvey and three servants, including 22 year old domestic cook Sarah A West. Carteret also has a medical assistant, 38 year old G.P. Edward J Burgess. Two visitors, Tom and Emma Land complete the household.
1901 census
Now in their seventies, the census of 1901 finds Carteret and Emma Ellis still living at Halford House in Attleborough.
Death of Wife Emma Martha Ellis
Emma Ellis died in Attleborough (presumably at Halford House) at the beginning of 1906. Like her mother-in-law Sarah Ellis, Emma Martha Ellis was taken to Thames Ditton for burial.
Conveyance to Sarah Ann West
Later that year, Carteret G Ellis conveyed his late mother's property in Great Ellingham to Sarah Ann West of Attleborough. Given that the property now comprised five cottages, this includes the two cottages built onto the eastern wall of the original messuage.
However, this transfer of ownership to Sarah Ann West is another puzzle!
Sarah Ann West
By a Conveyance Deed of the 26th November, 1906, Carteret G Ellis Esquire, a surgeon of Attleborough conveyed five freehold cottages and land situate in Great Ellingham to Miss Sarah Ann West, a spinster also of Attleborough. However, the Deed makes no reference to a purchase price.
Who was Sarah Ann West and did she occupy part or all of the property?
I wonder whether the Sarah Ann West who became the owner of the five freehold cottages in Great Ellingham in 1906 and the 22 year old Sarah Ann West who (in 1891) worked as a cook for Carteret George Ellis, is one and the same person.
Early Life
Sarah Ann West was born to Robert and Sarah West in Stody, Norfolk in 1869. She was baptised in the Parish Church at Little Snoring on the 22nd April 1870.
The 1871 census captures two year old Sarah Ann with her parents and seven siblings at Fakenham Road, Little Snoring. Her father's occupation is a shepherd.
Domestic Cook
We know that Sarah A West was employed as a cook by Carteret Ellis by 1891.
However, the 1901 census captures 32 year old unmarried domestic cook Sarah West with her sister Amelia and her husband Jonathan Lunness at East Winch.
The census does not tell us whether Sarah is just visiting her sister's family or whether she is living with them. However, 32 year old single man Frank Clark, a domestic groom, is a visitor at the household.
Owner of Five Freehold Cottages
Bearing in mind that Sarah Ann came from a 'humble' background, how could she afford the five freehold cottages in Great Ellingham? Having said that, it seems that Carteret Ellis conveyed the property to Sarah Ann without any money exchanging hands.
Nevertheless, Sarah Ann would still have needed funds to maintain and insure the property. Was this possible on the wages of a general servant, albeit a cook? It is unlikely that a windfall (for example, an inheritance) came Sarah Ann's way. After all, her father was not a landowner or farmer, but a shepherd!
Owner in Name only?
Did Carteret Ellis have affection for Sarah Ann West? Was this the reason for the conveyance to her of the property?
Nevertheless, it is possible that Sarah Ann was the owner in name only, and that Carteret George Ellis retained the equity in the property.
Did Sarah Ann West hold the property on trust for Carteret Ellis? If this is the case, why was the transaction necessary? Unfortunately, I do not have the answer.
In any event, the Sarah Ann West who owned the properties from 1906 to 1907, may not be Carteret's former cook.
Sale to Harry Smith
Less than a year after the ownership of the properties was conveyed to Sarah Ann West, the five freehold cottages in Great Ellingham were sold to Attleborough builder, Harry Edward Leonard Smith. Smith paid Sarah Ann West the sum of £75. The Conveyance was made on the 11th October, 1907.
Did Sarah Ann West benefit from the purchase money, or, was she obliged to hand the money to Carteret Ellis? Again, I do not have the answer!
Further, I do not know what happened to Sarah Ann West. Did she marry and move away? I have not been able to find her on the 1911 census.
Death of Carteret George Ellis
Some six months after Sarah Ann West sold the property to Harry Smith, 82 year old Carteret George Ellis, a general practitioner and surgeon of Halford House, Attleborough, died on the 29th April, 1908. He too is buried in Thames Ditton, Surrey.
Occupiers during the Ellis & West Ownership
The Conveyance Deed of 1906 (Ellis to West) and 1907 (West to Smith) tell us that the five freehold properties were occupied by Collins, Warren and Kerrison. Did some of the tenants occupy more than one tenement, or were two tenements (or cottages) unoccupied at that time?
With regard to the occupiers, the 1906 Electoral Register shows Frederick Collins, William Kerrison and Henry Warren all occupying dwellinghouses in the Street.
However, the Electoral Register for 1910 lists Edward Collins, William Kerrison and Henry Warren.
Henry Warren
Henry Warren was the local saddler and harness maker. He occupied the western end of the row of cottages. Warren's cottage included his shop which abutted Chequers Lane.
Frederick Collins
Other than the Great Ellingham Electoral Registers of 1901 and 1906 which list Frederick Collins occupying a dwellinghouse in the Street, I am unable to find any further information about Frederick Collins.
Edward Collings
However, the census returns of 1901 and 1911 show Edward Collings living next door to Henry Warren. Further, the 1910 Electoral Registers also refers to Edward Collins occupying a dwellinghouse in the Street.
1901
The 1901 census shows 32 year old Edward Collings with his wife 25 year old wife Rosetta and children Sidney 4, Thomas 3, Reginald 2 and 6 month old Henry. With the family is 74 year old widower Robert Mallows, a retired farm bailiff born in Bridgham.
Edward Collings is working as a rural postman. Whilst Edward Collings and his two older children were born in Kenninghall, the two younger children were born in Great Ellingham.
1911
The census of 1911 captures the family still in the Street, Great Ellingham. Edward Collings is now 42 and his wife 35. The couple have completed 15 years of marriage during which time the couple have had 8 children.
Their home comprise of five rooms and is referred to on the census as 'Rose Cottage'. All eight children, the eldest being 14 and the youngest aged 3, are with their parents. The family also have a visitor, 28 year old unmarried woman E. Elvina Wilkins.
William Kerrison
The 1911 census shows 66 year old widower William Kerrison as the head of a household occupying a three-roomed dwelling house in 'The Street', Great Ellingham.
Given that the census enumerators did not always record the households in any kind of order, I cannot be absolutely certain that this is the William Kerrison occupying one of the cottages. However, I am fairly confident it was.
Early Life
William Kerrison was born in Great Ellingham in 1844. As the registration of his birth shows only his mother's surname, this suggests that he was illegitimate.
The 1851 census reveals six year old William Kerrison in the household of his maternal grandmother, 67 year old widow Elizabeth Kerrison in Church Street, Great Ellingham. Also in the household is 26 year old unmarried Elizabeth Kerrison, who I assume is William's mother. Elizabeth Kerrison senior is claiming parish relief and her daughter, Elizabeth, is working as a dressmaker.
William's mother Elizabeth Kerrison married Rocklands born John Chaplin in the Parish Church at Great Ellingham on the 18th December, 1857. The marriage entry confirms that John Chaplin's father was carpenter Samuel Chaplin and Elizabeth's father, was bricklayer Edmund Kerrison.
William Kerrison's mother, Elizabeth Chaplin died in June 1864 and John Chaplin in July 1878.
Marriage
30 year old William Kerrison married 36 year old widow Eliza Rix in St James's Church, Great Ellingham on the 12th January, 1873. Despite being illegitimate, the marriage register gives William's father's name as George Kerrison, a wheelwright and carpenter. I do not know whether this is true or not. For various reasons, some people gave false information when registering births, marriages and deaths, as well as for the census returns. Eliza's father is stated to be farmer Benjamin Rix.
1881
The 1881 census captures 36 year old farm labourer William Kerrison with his 42 year old wife Eliza living in Church Street, Great Ellingham. Eliza's 17 year old daughter Louisa C Rix and her four month old daughter Anna Eliza Rix are also with William and Eliza Kerrison.
I cannot be certain that in 1881 William Kerrison is living in one of the tenements of the messuage owned by Carteret Ellis. Although I am uncertain of the exact date, a William Kerrison occupied one of the cottages to the east of these cottages. Accordingly, it may be that William Kerrison moved into one of Ellis's cottages after 1881.
Other likely tenants of Carteret Ellis (in 1881) were:
48 year old widow Adelaide Reeve with her sons Walter 15, Frederick 12 and 7 year old Alfred
68 year old Robert Daws with his 58 year old wife Mary Daws
75 year old widow Amy Mallows and
72 year old widow Mary Lebbell
Death of Eliza Kerrison
William Kerrison's wife Eliza (formerly Eliza Rix) died at the age of 60, and was buried in the churchyard of St James on the 6th April, 1896.
1901
According to the census of 1901, 56 year old widower William Kerrison's household is in Town Green. However, the census of that year includes areas of Chequers Lane and Church Street (near to the junction with Long Street) as being included in 'Town Green'. However, I have no doubt that at this time William Kerrison is occupying a three-roomed dwelling owned by Carteret Ellis.
Living with William Kerrison is his late wife's 20 year old granddaughter Anna Rix and her two children, Olive 4 and Herbert 2. Anna Rix is keeping house for her step-grandfather. However, at the beginning of May 1903, Anna Eliza Rix tragically died at the age of 23.
1911
The 1911 census captures 66 year old William Kerrison in the same three-roomed property in the Street. 37 year old single mother Sarah Watling is now keeping house for William. Sarah's two children – 18 year old William and 12 year old Florence, are also living with their mother and William Kerrison.
Harry E L Smith
From 1907, Harry Smith takes the property through the reign of Edward VII, the accession of George V, World War I and the abdication of King Edward VIII.
The story of the owners and inhabitants of 'the messuage built upon the tenement Greenhouse' including the cottages built onto the eastern wall of the house, continues in Part V.
Sources:
1802 Russell James Colman Plans. Great Ellingham. Norfolk Record Office. Catalogue Ref. C/Ca 1/84.
1799-1842 F W Horner, Records of the Surveyors to Commissioners for Inclosure in Parishes in Norfolk and Suffolk. Great Ellingham (Act 1799). Norfolk Record Office. Catalogue Ref: NRO, BR 90/2
1800 Inclosure Commissioner's Particulars and Valuation, Great Ellingham. Norfolk Record Office. Catalogue Ref: NRO, MC 2213/119
1753-1847 Manor of Buckenham Castle, Lathes, Close and Priory. Court Book. Norfolk Record Office. Catalogue Ref: MC 1833/8 -MC 1833/16. 1595-1847 also available at https://www.familysearch.org/
1799 Statement of Claims. Great Ellingham Inclosure. Norfolk Record Office. Catalogue Ref: MC 2213/118
Great Ellingham Parish Registers. Norfolk Record Office. PD609. Also available at www.familysearch.org
Norfolk Chronicle 25th July, 1868. Viewed on microfilm at Norfolk Heritage Centre, Norwich
Draft Conveyance 11th December 1868. John Oddin Taylor to Sarah Ellis. Lands in Great Ellingham. ID 11781. Attleborough Shelf. Wymondham Town Archive. Council Offices, Ketts Park, Harts Farm Road, Wymondham NR18 0UT
1851 census HO107/1603/266, HO107/1823/132
1861 census RG9/1237/44, RG9/1237/95
1871 census RG10/1841/44, RG10/862/58, RG10/1850/90, RG10/1841/77
1881 census RG11/1974/41, RG11/1974/96
1891 census RG12/1549/38, RG12/1549/69
1901 census RG13/1867/38, RG13/1866/7, RG13/1867/71, RG13/1867/70, RG13/1886/7
1911 census RG14/11473/123, RG14/11473/127
1881 Ellis, Sarah. Burials in the Parish of Thames Ditton, Surrey. Surrey History Centre; Woking, Surrey, England; Surrey Church of England Parish Registers; Reference: 2568/1/11. Viewed via www.ancestry.co.uk
1905 Ellis, Emma Martha. Burials in the Parish of St Nicholas's Thames Ditton, Surrey. Surrey History Centre; Woking, Surrey, England; Surrey Church of England Parish Registers; Reference: 8411/1/12. Viewed via www.ancestry.co.uk
1908 Ellis, Carteret George Ellis. Burials in the Parish of Thames Ditton, Surrey. Surrey History Centre; Woking, Surrey, England; Surrey Church of England Parish Registers; Reference: 8411/1/12. Viewed via www.ancestry.co.uk
1825 Ellis, Carteret George. Baptisms in the Parish of Thames Ditton, Surrey. London Metropolitan Archives; London, England; London Church of England Parish Registers; Reference Number: DW/T/8464. Viewed via www.ancestry.co.uk
1843 Marriage Ellis, Carteret George & Cooke, Emma Martha. GRO Index via FreeBMD website https://www.freebmd.org.uk/cgi/information.pl?r=7171264:6204&d=bmd_1644238129
1865 March 22. Marriage Carteret George Ellis & Sophia Jane Beart. Parish of St Dunstan's West in the City of London. London Metropolitan Archives; London, England; London Church of England Parish Registers; Reference Number: P69/DUN2/A/01/MS 10354/10. Viewed via www.ancestry.co.uk
Stody Parish Registers. Norfolk Record Office PD 506. Also available via www.familysearch.org
1908 Probate Carteret George Ellis. Principal Probate Registry. Calendar of the Grants of Probate and Letters of Administration made in the Probate Registries of the High Court of Justice in England. London, England. Viewed via www.ancestry.co.uk Ancestry.com. England & Wales, National Probate Calendar (Index of Wills and Administrations), 1858-1995 [database on-line]. Provo, UT, USA: Ancestry.com Operations, Inc., 2010.
1880 Marriage. Horn, Robert James & Beart, Sophia Jane. Parish of Attleborough. Norfolk Records Office PD 438. Viewed via www.ancestry.co.uk
1901, 1906 & 1910 Mid Division of Norfolk. Attleborough Polling District (District A). Parish of Great Ellingham. Ancestry.com. Norfolk, England, Register of Electors, 1832-1915 [database on-line]. Lehi, UT, USA: Ancestry.com Operations, Inc., 2016.Original data: England, Norfolk Register of Electors, 1844-1952. Salt Lake City, Utah: FamilySearch, 2013.
1844 Birth William Kerrison. GRO Index. FreeBMD website https://www.freebmd.org.uk/cgi/information.pl?cite=ld4FGNhqExxtqFez79Bnbw&scan=1
Deeds Collection. Huge thanks to Gail H Dorrington