School Examinations
Norfolk Junior Scholarship Examinations took place on Saturday the 2nd November, 1907. 240 candidates were examined, of which 117 were boys and 123 girls. Pupils from Great Ellingham School were amongst the 16 candidates from the rural districts.
Six weeks later, confirmation of those pupils gaining scholarships was published in the Norfolk Chronicle & Norwich Gazette of the 14th December, 1907.
21% of the 240 candidates were awarded Scholarships. Although there were slightly less boys sitting the examination, marginally more boys were awarded a scholarship. This included 11 year old Great Ellingham pupil Sid E Collings. Also gaining a scholarship was fellow scholar 11 year old Dorothy S Field, a daughter of the Great Ellingham Headmaster John Field.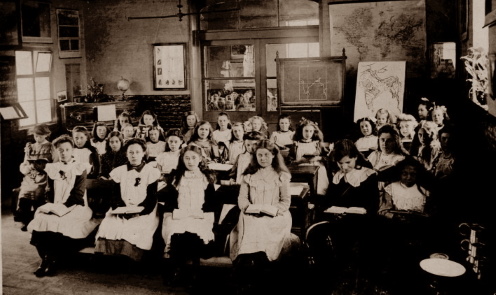 Great Ellingham School (Girls) possiby early 1900s. The boys look to be in the adjacent classroom at the rear. Photograph courtesy of Ray Beales
Sidney Collings' Family
The 1901 census captures Kenninghall born four year old Sidney (Sydney) Collings, with his family in Town Green, Great Ellingham. A rural postman, Sidney's 32 year old father Edward Collings was also born in Kenninghall. Sidney's mother, 25 year old Rosetta, was born in East Harling. At that time, Sidney had three younger brothers: Thomas aged 3, Reginald 2 and six month old Henry. 74 year old widower Robert Mallows was boarding with the family.
The Collings family may have moved into Great Ellingham between the birth of Thomas in Kenninghall in 1897, and Reginald's birth in Great Ellingham in 1899.
Ten years later, the 1911 census finds the family living in a five-roomed dwelling referred to as Rose Cottage in the Street, Great Ellingham. Given that I have found that the area referred to as 'the Street' can include what is another time referred to as being in Town Green (and Long Street), the Collings family were probably living in the same house when they were captured on both the census of 1901 and 1911.
In 1911, 14 year old Sidney (and his younger brothers) had further siblings – Florence 8, Arthur 7, Charles 5 and 3 year old Gladys. 28 year old domestic servant referred to in the census as 'E. Elvina Wilkins', is a visitor at the household.
The census also tells us that Edward and Rosetta Collings had completed 15 years of marriage and that the couple had had eight children. With the exception of 3 year old Gladys, all the children were said to be attending school.
Sources:
Norfolk Chronicle & Norwich Gazette 14th December 1907
1901 census RG13/1867/71
1911 census RG14/11473/123