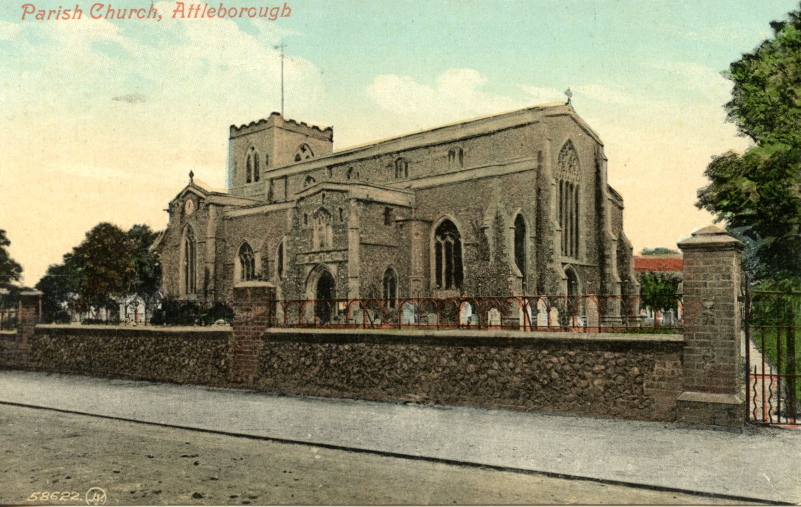 Parish Church, Attleborough. Postcard BCV
Marriage between Angelina Wright & William Webster
The announcement of the marriage of Great Ellingham born Angelina Wright appeared in the edition of the Norfolk Chronicle & Norwich Gazette dated 29th October, 1881.
The marriage ceremony, officiated by the Reverend W C Safford, took place at St Mary's Church, Attleborough. Angelina Wright married William James Webster of Attleborough. No further details were provided in the announcement.
Angelina Wright
Angelina Wright was born in Great Ellingham 1859. Her parents were Jonathan Wright and his wife Elizabeth (née Lincoln).
The 1871 census captures 11 year old Angelina with her 47 year old widowed father and three siblings living at Stalling Common, Great Ellingham.
By 1881, Angelina had left home and the 1881 census, taken a few months before her marriage, finds 21 year old Angelina as a live in general servant to General Practitioner, Carteret George Ellis, in Level Street, Attleborough.
From Attleborough to Norwich to King's Lynn
Following their marriage, William and Angelina Webster settled in Attleborough.
The census of 1891 finds the couple with four young children, Camilla (Alice Camilla) 5, Elsie 3, William 2 and five month old Percy living in Level Street. William's occupation is described as a coach painter.
Ten years later, 41 year old William Webster with his 39 year old wife Angelina and their 10 children with ages ranging from 18 years to one, are living at 29 St Paul's Terrace in Norwich. William is still a coach painter but now an employer.
Within a few years, William and Angelina moved to the King's Lynn area.
The 1911 census shows 50 year old widow Angelina Webster as a servant to assistant schoolmaster Evelyn Bourne and his wife and family at Chase Avenue, South Lynn.
Deaths of William & Angelina Webster
The death of a William James Webster aged 49 was registered in the King's Lynn District between July and September 1906.
The death of an Angelina Webster aged 70 was registered in the King's Lynn District between April and June of 1930.
Sources:
Norfolk Chronicle & Norwich Gazette 29th October, 1881
GRO Index. Free BMD website.
https://www.freebmd.org.uk/cgi/information.pl?cite=RRPGQ%2BLuB%2F5%2FTcciWCL0bg&scan=1 Accessed 12.02.2020
https://www.freebmd.org.uk/cgi/information.pl?cite=Re6nJwhkE4BMs8XT6T7H%2FQ&scan=1 Accessed 13.02.2020
1871 census RG10/1841/94
1881 census RG11/1974/41
1891 census RG12/1549/38
1901 census RG13/1835/88
1911 census RG14/11655/167