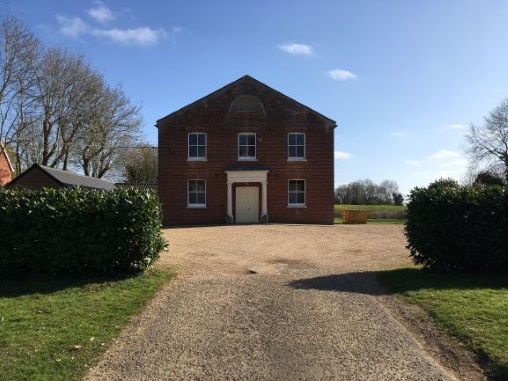 Great Ellingham Baptist Church. Photograph taken July 2019
Wedding
Exactly one hundred and fifty years before this photograph was taken, a marriage took place at the Baptist Chapel in Long Street, Great Ellingham on the 7th July, 1864 between David Reeve and Adelaide Richardson. The wedding day may well have been as sunny as the July day in 2019 when this photograph was taken.
The Norfolk News of July 9th, 1864 included a brief announcement of the marriage mentioning that Mr David Reeve was the Relieving Officer of the Wayland Union and Miss Adelaide Richardson was of Deopham. The Reverend J Kiddle officiated at the wedding.
1871 census
Seven years after the marriage, the 1871 census captures David and Adelaide Reeve at Northacre, Caston. Kenninghall born David Reeve is described as a 46 year old Relieving Officer and Registrar. His wife Adelaide Reeve is aged 39.
With the couple are children: 18 year old Samuel J, an apprentice plumber and glazier; 16 year old David J, an apprentice miller; 5 year old Walter H and two year old Frederick A. Given that David and Adelaide Reeve had married some seven years earlier, I believe that Samuel and David were David Reeve's sons from a previous marriage.
David and Adelaide Reeve lived in Great Ellingham for a short period following their marriage. Their son Walter was born in the village in 1865. However by 1868, they had moved to Caston.
Death of David Reeve
Within two years of the 1871 census being undertaken, David Reeve had died. The death of a David Reeve aged 48 was registered in the Wayland District between January and March 1873. No doubt the registration was dealt with by the person stepping into David Reeve's shoes as Registrar for the District.
Widow Adelaide Reeve
The 1881 census finds 48 year old widow, Adelaide Reeve, living in Church Street, Great Ellingham with her sons 15 year old Walter H, 12 year old Frederick A and seven year old Alfred A. Frederick and Alfred are both at school. Walter is a carpenter's apprentice.
Ten years later, dressmaker Adelaide is living alone in the Street, Great Ellingham.
By 1901, Adelaide had moved away from Great Ellingham. The census of that year captures her aged 69 and keeping house for her widowed son, 27 year old Alfred Reeve in Belvoir Street, Norwich. Alfred is a life insurance agent.
The 1911 census finds 79 year old Adelaide Reeve back in her 'home' village of Deopham. She is living alone and reliant on an 'old age' pension.
A death for an Adelaide Reeve aged 81 was registered in the Norwich District between April and June 1913.
Sources:
Norfolk News July 9th, 1864
1871 census RG10/1842/55
1881 census RG11/1974/96
1891 census RG12/1549/69
1901 census RG13/1844/56
1911 census RG14/11340
GRO Index. FreeBMD website.
https://www.freebmd.org.uk/cgi/information.pl?cite=%2FMdnVH6QXOIb0iCEFFeZYg&scan=1 Accessed 10.02.2020
https://www.freebmd.org.uk/cgi/information.pl?cite=KGEKY8MoRiT%2FVQM%2B2svqVQ&scan=1 Accessed 10.02.2020