Many of the dwellinghouses in the village of Great Ellingham during the nineteenth century, were tenanted. Further, not all the landlords lived in the village.
An example of this is a late 17th century dwellinghouse lying in what we today know as Church Street, just opposite Mill Farm. Now two dwellings, the property was once divided into three tenements, and likely owned as one building until 1928.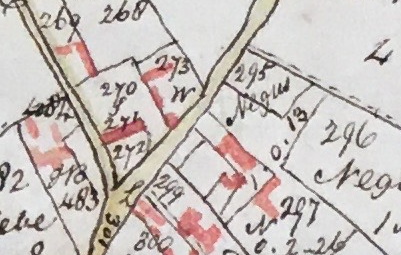 Extract from 1802 Map of Great Ellingham. Original held at Norfolk Record Office. Russell James Colman Plans. Cat. Ref. C/Ca 1/84. With kind permission of NRO
The Extract from an 1802 Map of Great Ellingham shows the position of the late c17th dwelling house in Church Street numbered 273. The thatched roofed property shown in the postcard below is numbered 271.
Messuage owned by Thomas Leeder of London
In the 1870s, the whole building (referred to in a later deed as a 'Messuage then divided into and forming three tenements') was owned by yeoman Thomas Leeder of 7 Mincing Lane, London. The Electoral Registers for 1876 and 1878 show that Thomas Leeder owned freehold cottages and land in Church Street occupied by D. Woor and others.
Thomas Leeder placed a Notice in the Norfolk News of 3rd July, 1875, inviting tenders to be sent to him at 7 Mincing Lane, London for the erection of two cottages, shop and premises at Great Ellingham. The plans and specifications were available at the village's Crown Inn. I am wondering whether the 'two cottages, shop and premises' were built on land to the south-west of the messuage owned by Thomas Leeder?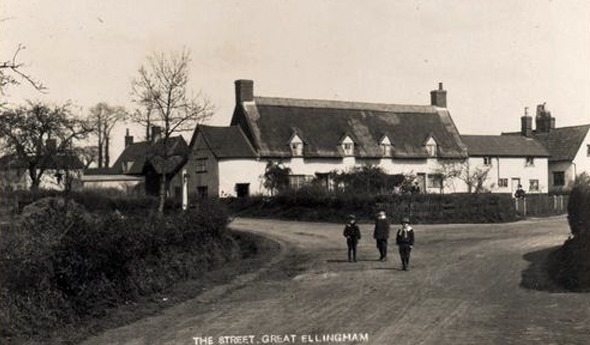 The Street Great Ellingham courtesy of Tony Brooks
To the right of the thatched dwelling in the above postcard, there are two smaller cottages with another building further along. The messuage (of three tenements) owned by Thomas Leeder lies adjacent to the furthest building to the right (just out of view).
Assuming Thomas Leeder's plans came to fruition, I am wondering whether these two smaller cottages shown in the postcard are the two cottages built for Thomas Leeder around 1875, and the 'premises and shop' is the next building along. In any event, if they were indeed the subject of the tenders, the properties were likely sold by Thomas Leeder before he died in 1883.
I don't know when or how Thomas Leeder acquired the property in Great Ellingham. He may have purchased it, or acquired it by inheritance. I also wondered why Thomas Leeder living in London would own property in Great Ellingham – did he have a connection to Great Ellingham?
Thomas Leeder's Connection to Great Ellingham
I found a clue in his Will. Thomas Leeder died at the age of 56 on the 4th November, 1883. He left all his property (including the messuage in Great Ellingham and property in Framingham Earl) to his wife Louisa for her use during her widowhood, and afterwards to his son, Walter, on him reaching the age of 21 years.
Thomas also provided that in the event that his son Walter died before reaching 21 years without leaving issue, his estate would pass to his nephew, Henry Chaplin, a son of his sister Hannah, the wife of William Chaplin of North Walsham.
The 1861 census shows William and Hannah Chaplin in Middle Street, North Walsham with sons William aged 12 and 10 year old Henry, and a lodger 22 year old police officer James Hawkins. Born in Snetterton, 39 year old William Chaplin is also police officer. His 38 year old wife Hannah and their sons were all said to have been born in Great Ellingham. Accordingly, I felt it likely that Hannah's brother Thomas Leeder was also born in Great Ellingham.
20 years earlier, the 1841 census captures 14 year old Thomas Leeder with his parents William and Maria Leeder and siblings Hannah 20, Maria 14 and Charlotte 13 in Great Ellingham. 80 year old William Leeder is described as a farrier. At 45, Maria Leeder is some 35 years younger than her husband, which suggests that William Leeder had been married before.
Thomas Leeder was baptised in the Church of St James, Great Ellingham on the 6th April, 1828.
Thomas Leeder, later of 7 Mincing Lane, London, was indeed a 'Great Ellingham boy'.
The Messuage after Thomas Leeder's Death
In his Will dated 15th March, 1882, Thomas Leeder appointed Italian Warehouseman George Challis of 6 St Leonards Street, Bromley, Middlesex, jeweller George de la Cour and his son Walter Leeder as his executors.
On the 23rd May 1894, following the death of Louisa Leeder the previous year, the property (still comprised of the messuage forming three dwellings) together with certain other property not connected to Great Ellingham, was conveyed by Thomas Leeder's executors (Challis and de la Cour) to Thomas Leeder's 28 year old son, Walter Leeder.
The next day, Walter Leeder of 21 Bolton Road, Harlesden, Middlesex and described as a traveller, sold the same properties back to George Henry de la Cour of Chatham, Kent (one of Walter's co-executors of his father's estate). The properties included: "All that messuage then divided into and forming three tenements (formerly of the tenement Brampstone) lying in Churchgate in Gt Ellingham aforesaid with the bake office outbuildings yards gardens ground and appurtenances".
The tenements were said to be formerly in the several occupations of William Brooks and John Fox, afterwards of William Warren and the said William Brooks, afterwards of James Carter, Frederick Watson and then of J. Carter, _ Reeve and William Kerrison. However, no dates are given in the deeds in relation to the periods of occupation by any of the tenants.
George de la Cour owned the Messuage until he died in Chatham in December, 1914. His surviving executor, George Henry Allen of Chatham, sold the property for £115 to farmer, Henry Newby of Rockland St Peter on the 19th July, 1920.
When Henry Newby purchased the Messuage, it was still divided into three tenements (or cottages) with tenants, J Ducker, Mrs Bilverston(e) and J Clover. The property, with stables, a gig-house and sheds, was said to be in Churchgate Street which was formerly known as Town Street. Today, it is known as Church Street.
It appears that the Messuage (comprising of three cottages) continued to be tenanted. Eric Elijah Fuller purchased the Messuage from Henry Newby in 1923. Four years later, Eric Fuller sold the Messuage to widow Grace Harris of Mundford. Although part of the Messuage was still tenanted (to Miss Field and James Lincoln), Eric Fuller also occupied part of the Messuage.
It was only when Grace Harris sold the Messuage in 1928, that the Messuage was divided into two parts: a double-cottage (with garden ground and sheds) and a single cottage.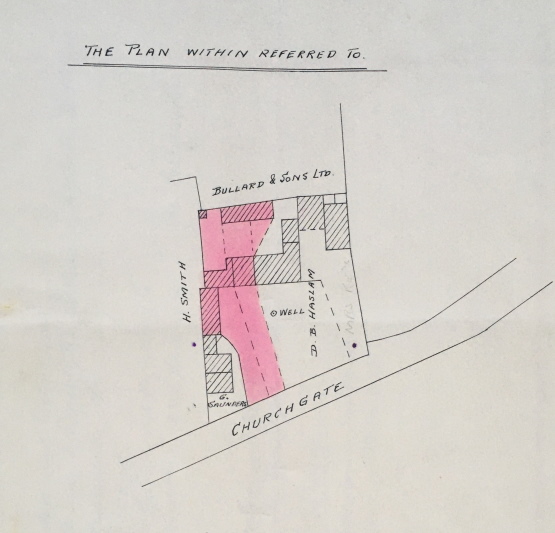 The first owner of the double-cottage was Joe Coldwell of Lincoln. At a similar time, Grace Harris sold the adjoining single cottage to Daniel Haslam. This may have been the first time the cottages were not in the same ownership since the Messuage was built in the late 17th century!
Joe Coldwell sold the double-cottage to Maurice George in 1935 who in turn sold the property to James Fox in 1946. James Fox remained at the property until 1971.
Sources:
Norfolk News 3rd July 1875
1876 & 1878 Electoral Registers. Viewed via FamilySearch.org "England, Norfolk Register of Electors, 1832-1915," database with images, FamilySearch (https://familysearch.org/ark:/61903/3:1:S3HT-6LXQ-X1V?cc=1824705&wc=MX6S-VZS%3A161034801%2C161824201%2C161377201 : 21 May 2014), Norfolk > Southern division > 1876 > image 8 of 150; Record Office, Central Library, Norwich. Accessed 13.04.2020
"England, Norfolk Register of Electors, 1832-1915," database with images, FamilySearch (https://familysearch.org/ark:/61903/3:1:S3HT-D43H-HD?cc=1824705&wc=MX6S-K2S%3A161034801%2C161824201%2C161378501 : 21 May 2014), Norfolk > Southern division > 1878 > image 9 of 148; Record Office, Central Library, Norwich. Accessed 13.04.2020
Will & Probate. Leeder, Thomas late of 7 Mincing Lane, London, Yeoman. 15th March 1882. Probate 10th April 1884. Obtained via https://probatesearch.service.gov.uk/#wills
Property Deeds & Documents. Christine Fuller.
1861 census RG9/1201/84
1841 census HO107/781/8
Great Ellingham Parish Registers. Norfolk Record Office PD/609. Norfolk Baptism Project. Tinstaafl Transcripts. Ellingham, Great St James http://tinstaafl.co.uk/nbp/ viewed 30.06.2020
1802 Great Ellingham. Russell James Colman Plans. Norfolk Record Office. Catalogue Ref. C/Ca 1/84.