Fir Cottage is a delightful cottage on the western side and at the southern part of Long Street. It was built between 1857 and 1861.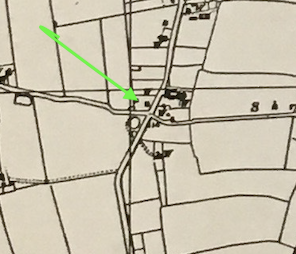 The green arrow indicates the position of Fir Cottage at the southern end of Long Street.
Extract from O.S. Map c.1945. Courtesy Ray & Maureen Beales
In recent years, Fir Cottage was renamed to avoid confusion with nearby Fir Tree Farm.
Robert Utting was the first owner of the house. However, I am unsure whether Robert Utting ever occupied the house.
When he died in 1878, the ownership of the property passed to his only son, Walter Utting. Again, I do not believe that Walter Utting ever occupied the house.
Sale to James Toll

Extract from the Conveyance dated 21 October 1880 between Walter Utting, James F Reeve & Richard H Reeve to James Toll. Courtesy Pat Price
On the 21st October, 1880, the Reverend James Toll, a Baptist Minister of Great Ellingham, completed his purchase of the property from Walter Utting.
I am unclear as to whether the property was then called 'Fir Cottage'. Nevertheless by 1913, the cottage certainly had the name 'Fir Cottage'.
Purchase Price
Toll paid a total sum of £125 for the property.
However Walter Utting only received £21 6s 2d (twenty one pounds six shillings and tuppence) of the sale price. In 1861, Walter's father, Robert Utting, borrowed £70 against the property. This sum together with accrued interest remained outstanding.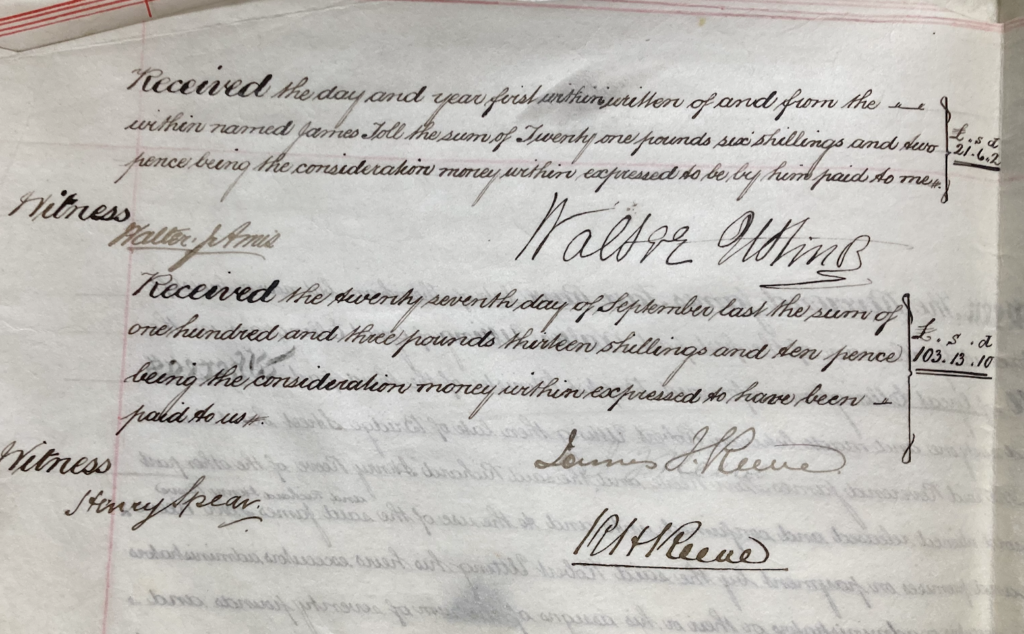 Extract from the Conveyance dated 21 October 1880 between Walter Utting, James F Reeve & Richard H Reeve to James Toll. Courtesy Pat Price
Accordingly the sum of £103 13s 10d (one hundred and three pounds thirteen shillings and ten pence) was paid to the lenders, the Reverend James Farr Reeve and Richard Henry Reeve, to repay mortgage debt.
The above extract from the 1880 Conveyance shows two receipts for the purchase money – one signed by Walter Utting (for his £21 6s 2d) and the other by James F Reeve and Richard H Reeve (for their £103 13s 10d).
James Toll
The Reverend James Toll was a Cornishman. With his wife and young daughter, Toll came to Great Ellingham from Essex to take up the position of the Pastor at the Baptist Church in 1871. He stepped down as Pastor in 1876.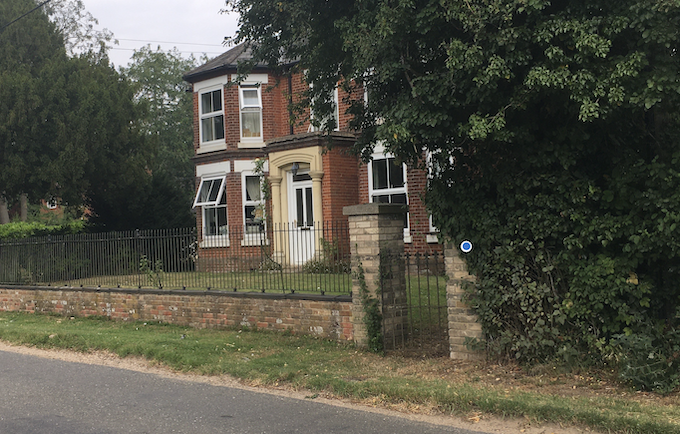 The Manse
Photograph taken August 2020
I assume that during his period of pastorship, James Toll and his family lived at The Manse in Long Street. However, I do not know exactly when the Toll family moved out of The Manse. Given that James Toll did not purchase Fir Cottage until 1880, I wonder whether he initially rented the cottage from Robert Utting, and then (on Robert's death) Walter Utting.
The Reverend James Toll was very much involved in village life. He was a committee member of the Universal Beneficent Society which was formed in 1876. For many years, Toll was a member of the School Board. He was also one of the first members of the Parish Council formed in 1896.
Marriage of Daughter & Death of Wife
On the first day of January, 1890, James Toll's only surviving daughter married local farmer, Frederick William Brighton at the Baptist Chapel in Long Street. Within two years, Toll's wife Mary died at the age of 66. Frederick Brighton farmed at Penhill Farm.
Toll's Daughter Emigrates
However in October 1895, Frederick and Helen Brighton sold up and left Penhill Farm. Not long after, Brighton was declared bankrupt. The couple emigrated to South Africa along with their daughter Aldyth.
Deposit of Deeds
On the 31st October, 1896, the Reverend James Toll 'deposited' the deeds to Fir Cottage with Barclays & Co. of Norwich. The deeds were retained by the Bank as security for £150 which the Bank had loaned to Toll. Perhaps James Toll had financially assisted his daughter and son-in-law with their move to South Africa.
Last Will & Testament
Around the age of 71, James Toll drew up his last will and testament on the 23rd September, 1898.
He appointed his friends as his executors – farmer Alfred William Augustus Clarke of Portwood Farm, Great Ellingham; James Thomas Lane a Baptist Minister of Odiham, Hampshire and Great Ellingham shopkeeper Robert D Young (who lived near to Great Ellingham Church).
Codicils
Perhaps Toll and Young had a falling out as on the 1st March, 1901, James Toll executed a first codicil to his will. He revoked the appointment of Robert D Young as an executor of his will.
On the 21st January, 1907, Toll executed a second codicil to his will.
This time he revoked the executorship appointment of Alfred William Augustus Clarke. Again, was there a falling out between Clarke and Toll?
The revocation resulted in John Thomas Lane being the sole executor of James Toll's will.
Although James Toll continued to live in Great Ellingham, I am unclear as to how long he lived at Fir Cottage (assuming that he did at some point). The Electoral Registers for Great Ellingham suggests that in addition to owning Fir Cottage, Toll may well have occupied land and a tenement at Town Green.
East Dereham
The 1911 census (undertaken on the night of the 2nd April 1911), captures 83 year old James Toll at the home of his friend (and fellow retired Baptist Minister), 75 year old John Thomas Lane.
John Lane lived with his three grown-up unmarried children (Joseph 47, Elizabeth 46 and John 44) in a seven roomed property, 32 Elvin Road, East Dereham.
Death of Friend & Executor John T Lane
I wonder whether John Lane was in poor health as just two month's later, he died. Lane was, of course, the sole executor appointed in James Toll's will.
Repayment of Barclays' Debt
I believe that following his friend's death, James Toll continued to live with John Lane's children at 32 Elvin Road, East Dereham. It may well be that at 83, James Toll was himself in poor health.
By 1901, Toll's hearing had deteriorated – so much so that the census of 1901 records that James Toll was deaf.
On the 24th November, 1911, Watton solicitor Frederick Robinson repaid Toll's debt to Barclays Bank. In paying the sum of £146 6s 3d (one hundred and forty six pounds six shillings and thruppence) to Barclays, Robinson held the deeds to Fir Cottage, Great Ellingham as security. In effect, Toll now owed the debt to Robinson.
Death of James Toll
James Toll died just four months' later. He died at 32 Elvin Road, East Dereham on the 29th March, 1912.
Toll's Estate
Given that James Toll's sole executor had predeceased him and his only surviving daughter (and the sole residuary legatee), Helen Brighton, was in South Africa, it fell to solicitor Frederick Robinson to deal with the administration of Toll's Estate.
On the 16th August, 1912, Helen Brighton of Fox Hill, Pietermaritzburg, Natal, South Africa, appointed Frederick Robinson as her attorney to obtain Letters of Administration in respect of her late father' estate. This was duly granted to Robinson.
The Power of Attorney also enabled Frederick Robinson to deal with the sale of Fir Cottage on behalf of Helen Brighton.
Fir Cottage has a new Owner
Accordingly, on the 7th April 1914, around three months before the start of the First World War, Fir Cottage was sold to Elizabeth Harbour.
What Happened to the Brighton family?
Following her father's death, Helen Brighton (nèe Toll) continued to live with her husband, Frederick Brighton, and their daughter Aldyth in Pietermaritzburg, Natal, South Africa.
Frederick Brighton aged 72 years and described as a retired farmer of Sherwood Farm, Pietermaritzburg died on the 17th November, 1934.
Helen Brighton died at the age of 80 on the 15th December, 1938.
The couple's daughter, Aldyth Ruth Mary Brighton Clark died in 1957.
Sources:
Bugden, David. The story of 300 years of the Baptist Church at Great Ellingham. Great Ellingham Reformed Baptist Church
Norfolk News Saturday 4th January 1890. Marriage BRIGHTON-TOLL
The Huddersfield Chronicle, Saturday January 11th, 1896. (The Bankruptcy Acts. Receiving Orders)
Norfolk, England, Register of Electors 1832-1915. Viewed via www.ancestry.co.uk Ancestry.com. Norfolk, England, Register of Electors, 1832-1915 [database on-line]. Lehi, UT, USA: Ancestry.com Operations, Inc., 2016. Original data: England, Norfolk Register of Electors, 1844-1952. Salt Lake City, Utah: FamilySearch, 2013
1911 census RG14/11516/170
England & Wales, National Probate Calendar (Index of Wills and Administrations) 1858-1995. James Toll. Death Date 20 Mar 1912. Ancestry.com. England & Wales, National Probate Calendar (Index of Wills and Administrations), 1858-1995 [database on-line]. Provo, UT, USA: Ancestry.com Operations, Inc., 2010.
Original data: Principal Probate Registry. Calendar of the Grants of Probate and Letters of Administration made in the Probate Registries of the High Court of Justice in England.
Deaths of Helen Brighton, Frederick Brighton and Aldyth Brighton. South Africa, Natal Province, Civil Deaths, 1863-1955," database, FamilySearch (https://familysearch.org/ark:/61903/3:1:3Q9M-C912-6STZ-M?cc=2721608 : 5 August 2020), > image 1 of 1; The National Archives of South Africa (NARS), Pretoria
South Africa, KwaZulu Natal, Vital Records, 1868-1976," database, FamilySearch (https://familysearch.org/ark:/61903/3:1:3QHV-V38J-TNHQ?cc=3511741 : 11 August 2022), > image 1 of 1; KwaZulu Natal Archives, South Africa
South Africa, KwaZulu Natal, Vital Records, 1868-1976," database, FamilySearch (https://familysearch.org/ark:/61903/3:1:3QHV-J38J-TDNG?cc=3511741 : 30 August 2022), > image 1 of 1; KwaZulu Natal Archives, South Africa.
South Africa, Civil Death Registration, 1955-1966″, database, FamilySearch (https://www.familysearch.org/ark:/61903/1:1:6ZSG-D2TX : 6 December 2022), Aldyth Ruth Mary Brighton Clark, 1957.
Private Collection of Deeds – Many thanks to Pat Price