The Eastern Daily Press of 26th November, 1891 reported on the burial of 'the remains of Mrs Toll', in the Baptist ground in Great Ellingham on the 16th November.
Mrs Toll was said to be the wife of the Reverend J Toll. However, her first name was not included in the report.
We would find this unusual today, but it was not out of the ordinary in the Victorian era, when a woman on marriage would acquire her husband's name.
Who was 'Mrs James Toll'?
1891 census
Just over six months before her death, the 1891 census captures 65 year old London born Mary Toll with her husband James living in Long Street. 63 year old James Toll is described as a superannuated Baptist Minister. The couple have a housemaid, 12 year old local girl Edith Wilkins.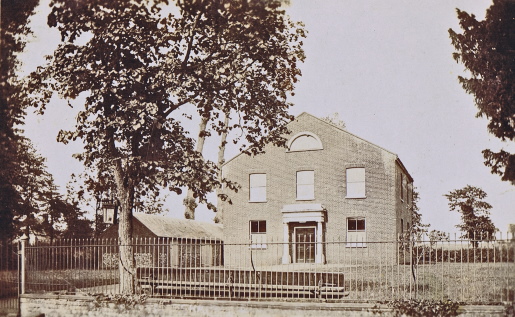 Baptist Chapel Long Street Great Ellingham. Attleborough Heritage Group
Pastor James Toll
David Bugden's informative book "The story of 300 years of the Baptist Church at Great Ellingham" mentions that James Toll was the Pastor from 1871 until his resignation in 1876. However, James Toll remained living in the Great Ellingham, and continued as a member of the School Board, until his death in 1912.
1871 census
The 1871 census finds James and Mary Toll living in New Street, Halstead, Essex. Aged 43, James Toll is said to be a 'Baptist Minister of the Chapel at Great Ellingham, Norfolk'. I assume that James and Mary Toll, together with their 11 year old daughter Helen, arrived in Great Ellingham not long after the 1871 census was undertaken.
1861 census
Ten years earlier, the 1861 census captures Baptist Minister James and Mary Toll (both in their mid-thirties) with their one year old daughter Helen living in Dorset. No place of birth is entered on the census schedule for either James or Mary, but their daughter was said to have been born in Wincanton, Somerset.
Marriage & Children
A marriage between James Toll and Mary Griffiths was registered in the Wincanton District between July and September of 1855. Their daughter Helen's birth was registered in the same district between April and June 1860.
I believe that Helen was not James and Mary Toll's first child. The birth of Evangeline Mary Ruth Toll (with mother's maiden name Griffiths) was registered in the Somerset district of Langport between July and September 1856. Sadly, I found a corresponding registration of the death of Evangeline Mary Ruth Toll in the same quarter.
It is difficult to pinpoint exactly when and where Mary Toll (neé Griffiths) was born, although working back from her age given on the census returns, she was likely born around 1825.
Mary Griffiths
Mary's birth was around twelve years prior to the formal system of the registration of births, marriages and deaths, which came into effect in July 1837. Although the 1881 census states that Mary was born in Wincanton, Somerset (and daugher Helen in Islington, London), the censuses of 1871 and 1891 give Mary's place of birth as 'Islington' and 'London'.
Cornishman James Toll
James Toll was a Cornishman having been born in Germoe around 1827. He may well have started life as a tin miner. The census of 1841 captures a 14 year old James Toll, described as a tin miner, with the household of agricultural labourer Richard Pryor, his wife and children in Germoe, Cornwall. Not far from this household, is 20 year old tin miner James Toll with the household of 60 year old farmer, John Toll. James Toll, the Baptist Minister at Great Ellingham, may have been one of these two youths with the name 'James Toll'.
Coffin conveyed in an Open Hearse
The newspaper report also tell us that the oak coffin, bearing the remains of Mary Toll, was conveyed to the Baptist ground in an open hearse. James Toll, together with daughter Helen (referred to in the report as Mrs F Brighten), and the Reverend J H Moore (the Baptist Minister from Attleborough), followed in a mourning coach.
The funeral procession included several vehicles (carriages) containing 'sympathising friends' and there were considerable friends 'from the village who came to pay their sincere respects'.
Mary Toll was said to have been 'exceedingly kind, and gave as far as her means would allow with a liberal hand' to the aged poor.
Sources:
26th November 1891 Eastern Daily Press. Viewed via localrecall.co.uk 18th July 2020
1841 census HO107/137/1
1861 census RG9/1324/85
1871 census RG10/1697/159
1881 census RG11/1974/90
1891 census RG12/1549/79A
Bugden, David. The story of 300 years of the Baptist Church at Great Ellingham. Great Ellingham Reformed Baptist Church.
GRO Index. https://www.gro.gov.uk/
Also via FreeBMD. https://www.freebmd.org.uk/cgi/information.pl?cite=dsJ%2BS5ywoYaOXRP2m59Fkw&scan=1 Accessed 19.07.2020