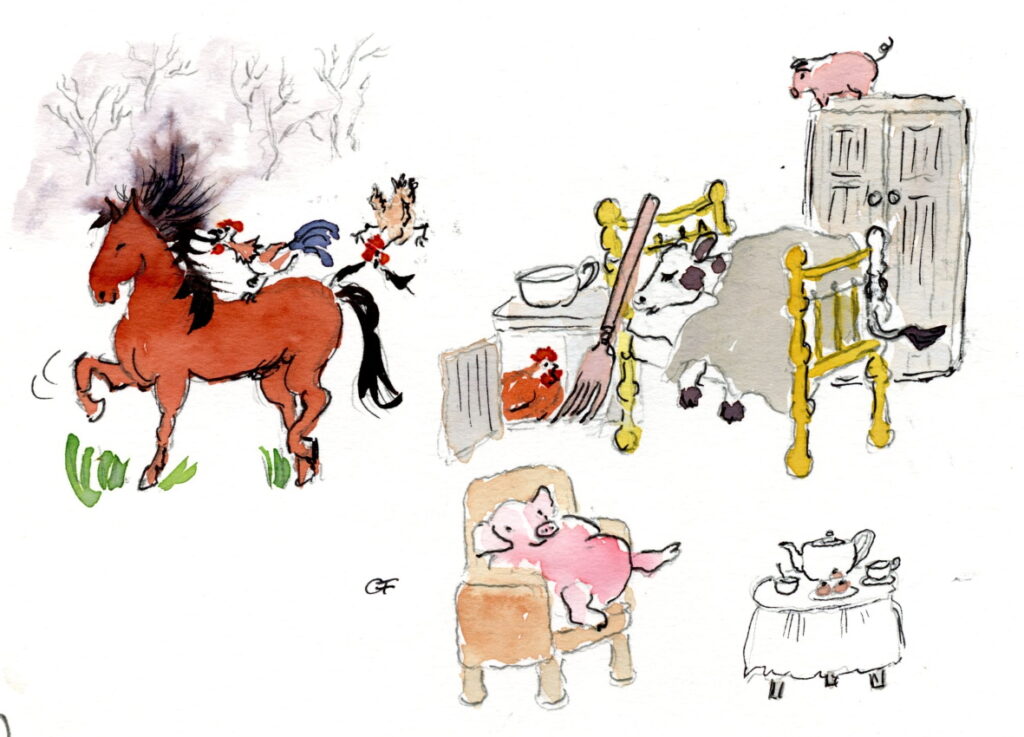 Illustration by Christine Fuller
Auction
Frederick Brighton of Penhill Farm, Great Ellingham instructed Auctioneer, James Mobbs, to sell by Auction his Live and Dead Farming Stock. The Auction, which also included dairy utensils and part of the furniture at Penhill Farm, was arranged for Wednesday, 9th October, 1895.
A four year old pedigree Hackney stallion was to be sold along with other horses, cows, pigs and fowls. Also for sale were tumbrils and carts together with farming implements such as ploughs, chaff cutter, grinder, pulper, scarifier, bins, forks and harnesses.
Furniture for a sitting room and bedroom as well as other effects were also being auctioned.
The notice stated that Frederick Brighton would be leaving Penhill Farm.
Frederick & Helen Brighton
The census of 1891 captures 27 year old Frederick Brighton, a farmer, at Penhill Farm with his 31 year old wife Hellen (Helen) and six month old daughter Aldyth. The family have a general domestic servant – Great Ellingham born 12 year old Alice Sizeland. The census also tells us that Frederick Brighton and his daughter were born in Great Ellingham. Helen Brighton is said to have been born in Somerset. However an earlier census gives her place of birth as Islington, Middlesex.
A marriage between Frederick Brighton and Helen Toll was registered between January and March in 1890 in the Wayland District.
The 1881 census finds 21 year old unmarried Helen Toll with her parents, James and Mary Toll living in Long Street, Great Ellingham. James Toll was Pastor at the Baptist Church in Great Ellingham from 1871 to 1876.
Given that Helen's father was a retired Baptist Minister, I think it most likely that her marriage to Frederick Brighton took place at the Baptist Church. Further, I believe that Frederick and his family also attended the Baptist Church as I cannot find any baptism, marriage or burial entries for the Brighton family in the Parish Registers for the Church of St James.
Born in the village around 1863, Frederick Brighton was the son of farmer, William Brighton and his wife Lucy. The 1871 census finds the Brighton family living in Penhill Road, Great Ellingham. 7 year old Frederick is one of five children (all born in Great Ellingham) listed in the Brighton household – George William aged 12, Walter 9, Frederick 7, William Ernest 3 and one year old Elizabeth Rosa. Whilst William Brighton was born in Wymondham, his wife Lucy was born in Little Ellingham.
Sources:
Norwich Mercury September 28th, 1895
1871 census RG10/1841/78
1881 census RG11/1974/90
1891 census RG12/1549/71
Bugden, David. The Story of 300 Years of the Baptist Church at Great Ellingham
Free BMD website https://www.freebmd.org.uk/cgi/information.pl?cite=wsXW4H6%2F7zZZnW6UI3T%2Fqw&scan=1 Viewed 07/10/2019