Deeds are a very useful resource when trying to find the history of a house. Not least that, sometimes, deeds can provide a clue as to when a particular house was built.
When Robert Utting mortgaged his Long Street land in 1861, the description of the property recited in the Mortgage Deed specifically says "……together with the Messuage or Dwellinghouse and other erections and buildings lately erected thereon …"
Given that Utting purchased the land in in October 1857, and then mortgaged the same together with the messuage, we can be certain that the house was built between October 1857 and February 1861.
This house was later known as 'Fir Cottage'.
Auction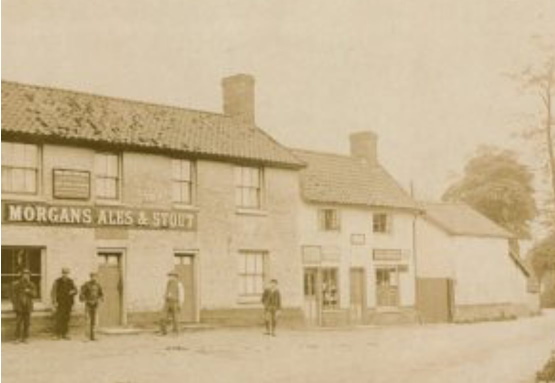 Crown Inn with adjoining shops. Postcard Carol Ewin
On the 20th July, 1857, an auction was held at the Crown Inn at Great Ellingham. Property belonging to the late Mrs Mary Wilkins was sold in three lots.
Lot 1 comprised a small farm-house, barn, and other buildings, double cottage and gardens together with several inclosures of arable and pasture land. The small farmhouse later became known as Fir Tree Farm.
Lot 2 comprised a piece of freehold arable and a piece of pasture land totalling one acre, three roods and 35 perches.
Lot 3 comprised a piece of freehold arable land containing one acre, one rood and three perches.
The auction particulars also tell us that Lots 2 and 3 were in the occupation of Ezekiel Harman. Lot 1 was in the occupation of Ezekiel Harman and the late Mary Wilkins' son, William Wilkins.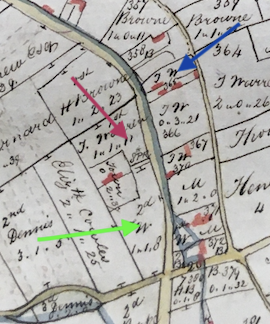 Extract from 1802 Map of Great Ellingham. All rights reserved Norfolk Record Office. Cat. Ref. C/Ca 1/84. With kind permission of NRO
The blue arrow on the above extract from the Great Ellingham Inclosure Map of 1802 shows the farmhouse (and possibly the double cottage) described as Lot 1.
The pink arrow identifies Lot 2. The green arrow identifies Lot 3.
At the auction, William Lebbell purchased Lot 2. It was during his ownership that the property later known as 'Roselands' was built on this land. I do not know who purchased Lot 1.
However, it appears that the bidding for Lot 3 did not reach 'an adequate sum'. Accordingly, it did not sell.
Sale to Hastead
Nevertheless, an agreement was reached after the auction between the executors of the late Mary Wilkins and Benjamin Hastead.
In 1854, the late Mary Wilkins mortgaged most of her property to Bridgham farmer, Benjamin Hastead. However it appears that the mortgage debt was repaid around the time of the auction.
Nonetheless, Mary Wilkins' executors (Mary's son, William Warren Wilkins, and Richard Wilemer) agreed to sell the land comprised in Lot 3 to Benjamin Hastead for £65.
In the event, the executors failed to execute a Conveyance of the land to Hastead.
However since reaching the agreement with Wilkins and Wilemer to purchase the land, Hastead agreed with Robert Utting to sell the land to him for £80. Thus making Hastead a nice profit of £15!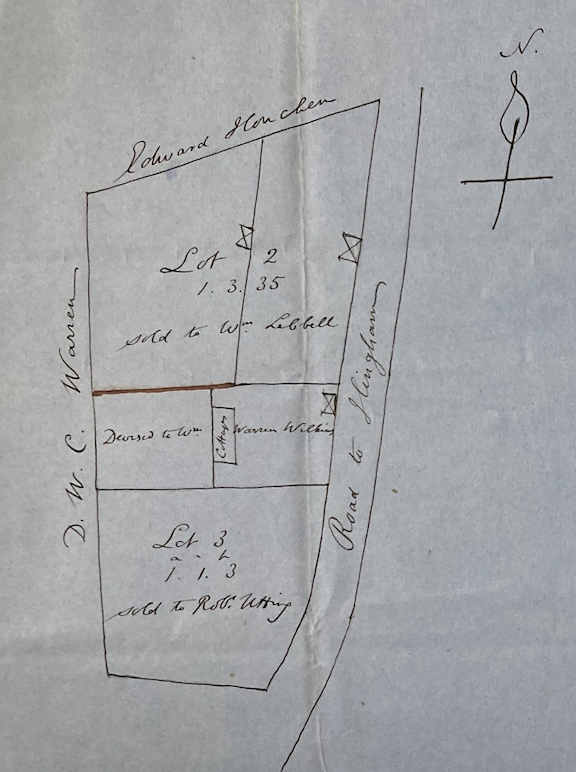 Plan to an Acknowledgment of Right as to a Fence dated 29th September 1857 between William Warren Wilkins & William Lebbell.
Courtesy D & J Richards
The above plan in connection with an 1857 fencing agreement between the purchaser of Lot 1 (William Lebbell) and William Warren Wilkins – the owner of the property to the south and which also adjoins Lot 3, clearly shows that the ultimate purchaser of Lot 3 was Robert Utting.
Utting's Purchase & Mortgage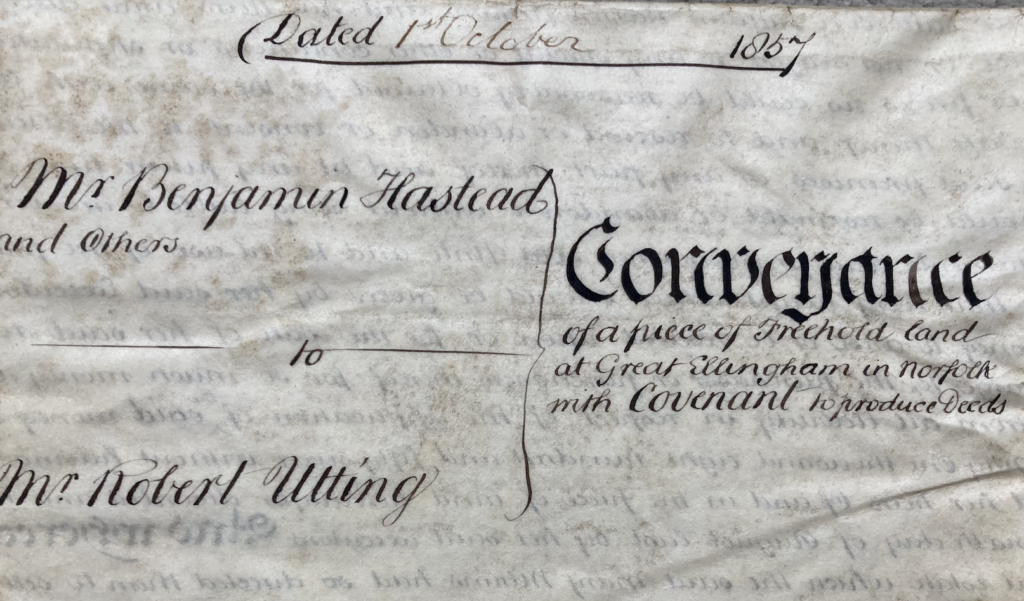 Extract from the Conveyance Deed dated 1st October 1857 between Benjamin Hastead & Others and Robert Utting. Courtesy of Pat Price
Robert Utting completed his purchase of Lot 3 on the 1st October, 1857. The Conveyance Deed gives his address as Bridge Street, Saint Andrews in the City of Norwich, and his occupation as a grocer.
On the 8th February, 1861, Utting borrowed £70 (with interest at £5 per cent) from the Reverend James Farr Reeve, the Rector of Thornham in Suffolk, and Richard Henry Reeve Esq. of Lowestoft. The property was used as security for the loan.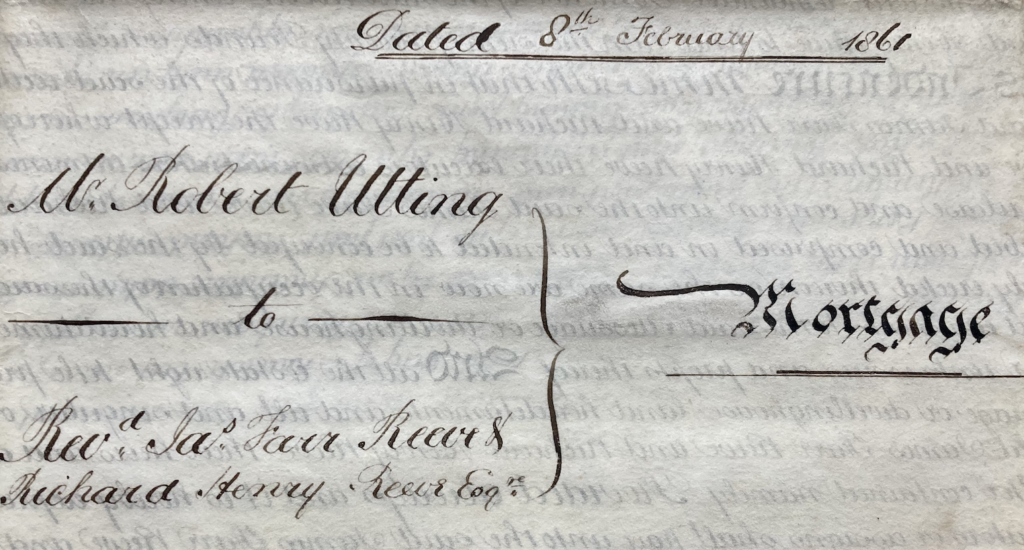 Extract from the Mortgage Deed between Robert Utting, the Revd. James Farr Reeve & Richard Henry Reeve. Courtesy of Pat Price
It is this mortgage deed that tells us that there was (in February 1861) a house now built on the land.

Extract from the Mortgage Deed between Robert Utting, the Revd. James Farr Reeve & Richard Henry Reeve. Courtesy of Pat Price
Robert Utting
Marriage
Born in Bergh Apton c.1798, Robert Utting married Eliza Easter in the Parish Church of Saint Simon and Saint Jude in Norwich on the 14th November, 1821. They were both single and they both signed the marriage register.
Lowestoft
Six years before Robert Utting purchased the land in Long Street, Great Ellingham, the couple lived in Lowestoft.
The 1851 census captures 53 year old Robert Utting with his 47 year old wife Eliza in High Street, Lowestoft. Robert Utting is working as a gamekeeper. The couple have a servant – 49 year old John Tripp who is described as an ostler (i.e. a man employed to look after the horses of people staying at an inn).
Norwich
By 1857, Robert Utting (presumably with his wife Eliza) was a grocer in Bridge Street at St Andrew's in Norwich.
The couple then moved to Great Ellingham. What prompted the couple to move to Great Ellingham?
Great Ellingham
The Mortgage Deed of the 8th February 1861, between Robert Utting and the Reverend James Farr Reeve and Richard Henry Reeve, shows that Robert Utting was living in Great Ellingham. It also gives Utting's occupation as a farmer.
The 1861 census (undertaken on the night of the 7th April 1861), finds 63 year old Robert Utting with his 55 year old wife Eliza living to the northern end of Long Street. Robert Utting is described as a gardener. With the couple is Robert's widowed brother Samuel. Aged 80, Samuel Utting is working as an agricultural labourer.
Given that the census finds the couple at the northern end of Long Street, I think it unlikely that Robert and Eliza Utting are living in Utting's newly built house which was built on the land towards the southern end of Long Street.
No Right to Dower

Extract from the Conveyance Deed dated 1st October 1857 between Benjamin Hastead & Others and Robert Utting. Courtesy of Pat Price
When Robert Utting purchased the piece of land, he declared that his widow was not entitled to any dower or interest from the land. Usually a widow was entitled to a portion of her husband's estate in the absence of a will, so that she could provide for herself (and any children from the marriage).
I am wondering whether Robert Utting owned other property – and this 'other' property was the couple's marital home. This may well be the reason why Eliza Utting was not entitled to a dower.
Whilst the 1865 Register of Electors lists Robert Utting as owning a freehold cottage and garden in Long Street, the census of 1861 shows the couple living at the northern end of Long Street and not the southern end where the house was built.
Death of Robert Utting
Robert Utting died on the 19th March, 1878.
Given that he is not buried in the churchyard of St James's Church, Great Ellingham, I think it more likely that Robert was a non-conformist.
Only Surviving Son & Heir
Robert Utting died without leaving a last will and testament.
The house (with the garden and outbuildings) at the southern end of Long Street (which later became known as Fir Cottage), was inherited by Robert's only surviving son and heir, Walter Utting.
The mortgage debt of £70 plus interest remained outstanding and due to James Farr Reeve and Richard Henry Reeve.
On the 21st October, 1880, Walter Utting sold Fir Cottage to local Baptist Minister James Toll. Of the purchase price of £125, the sum of £103 13s 10d (one hundred and three pounds thirteen shillings and ten pence) was paid to Reeve and Reeve in repayment of the mortgage debt with the balance paid to Walter Utting.
Walter Utting
Just three years after his father's death, the 1881 census captures 57 year old Walter Utting living with his 78 year old widowed mother, Eliza, in Town Green, Great Ellingham. I suspect they were living in the very same property which Eliza had occupied with her late husband Robert Utting.
Ten years later, mother and son are still occupying the two roomed dwelling in Town Green.
Married Man
The census returns also tell us that Walter Utting was a married man. However, his wife is not with Walter and his mother on the census nights. Was this just a coincidence that on two occasions, Walter's wife was visiting elsewhere – or was there some other reason?
I decided to look further at Walter Utting.
Suffolk Born
Walter was born in Beccles, Suffolk around 1823.
1851 census
The 1851 census finds 27 year old unmarried Walter Utting living in High Street, Lowestoft. His parents were also living in the same street.
Walter is working as a lace man and hosier. He has an assistant – his cousin, 15 year old Eliza Utting who is also living with Walter. Eliza Utting was born in Swaffham (Norfolk).
Marriage to Cousin
Just over two years later, Walter and Eliza married. The marriage took place at St Margaret's Parish Church, Lowestoft on the 18th October, 1853.
The marriage entry describes Walter Utting as a draper. It also states that Walter's father, Robert Utting, is retired. Eliza's father is farmer, James Utting.
I think it unlikely that Robert Utting had retired. Considering that just two years before the marriage, Robert Utting is working as a gamekeeper in Lowestoft and, a few years later (and having moved to Great Ellingham), Robert Utting is a gardener.
Perhaps Walter thought 'retired' would look more 'respectable' on the marriage certificate than a gamekeeper or gardener! After all, his bride's father (and his Uncle), James Utting, was a fairly substantial farmer.
Separation
Nevertheless within a few years, the marriage ran into difficulties and, ultimately, the couple separated. During the Victorian period, divorce was rare. It was also not easily acceptable in society. It was expensive and thus restricted to the wealthy.
1861 census
The 1861 census finds hosier Walter Utting living alone in High Street, Lowestoft. Walter's 25 year old wife, Eliza Utting, is living in Bridge Street, Halesworth. Eliza is working as a milliner. With her is her two children, four year old James and eleven month old Frederick. Eliza employs as house servant.
1871 census
By 1871, Eliza has moved to Bergh Apton to live with her widowed father, 79 year old James Utting at Town Farm, a substantial holding of some 100 acres. At 14, Eliza's son, James, is now at the Albert Middle Class College in Framlingham, Suffolk.
1881 census
Eliza Utting is still with her father at the time of the 1881 census. Her father, James Utting, has now retired and they have relocated to Lowestoft.
45 year old Eliza Utting is described as a lodging house keeper. It may well be that James Utting sold the farm in Bergh Apton and purchased a lodging house in Lowestoft. With Eliza and her father, is Eliza's daughter, 32 year old school mistress Alice Utting.
At this time, Eliza's estranged husband Walter Utting is in Great Ellingham with his widowed mother Eliza.
1891 census
Ten years later in 1891, Walter is still living with his mother in Town Green. His wife, Eliza, is still living in Lowestoft.
54 year old Eliza and her 32 year old daughter Alice have a scholastic school in Lowestoft. They have a 14 year old scholar boarding with them as well as a servant.
Death of Mother Eliza Utting
In 1895, Walter Utting's mother died at the age of 93.
Death of Walter Utting
Just five years later, Walter Utting is dead.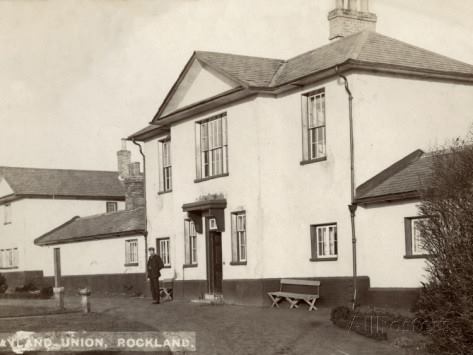 Wayland Union Workhouse. Courtesy Liz Barrett
Although Walter still lived in Great Ellingham, he died at the Union Workhouse in Rocklands. He was buried in the churchyard of Rocklands All Saints with Saint Andrew on the 28th August, 1900.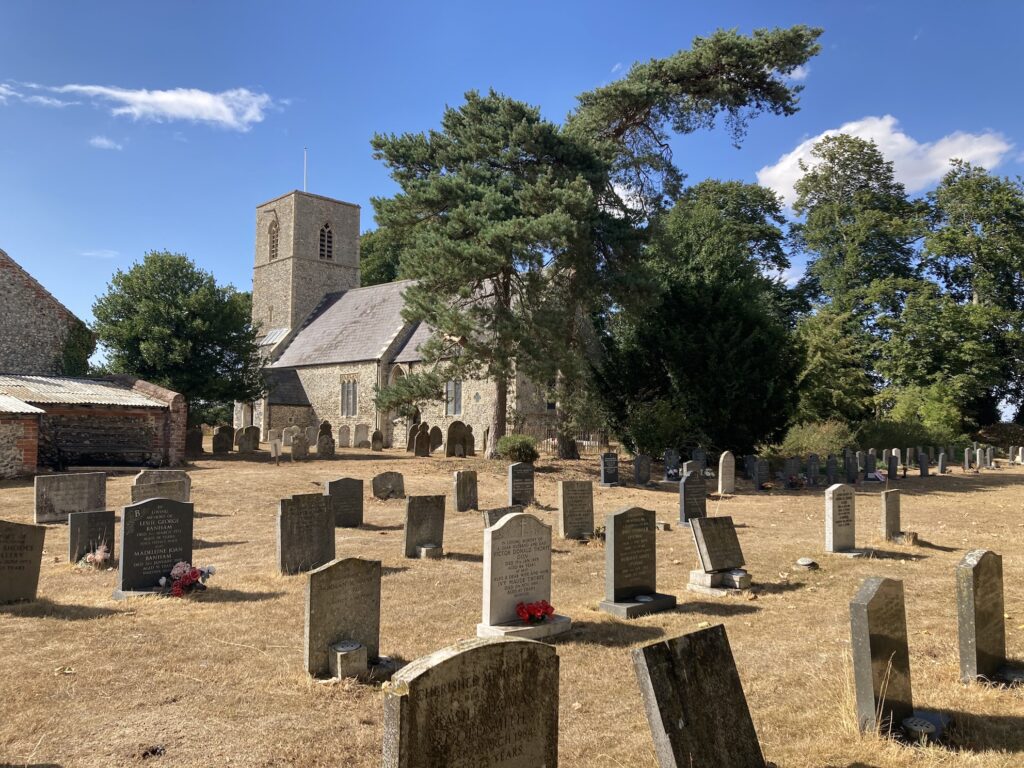 All Saints Church, Rocklands. Photograph taken 19th August 2022
Death of wife Eliza Utting
Walter's wife (and cousin) Eliza Utting died on the 12th November, 1903. She is buried in Lowestoft Cemetery.
Having lived apart for some 40 years, I do not believe that Walter and Eliza ever divorced.
Sources:
Norfolk, England, Register of Electors 1832-1915. Viewed via www.ancestry.co.uk Ancestry.com. Norfolk, England, Register of Electors, 1832-1915 [database on-line]. Lehi, UT, USA: Ancestry.com Operations, Inc., 2016. Original data: England, Norfolk Register of Electors, 1844-1952. Salt Lake City, Utah: FamilySearch, 2013.
Lowestoft St Margaret Parish Registers. Norfolk Record Office; Norwich, Norfolk, England; Suffolk Church of England Registers; Reference: PD 589/23. Viewed via www.ancestry.co.uk. Ancestry.com. Norfolk, England, Church of England Marriages and Banns, 1754-1936 [database on-line]. Lehi, UT, USA: Ancestry.com Operations, Inc., 2016.
Private Deeds Collection. Thanks to Pat Price
Private Deeds Collection. Thanks to D & J Richards
1851 census HO107/1805/208, HO107/1805/285
1861 census RG9/1180/86, RG9/1187/91, RG9/1237/78
1871 census RG10/1831/111, RG10/1841/83
1881 census RG11/1904/77, RG11/1974/80
1891 census RG12/1493/109, RG12/1549/69
1901 census RG13/1804/132
Rockland All Saints with Saint Andrew Parish Registers. Norfolk Record Office. PD335. Viewed via www.ancestry.co.uk
Norwich St Simon & St Jude Parish Registers. Norfolk Record Office. PD106. Viewed via www.ancestry.co.uk