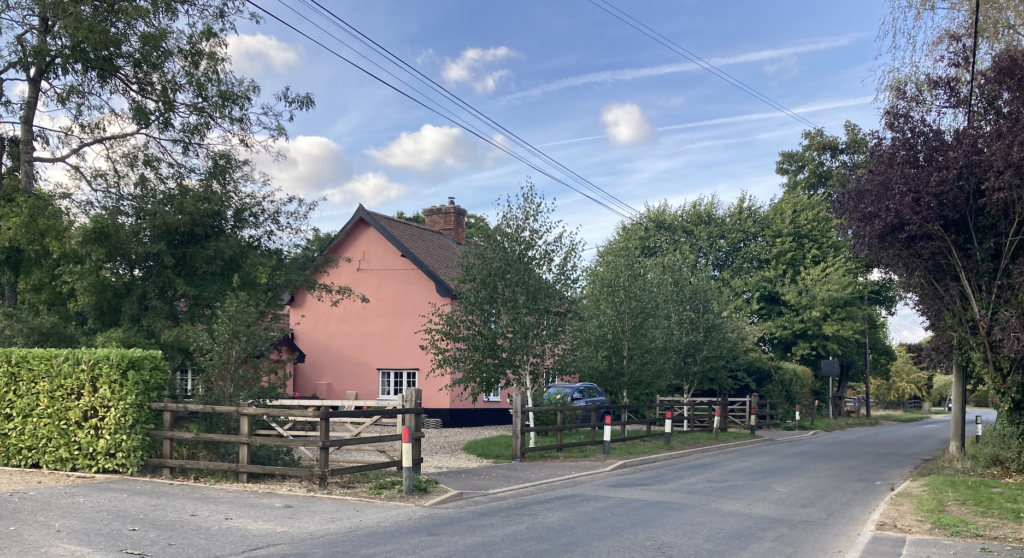 'Roselands' Long Street Great Ellingham. Photograph taken September 2022
The delightful house with the name of 'Roselands' sits on the western side at the northern end of Long Street, Great Ellingham.
It was built by a local builder during the mid-Victorian era. Over the last 160 years or so, the house will have seen the comings and goings of many families. Further, the house will have undergone many changes over the years. Not least that it once comprised two dwellings.
In this blog we look at when the house was built, who built it and who made the house their home?
Let's begin the story at the turn of the 19th century.
1802 Inclosure Map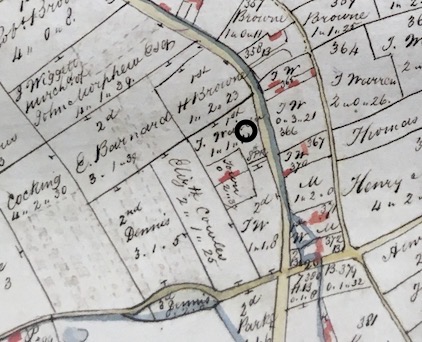 Extract from 1802 Map of Great Ellingham. Original held at Norfolk Record Office. Russell James Colman Plans. Cat. Ref. C/Ca 1/84. With kind permission of NRO
Allotment upon Town Green Common
At the turn of the 19th century, 'Roselands' did not exist in any shape or form. Indeed, the 'Town House' (built to house the poor) was the only dwelling on the western side of Long Street, stretching from the area we know today as Town Green down to Shruggs Lane.
The black circle on the above extract from the 1802 Great Ellingham Inclosure Map shows the piece of land on which 'Roselands' was subsequently built. This parcel of land was an allotment upon Town Green Common comprising one acre one rood and eleven perches (1a 1r 11p).
The 'Town House' built c.1769 is to the south of this land (north being the top of the extracted map).
Warren & Wilkins
In 1802, the allotment formed part of several acres of land owned by local farmer, Thomas Warren. Warren also owned and occupied the modest farmhouse on the opposite side of Long Street. This farmhouse was much later known as Fir Tree Farm.
When Thomas Warren died in February, 1804, his property and land in Great Ellingham (including the allotment) passed to his eldest son, William Warren. On his death on the 20th May, 1816, the ownership of the allotment (together with the farmhouse and other land) passed to his cousin, Edward Wilkins.
The allotment remained in the ownership of Edward Wilkins until his death in 1849. By this time, Edward Wilkins also owned the former 'Town House' which he purchased at auction in 1836.
Edward's widow, Mary, continued to own and farm the land until her death in 1857.
1857 Auction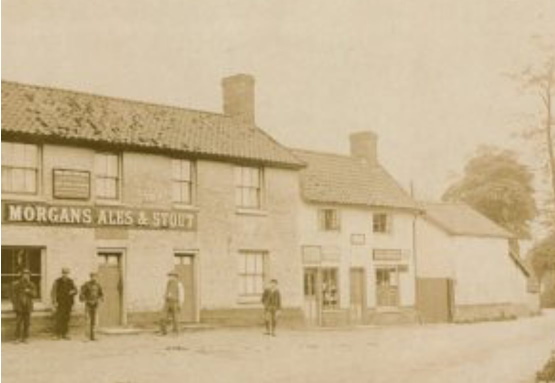 The Crown Inn the venue of the Auction of Mary Wilkins' Property on 20th July 1857. Postcard courtesy Carol Ewin
It was Mary's will that all her property and land (save for the former 'Town House'), should be sold. Accordingly, Mary Wilkins' property and land was offered for sale in three lots an an auction held at the Crown Inn, Great Ellingham on the 20th July, 1857.
Lot 1 included the modest farmhouse (later Fir Tree Farm) as well as a barn, outbuildings, a double cottage and several enclosures of arable and pasture land.
Lot 3 comprised a piece of freehold arable land measuring one acre one rood and three perches (1a 1r 3p).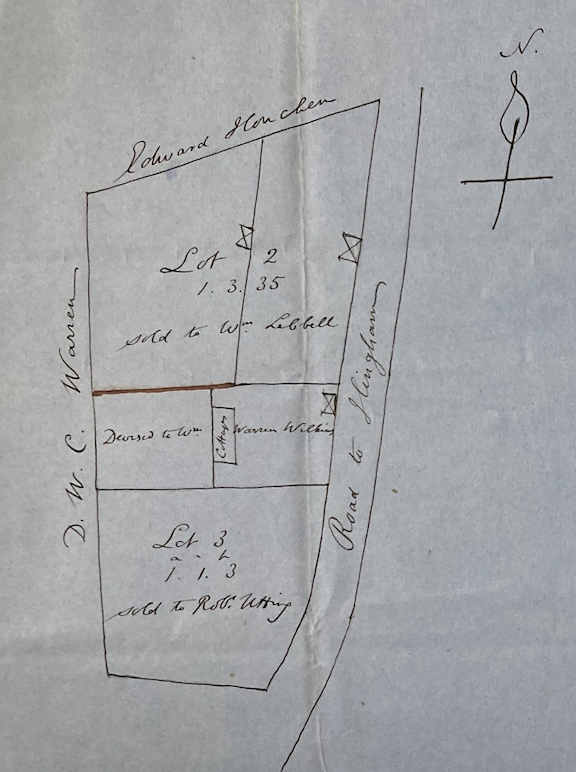 Plan to an Acknowledgment of Right as to a Fence dated 29th September 1857 between William Warren Wilkins & William Lebbell. Courtesy D & J Richards
The Auction Particulars & Conditions of Sale describe Lot 2 as:
"A piece of arable and a piece of pasture land containing together 1a 3r 35p in the occupation of Ezekiel Harman …".
Prior to and at the time of Mary Wilkins' death, Harman also occupied the farmhouse, premises and land described in Lots 1 and 3.
The extent of Lots 2 and 3 are clearly shown on the above plan. Lot 2 includes the allotment of 1a 1r 11p which Thomas Warren owned back in 1802.
William Lebbell
The Contract attached to the 1857 Auction Particulars and Conditions of Sale confirm that the buyer of Lot 2 was Great Ellingham builder William Lebbell. His was the highest bidder at £127 10s 0d.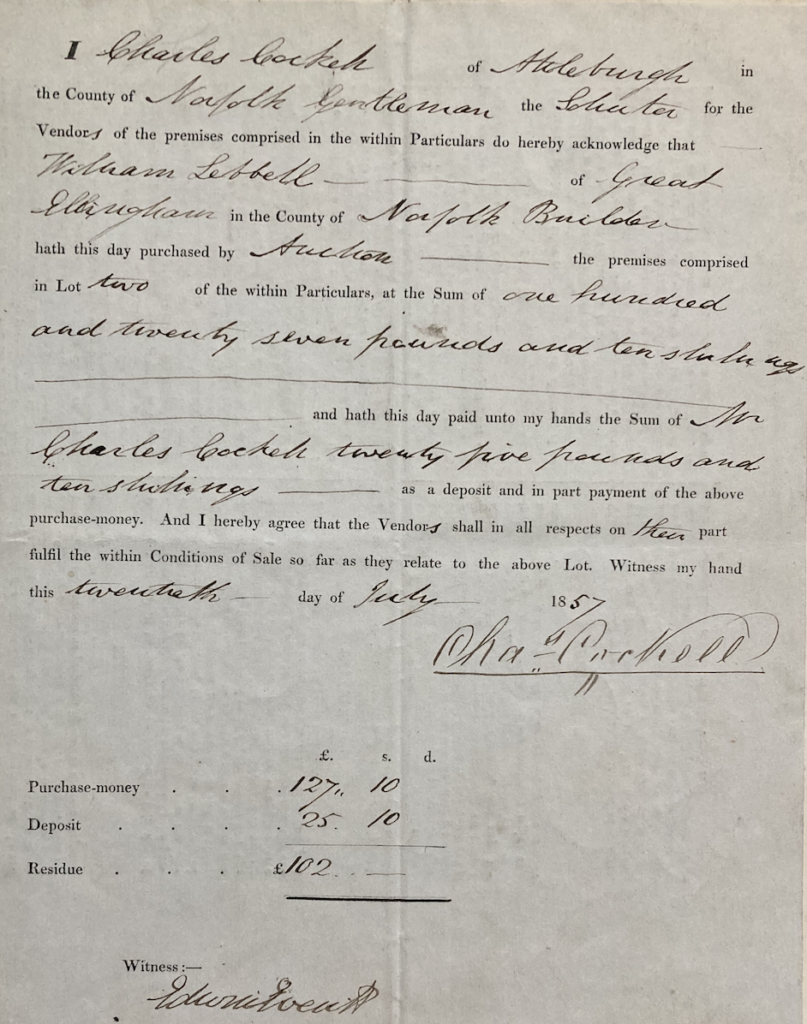 Agreement for sale to William Lebbell attached to the Auction Particulars and Conditions 20th July 1857. Courtesy Drs D & J Richards
Lebbell paid a deposit of £25 10s to Charles Cockell of Attleburgh, the solicitor acting for the executors of the late Mary Wilkins. The Conditions of Sale provide for a completion date of the 12th October. The land was subject to rent charges totalling 14s 3d in lieu of Tithes.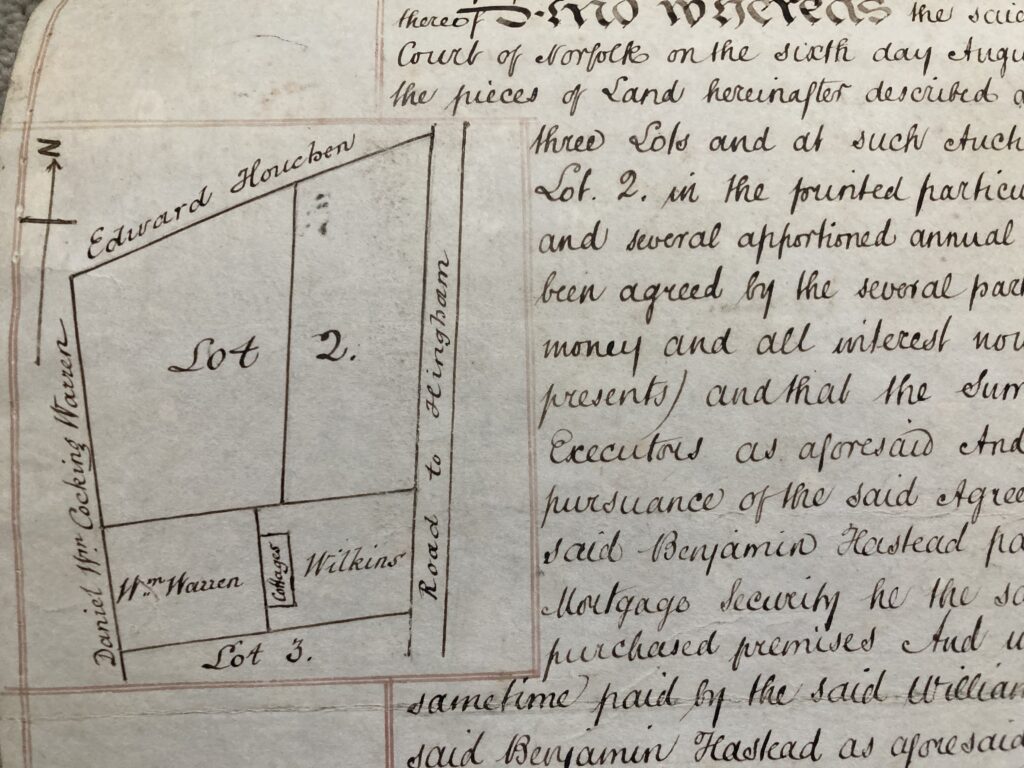 Plan drawn on the Conveyance dated 30th September 1857 Executors of Mary Wilkins to William Lebbell. Courtesy D & J Richards
Notwithstanding the completion date in the Auction Conditions, William Lebbell completed his purchase of Lot 2 on the 30th September, 1857.
Married Man
William Lebbell was a married man. He married Elizabeth Hatcher at the Baptist Church in Great Ellingham on the 16th January, 1854. Elizabeth was the only daughter of Baptist Minister, the Reverend Charles Hatcher. Aged around 41 at the time of her marriage, Elizabeth was some six years older than William.
Home in Church Street
Following their marriage, William and Elizabeth Lebbell lived in Church Street, where they remained living all their lives. However, I do not know whether they lived in the same house in Church Street throughout this time.
The 1881 census mentions William Lebbell (then widowed) living at the Carpenter's Shop in Church Street. I believe the Carpenter's Shop was not far from the Crown Public House.
Master Carpenter & Builder
By the age of 32, William Lebbell was already a master carpenter and employed four men. The ten yearly census returns from 1851 to 1891 all show William to be a master carpenter and an employer.
The announcement of William's marriage to Elizabeth Hatcher appearing in the Norfolk News on the 21st January, 1854, describes William as a builder. Indeed the 1857 Conveyance of the land comprised in Lot 2 to William Lebbell also gives Lebbell's occupation as a builder.
The Building of 'Roselands'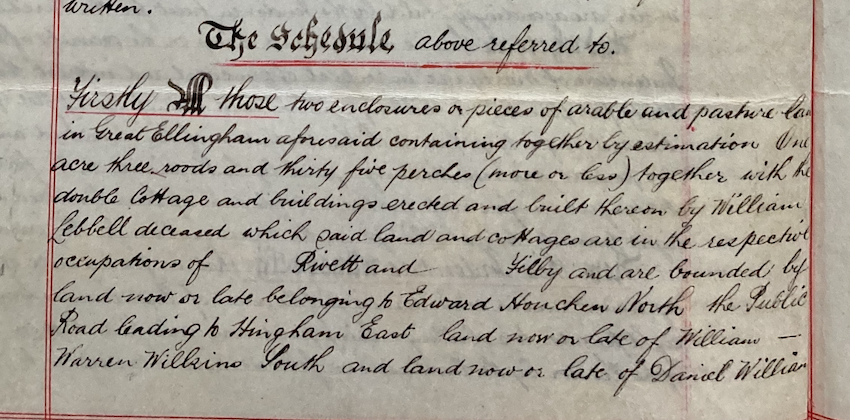 Extract from Conveyance dated 27 February 1911 Saunders to Lewis. Courtesy D & J Richards
There is no doubt that 'Roselands' was built by William Lebbell. A later Conveyance of the 27th February, 1911, recites the fact that Lebbell (then deceased) had built a double cottage on the former allotment land during his ownership. This double cottage later became one and in the 20th century, became known as 'Roselands'.
However, it is difficult to be certain exactly when the house was built. William Lebbell purchased the land in 1857. He died in 1897. Accordingly, the house was built during these 40 years.
Nevertheless, we can narrow the timescale but only slightly. The house is shown on the First Edition of the Ordnance Survey Map (1879-1886) Therefore, the house was built between 1857 and 1886.
Who Lived in Lebbell's New Double Cottage
Although it was not until the 20th century that LebbelI's double cottage was known as 'Roselands', for ease of reference I will refer to the property as Roselands.
I do not believe that William Lebbell ever lived in Roselands.
As mentioned, the census returns from 1861 to 1891 finds him living in Church Street. In addition, when William Lebbell executed his will on the 17th July, 1897, he stated that he had already conveyed his dwellinghouse, premises and land to his employee carpenter James Reeder (to whom he bequeathed all his stock in trade, materials and effects). The dwellinghouse was not Roselands.
Accordingly, Lebbell must have let the property to a tenant or tenants.
However, it is difficult to determine the names of any tenant or tenants. Property deeds are very useful as they can give the names of the occupiers of a property. However, there were no transactions concerning Roselands during Lebbell's ownership: he did not mortgage the property and I have not (yet) discovered any tenancy agreements.
Further, although the census returns provide the names of people living in a certain street or area, the returns do not usually tell us exactly where they lived.
Therefore, it is not until after William Lebbell's tenure that we are able to say with any certainty who lived in Roselands.
Death of William Lebbell
William Lebbell died on the 11th September, 1897 aged 78.
In his will which he had executed just two months earlier, William describes himself as a carpenter and wheelwright. As mentioned, William had already conveyed his dwellinghouse and business premises (presumably in Church Street) to James Reeder.
Save for several legacies, William Lebbell left his estate (including all his property and land) to Hannah Saunders.
Hannah was the daughter of William Lebbell's late good friend William Leeder who in 1860 had died at the age of 26. Hannah had not yet reached her first birthday when her father died. Leeder left his estate in trust for his wife and ultimately for his daughter Hannah, and he appointed William Lebbell his trustee.
Given that William Lebbell and his wife Elizabeth (née Hatcher) did not have children, it is no surprise that William Lebbell left the majority of his estate to Hannah Saunders.
New Owner Hannah Saunders
Accordingly in 1897, Hannah Saunders became the new owner of Roselands.
It would have been around this time that Roselands (and all Lebbell's other property and land) was conveyed to Hannah Saunders.
Hannah was the wife of George Saunders, who was also a carpenter and builder. Although both George and Hannah Saunders were born in Great Ellingham, they spent some time living in Suffolk before returning to Great Ellingham by 1901.
Given that the Saunders family lived in Church Street, I do not think that Hannah Saunders occupied Roselands during the early days of her ownership of the property.
However in 1908, Hannah mortgaged her properties (including Roselands). Not only does the mortgage deed provide details of the mortgage transaction, but it also tells us that Roselands (as a double cottage) was occupied by Rivett and Filby.
Occupiers – Rivett & Filby
I believe that Frederick Rivett and Alfred Filby were the occupiers of Roselands at this time.
The 1911 census captures 65 year old widower and poultry dealer Frederick Rivett living in a four roomed dwelling in Long Street.
Next door (and also living in a four roomed dwelling) is 44 year old farm labourer Alfred Filby and his 43 year old wife, Caroline, and their eight children with ages ranging from 16 years down to 5 months. The Filby's 'two up two down' home must have felt very over-crowded!
1908 Mortgage to Forester's Friendly Society
On the 30th January, 1908, Hannah entered into a mortgage with the Court Victoria of the Forester's Friendly Society at Great Ellingham. William Johnson Eagling, James Ducker and Henry Thomas Nurse were the trustees of the society who were party to the mortgage deed.
Hannah borrowed the sum of £445 with interest. This was secured over seven separate properties or parcels of land which included the double cottage and buildings known as Roselands.
1910 Further Mortgage
Two years later, Hannah borrowed further money against the seven properties. Again, this included Roselands.
On the 10th April, 1910, Hannah entered into a Mortgage Deed with Samuel Robert Lewis, a solicitor's clerk of Attleborough. This mortgage secured the sum of £90 plus interest and was subject to the amount owing on the mortgage to the Forester's Friendly Society.
We can but wonder the purpose of the initial borrowing and the further loan. Did Hannah borrow money to help her husband's business or to invest in more properties?
1910 Hannah Saunders agrees to sell her Property and Land
Whatever the reason, just six month's later in October 1910, Hannah Saunders agrees to sell all the mortgaged properties (including Roselands) to the second lender, Samuel Robert Lewis.
On the 31st January, 1911, Samuel Lewis repays in full Hannah Saunders' mortgage debt of £462 16s 0d to the Forester's Friendly Society.
A month later, on the 27th February, 1911, Hannah completed the sale of the seven properties to Samuel Lewis. The properties, of course, include Roselands which is occupied as two dwellings by Frederick Rivett and the Filby family.
1912 Agreement between Samuel Lewis and William Saunders
I wonder whether Hannah Saunders (or her family) had some affection for Roselands. As on the 5th April, 1912, Hannah's son William Barham Saunders, a coach builder of Peterborough, entered into an Agreement with Samuel Lewis for the purchase of Roselands.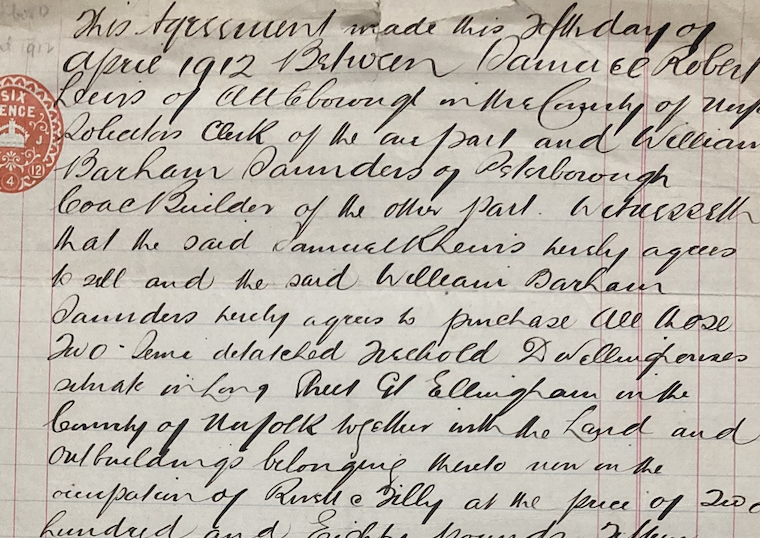 Extract from an Agreement dated 5th April 1912 between Samuel Lewis & William Barham Saunders. Courtesy D & J Richards
William Saunders agreed to pay £280 for the "two semi detached freehold dwellinghouses situate in Long Street Gt Ellingham in the County of Norfolk together with the Land and Outbuildings belonging thereto now in the occupation of Rivett & Filby".
Saunders paid £15 of the agreed £90 deposit with the balance of £75 to be paid on the 13th April.
It was also agreed that the balance purchase price (£190) would remain as a mortgage on the property with interest at 4% per annum. Saunders further agreed to enter into a Mortgage Deed with Lewis on or before the completion of the purchase, which was set for 11th October, 1912.
1944 Saunders Completes his Purchase
As it happens, William Saunders' purchase of Roselands did not complete until the 23rd October, 1944 – some 32 years after he had agreed to purchase the property!
Why was there such a delay between the contract and the completion of the transaction? Did William Saunders ever enter into a Mortgage Deed with Samuel Lewis as required by the contract of 1912? I suspect not.
Perhaps Saunders and Lewis never got around to instructing solicitors to draw up the paperwork to complete the transaction in 1912.
However, I think it likely that in the intervening years that Saunders paid some or all of the balance purchase money plus any interest requested.
Whatever the case, the sale and purchase was finally completed on the 23rd October, 1944. Samuel Lewis was no longer a solicitor's clerk but a merchant. He was, however, still living in Attleborough. William Saunders is now living at 43 Milton Street, Stoke, Coventry.
Surprisingly, and given that some 30 years have passed since the Agreement was signed in 1912, the purchase price remained at the original agreed figure of £280.
Perhaps this is a clear indication that Saunders had (some years previously) handed over the full purchase price to Lewis, and the completion of the transaction was merely a formality.
Occupiers George & Hannah Saunders
The 1944 Conveyance Deed to William Saunders mentions that the property (Roselands) was in its entirety occupied by Hannah Saunders, having formerly been in the occupation of Rivett and Filby.
The Electoral Registers reveal that George and Hannah Saunders were living in Long Street from at least 1920.
The 1939 Register finds the couple (each of them now in the 80th year) in Long Street. Indeed, the 1942 Great Ellingham Invasion Committee Record also captures them in Long Street along with their daughter, Edith. A note alongside Hannah's name indicates that she is ill.
George Saunders died at the age of 84 during the latter part of 1944. Hannah died at the age of 85 on the 6th August, 1945. I have no doubt that George and Hannah Saunders were living at Roselands from at least 1920 until their respective deaths in 1944 and 1945.
1945 Sale of Plot of Land to Bilham
It was also in 1945 that William Saunders sold a plot of land on the northern side of Roselands to John William Bilham. However, I do not know whether this took place before or after the death of Hannah Saunders.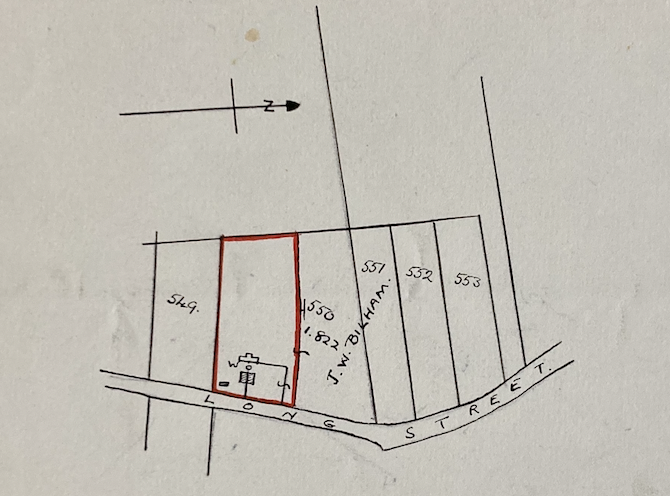 Plan drawn a Conveyance dated 11th October, 1945 between Saunders and Fifield. Courtesy D & J Richards
John Bilham lived at 'Homeleigh' which adjoined what was then the northern boundary of Roselands. Later, John Bilham (or his son Falcon) had a bungalow built on this land.
The above plan shows the extent of Roselands edged in red following the conveyance of the plot of land to J W Bilham.
1945 Sale to May Fifield
Just two months after the death of Hannah Saunders, and following the sale of the plot of land to John Bilham, William Barham Saunders sold Roselands.
At this time, William Saunders was still living at 43 Milton Street, Stoke, Coventy. He completed his sale to May Fifield on the 11th October, 1945.
May Fifield owned (and likely occupied the property with her husband Robert Henry Fifield) for around 8 years before she sold Roselands to Arthur Harwood in 1953.
First Mention of the name 'Roselands'
The Conveyance Deed of the 11th December, 1953, between May Fifield and Arthur James Harwood is the first Conveyance Deed which refers to the property as 'Roselands'.
Roselands, the charming house which was once the double cottage built by local builder William Lebbell, has witnessed the comings and goings of numerous owners and occupiers since its construction in the mid-Victorian era.
Indeed, the property may well have undergone many changes (both inside and out) over the last 160 years or so. The property today may not look like it did when William Lebbell finished building his house.
Was Lebbell also responsible for the building of other properties in the village?
Sources:
1799-1842. F W Horner, Records of the Surveyors to the Commissioners for Inclosure in Parishes in Norfolk and Suffolk. Great Ellingham (Act 1799). Norfolk Record Office. Catalogue Ref: BR 90/2.1802 Russell James Colman Plans. Norfolk Record Office. Catalogue Ref: C/Ca 1/84. All rights reserved by Norfolk Record Office.
1851 census HO107/1823/109
1861 census RG9/1237/80
1871 census RG10/1841/88
1881 census RG11/1974/92
1891 census RG12/1549/79A, RG12/1464/21
1901 census RG13/1867/80
1911 census RG14/11473/70 & RG14/11473/70
1860 Probate & Will of William Barham Leeder. Obtained via https://www.gov.uk/search-will-probate
1897 Probate & Will of William Lebbell. Obtained https://www.gov.uk/search-will-probate
21st January 1854. Norfolk News. Accessed via https://www.britishnewspaperarchive.co.uk/
1939 England & Wales Register. The National Archives; Kew, London, England; 1939 Register; Reference: Rg 101/6590h. Viewed via https://www.ancestry.co.uk
1942 Great Ellingham Invasion Committee Record. Thanks to Sue Fay
Deeds & Documents. Many thanks to Drs D & J Richards
England & Wales, Electoral Registers 1832-1932. Parliamentary County of Norfolk, Southern Division. Great Ellingham 1920, 1928 and 1931.