Extract from 28th January 1898 Inland Revenue Account of Succession to real or leasehold property completed by R W H Venn, Solicitor, Attleborough for the Executors of William Lebbell deceased
The above extract from an Inland Revenue Account dated 28th January 1898, confirms that Hannah Saunders, a beneficiary of property under the Will of the late William Lebbell, was not a blood relative of William Lebbell. Hannah was described as a 'stranger in blood'.
In his Will dated 17th July, 1897, Great Ellingham wheelwright William Lebbell, left various legacies and gifts including the gift all his real estate to Hannah Saunders, the wife of George Saunders. William Lebbell died aged 79 on the 11th September, 1897.
What was the relationship (if any) between William Lebbell and Hannah Saunders?
William Lebbell
The 1891 census captures 73 year old widower William Lebbell as the head of a household in Church Street, Great Ellingham. The census tells us that William was born in Attleborough, and that he was a carpenter and wheelwright. With William is 70 year old spinster Lydia Starke, described as a housekeeper, and a general servant, 20 year old local girl Sarah Warren.
Ten years earlier, the 1881 census shows carpenter 62 year old William Lebbell at a carpenter's shop in Church Street. His 83 year old widowed mother, Elizabeth Houchen (a former dressmaker) was living with William. 60 year old Little Ellingham born unmarried Lydia Starke, described as a visitor and housekeeper, completes the census household.
William's wife had died between the census of 1871 and the next census of 1881. The 1871 census reveals 52 year old master carpenter William Lebbell with his 58 year old wife Elizabeth in Church Street, Great Ellingham. The couple's niece, 12 year old Minnie Bristow, is with William and Elizabeth.
I do not believe that William Lebbell and his wife Elizabeth had any children.
Hannah Saunders
Turning to Hannah Saunders, the 1891 census captures Great Ellingham born 31 year old Hannah Saunders with her husband George Saunders (also born in Great Ellingham and aged 31), and four young children living in Manningtree Road, East Bergholt, Suffolk. The couple have a boarder, 15 year old factory hand John Garwood. George Saunders is described as a carpenter and joiner.
I found the registration of a marriage between George Saunders and Hannah Leeder in the Wayland District of Norfolk between October and December 1883.
Working back from Hannah's age given on the 1891 census, Hannah would have been born around 1859/1860.
The 1861 census captures one year old Hannah Leeder (born in Great Ellingham), with her widowed mother 23 year old shopkeeper Elizabeth Leeder living in Goose Green, Little Ellingham. Elizabeth Leeder has a 14 year old domestic servant, Sarah Ainger.
Looking at the General Record Office (GRO) Index, the birth of a Hannah Leeder was registered in the Wayland District between July and September 1859. The maiden name of the mother is stated to be 'Barnard'.
Checking the GRO Index for a marriage between an Elizabeth Barnard and a bridegroom with the surname 'Leeder', I found a marriage registered in the Wayland District during the period October to December, 1858 between William Barham Leeder and Elizabeth Barnard.
Further, I found the death of a William Barham Leeder aged 26 registered in the Wayland District between April and June, 1860.
Accordingly, it appears that Hannah Saunders' father, William Barham Leeder died whilst Hannah was just an infant, leaving her mother, Elizabeth, a young widow.
However, this does not answer the question:
What is the relationship (if any) between William Lebbell and Hannah Saunders (née Leeder)?
The answer lies within William Barham Leeder's Will.
In his Will dated the 8th May, 1860, farrier William Barham Leeder of Little Ellingham, appointed his friend William Lebbell, a builder of Great Ellingham, as his executor and trustee.
He left all his household furniture and goods (including plate, linen, china etc), implements of husbandry, cattle and crop stock, and all his book debts to his wife, Elizabeth. However, William Leeder left all his property (both freehold and copyhold) in Great Ellingham (and said to be occupied by John Dye and Richard Pitcher) to his trustee and friend, William Lebbell, in trust for his infant daughter, Hannah Leeder.
William Leeder also gave William Lebbell the sum of one hundred pounds from his United Kingdom Temperance & General Provident Institution (insurance policy). He directed William Lebbell together with his wife Elizabeth, to invest the money in trust for Hannah. William Leeder also directed that the annual rent from the property and money from the trust fund of the £100 investment, should be paid to his wife Elizabeth for the maintenance of Hannah and for the benefit of Elizabeth herself.
William Leeder further provided that in the event that his daughter Hannah died before his wife Elizabeth, then all his property should be sold and divided between his sisters Hannah Houchen, Frances Leeder and Harriott Leeder.
Conclusion
William Lebbell was a good friend of Hannah Saunders' father, William Barham Leeder, who died at the age of 26 on the 19th May, 1860. William Lebbell was the trustee of a Trust Fund which William Barham Leeder created primarily for the benefit of his daughter, Hannah Leeder (later Hannah Saunders).
The Trust fund comprised an initial sum of £100 and all the property which William Leeder owned in Great Ellingham.
I do not know whether the property which Hannah Saunders inherited from William Lebbell on his death in 1897 is the same property which her father held in 1860 i.e. the Trust Fund property. It may be that the ownership of the Trust Fund property was passed to Hannah many years before William Lebbell died, or the original property sold and replaced. It is also possible that Hannah inherited additional property from William Lebbell.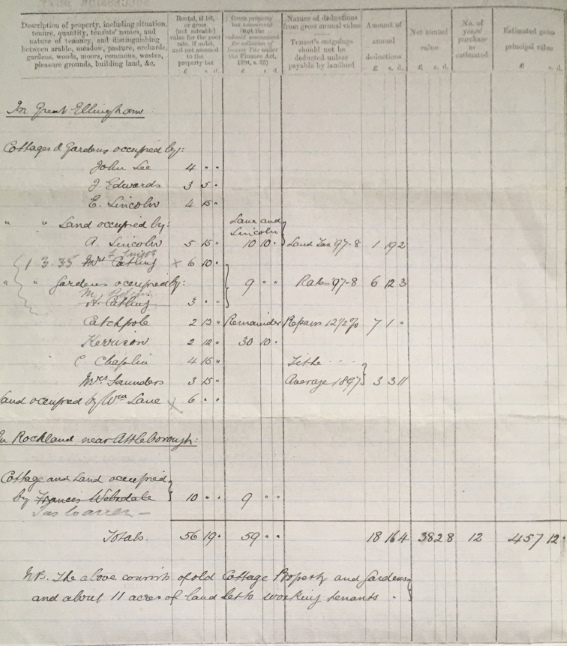 The above is a further extract from the Inland Revenue Account dated 28th January 1898. This lists the properties in Great Ellingham and Rocklands which Hannah Saunders inherited from William Lebbell.
Between 1891 and 1901, George and Hannah Saunders returned to Great Ellingham. The 1901 census finds 41 year old carpenter and builder George Saunders with his 41 year old wife Hannah and their six children living in Church Street, Great Ellingham. The family have a 14 year old general domestic servant, Amelia Halls.
Incidentally, George Saunders was the leader of the Great Ellingham Brass Band.
Sources:
Inland Revenue Account Succession to real or leasehold property completed by R W H Venn, Solicitor, Attleborough for the Executors of William Lebbell deceased dated 28th January, 1898. Author's Collection
1901 census RG13/1867/80
1891 census RG12/1464/21, RG12/1549/79A
1881 census RG11/1974/92
1871 census RG10/1841/88
1861 census RG9 1237/106
GRO Index. https://www.gro.gov.uk/
GRO Index. Free BMD website.
https://www.freebmd.org.uk/cgi/information.pl?cite=Jg%2F3UR22UE3VEkjBHiug%2BA&scan=1 Accessed 17.05.2020
https://www.freebmd.org.uk/cgi/information.pl?cite=6SbxTA3Ul2ofxFina%2BKJbA&scan=1 Accessed 17.05.2020
1860 Probate & Will of William Barham Leeder. Obtained via https://www.gov.uk/search-will-probate
1897 Probate & Will of William Lebbell. Obtained https://www.gov.uk/search-will-probate