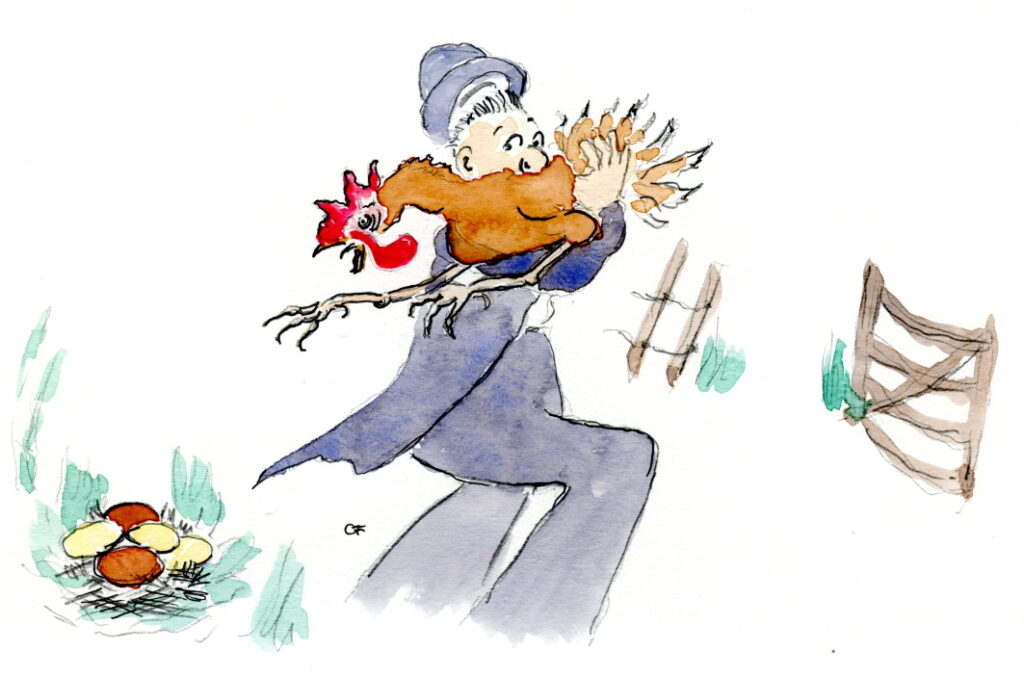 Illustration by Christine Fuller
The Norwich Mercury of April 12th, 1905 reported on the case of the theft of a hen heard recently at the East Harling Petty Sessions.
George Anderson of Great Ellingham was charged with stealing a hen belonging to farmer Josiah Carter at Great Ellingham on the 1st April.
Given the date of the alleged offence, could this have been an April Fool's prank?
Details of the Offence
Josiah Carter told the court that his hen had been sitting on eggs by the side of one of his fields. On the day in question, he saw that the hen was no longer there. Later the same day, Police Constable Knights took Josiah Carter to George Anderson's mother's premises where they saw several hens sitting on nests. Mrs Anderson removed two of them and carried them to Josiah Carter's premises. One of the hens at once went to where the nest was in the fence and 'settled down'.
When questioned under caution by Police Constable Knights, George Anderson had admitted that he had taken the hen at 6 o'clock on the Saturday morning.
George Anderson was sentenced to one month's imprisonment; the court having taken into account that he had already been convicted six times!
Given that George Anderson was known to the court for earlier offences, I think it unlikely that this was an April Fool's prank!
1901 census: Josiah Carter & George Anderson in Town Green
The 1901 census finds both Josiah Carter and George Anderson (as George Dungar) living in Town Green, Great Ellingham.
21 year old agricultural labourer George Dungar (Anderson) is living with his parents, three siblings and a niece and nephew.
Living nearby in a larger property is 34 year old corn threshing machine proprietor Josiah Carter with his 28 year old wife Sarah and two year old son Harold. 13 year old Alice Crane, described as a general domestic servant, is with the Carter household.
The Family of Josiah Carter
Josiah Carter, the son of machine man Ellis Carter and his wife Elizabeth, was baptised in the Parish Church at Great Ellingham on the 28th October, 1866.
Ellis Carter was also for many years the landlord of the Chequers Inn. I think it very likely that Josiah was born at the Chequers and that he lived there with his family until he married around the age of 28. Indeed, at the age of 14, Josiah (referred to as 'Joe' on the 1881 census) was assisting his father Ellis Carter at the Chequers Inn.
By 1891, and at the age of 24, Josiah is a thrashing machine proprietor.
Josiah Carter marries Sarah Downes
Josiah Carter married local girl Sarah Ann Elizabeth Downes in 1894. Their marriage was registered in the Wayland District between October and December in that year.
Josiah's sister Rosa (or Rose) Carter married Sarah's brother John William Downes either within a few weeks of Josiah and Sarah's marriage or quite possibly on the same day. The registration of their marriage appears on the same page of the General Record Office Register.
Sarah and John Downes were children of local farmer John Downes and his wife Maria who lived at Chestnut Grove Farm in Town Green.
Josiah & Sarah Carter
Kelly's Directory of 1904 lists Josiah Carter in Great Ellingham as a thrashing machine proprietor.
Eight years later, Kelly's of 1912 lists Josiah Carter as a threshing machine owner, miller and farmer in Great Ellingham.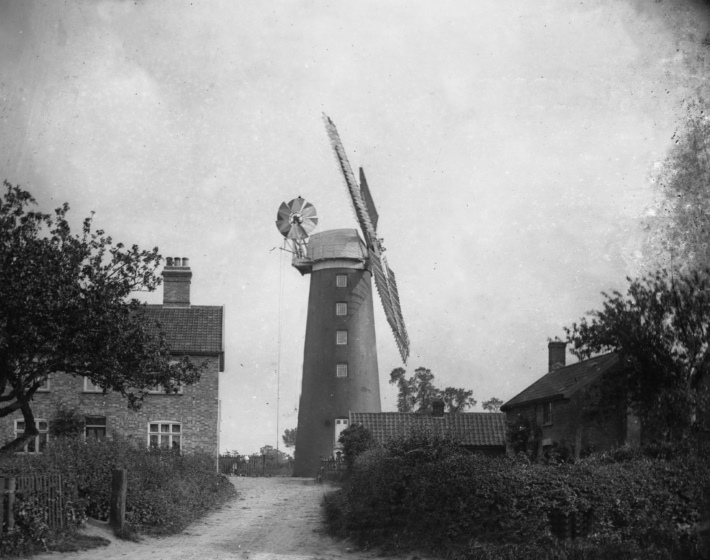 The Mill, Great Ellingham. Photograph courtesy of Attleborough Heritage Group
The 1911 census captures 44 year old Josiah Carter, his 38 year old wife Sarah and sons Harold 12 and Russell 8 at the Mill House, Great Ellingham. Josiah is described as a miller and baker. The census states that the Mill House had seven rooms.
Both Josiah Carter and his wife Sarah are buried in the churchyard of St Andrew, Southburgh. Josiah died on 17th June, 1927 and Sarah some 20 years later on the 6th November, 1949.
Sources:
1904 Kelly's Directory. Attleborough Heritage Group, Community Enterprise Centre, Church Street, Attleborough NR17 2AH
1912 Kelly's Directory. Norfolk Family History Society, Kirby Hall, 70 St Giles Street, Norwich NR2 1LS
Norwich Mercury April 12th, 1905
1911 census RG14/11473/120; RG14/11473/98
1901 census RG13/1867/70; RG13/1867/69
1891 census RG12/1549/74
1881 census RG11/1974/96
1871 census RG10/1841/89
Great Ellingham Parish Registers. Norfolk Record Office PD/609. Also available at FamilySearch.org https://www.familysearch.org/search/image/index?owc=4J8C-CB7%3A29627201%3Fcc%3D1416598
GRO Index. FreeBMD Website. https://www.freebmd.org.uk/cgi/information.pl?cite=E97aXBVdBbJt0HUYJvv3bA&scan=1 Accessed 31.01.2020
Find A Grave, database and images (https://www.findagrave.com : accessed 31 January 2020), memorial page for Josiah Carter (1867–17 Jun 1927), Find A Grave Memorial no. 186194317, citing St Andrew Churchyard, Southburgh, Breckland Borough, Norfolk, England ; Maintained by Nigel Battley (contributor 48646090) .
Find A Grave, database and images (https://www.findagrave.com : accessed 31 January 2020), memorial page for Sarah Ann Elizabeth Carter (1873–6 Nov 1949), Find A Grave Memorial no. 186194319, citing St Andrew Churchyard, Southburgh, Breckland Borough, Norfolk, England ; Maintained by Nigel Battley (contributor 48646090) .