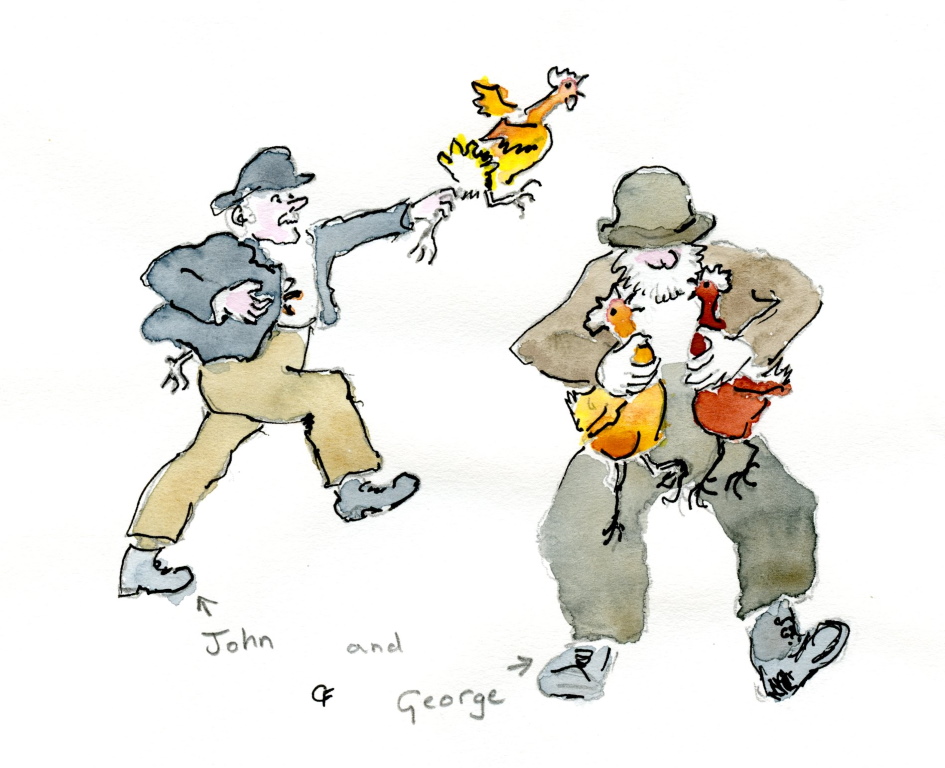 Illustration by Christine Fuller
Charge of Stealing Four Fowls
The Eastern Daily Press of Saturday March 2nd, 1907, reported on the appearance before the Magistrates at Wymondham of two labourers from Great Ellingham.
John Lee and George Anderson were charged with stealing four live fowls from Charles Leverett of Hingham. The fowls had a value of ten shillings.
Both men were remanded until the following Tuesday.
Further Details & Outcome
Further details of the offence (together with the outcome) appeared in the Eastern Daily Press of March 6th, 1907.
Theft of Four Fowls
John Lee and George Anderson stood charged with stealing the four fowls on February 28th.
George Anderson's brother, William Anderson, was also charged with harbouring the fowls knowing them to be stolen.
Witness, Henry Beales, of Great Ellingham, gave evidence to the court.
All three defendants elected to be tried by the Magistrates. All pleaded guilty, albeit that George Anderson pleaded guilty to stealing just one fowl and John Lee to stealing three.
Another Theft of Four Fowls
All three men were then charged with further offences:
John Lee and George Anderson with stealing four live fowls to the value of sixteen shillings, the property of George Mevrick Palmer of Hingham. William Anderson with being an accessory to the fact. These offences also took place on or about the 28th February.
Theft of Eleven Fowls
Before considering the matter any further, the Magistrates decided to hear a third charge against all three men:
John Lee and George Anderson were again charged with stealing fowls. This time eleven fowls with a value of £1 7s 6d. Once again, William Anderson was charged with being an accessory after the fact. The fowls were the property of Robert Oldfield of Hingham.
All three Defendants pleaded not guilty.
John Lee and George Anderson had nothing to say to the Magistrates. However, William Anderson stated that seven of the fowls which had been found in his yard, had been in his possession for four months.
Henry Beales again gave evidence to the court. He confirmed that there had been several hens in William Anderson's yard during the previous three months.
Conviction and Sentence
The Magistrates convicted all three men in each case and stated:
"They were serious cases indeed and there were previous convictions against all three prisoners. The Magistrates could not give less than a month's imprisonment to each prisoner for each offence, the sentences to run consecutively – that was three months in all".
Hard Times or Persistent Thieving?
It is worth remembering that the life of a labourer was not always an easy one. We do not know in what circumstances John Lee and the Anderson brothers found themselves.
They may have resorted to stealing to 'put food on the table during hard times'. Alternatively, John Lee and the Anderson brothers may have been taking fowl and selling it on to just 'line their pockets'.
The newspaper reported that there were previous convictions against all three men.
John Lee
Four years after the court appearance, the 1911 census captures 25 year old John Lee with his wife Kate and four day old daughter. Alma, living in Long Street, Great Ellingham. John's parents, John senior and his wife Jane (and five children with ages ranging from 19 to 6 years) were living in Bow Street.
Ten years previously, the 1901 census finds this Lee family using the name 'Hoy'. Head of the household is 43 year old John Hoy with his 35 year old wife Jane and children John 15, Albert 13, Ethel 11, Sidney 9, George 6, Mary 3 and Harry 1.
The 1891 census lists this family under the name of 'Lee'.
It is possible, of course, that the John Lee appearing before the Magistrates in March 1907 was John Lee senior and not his son John.
The Anderson Brothers
William and George Anderson were the sons of Robert Dungar Anderson and his wife Martha.
The 1881 census captures the Anderson family comprising of Robert aged 35, wife Martha 27 and children William 7, Fanny 5, Charles 3 and two year old George, living at Low Common, Great Ellingham.
The census also tells us where each member of the family was born: Robert D Anderson in Rainham (or Raynham), Norfolk, Martha in Hingham, William in Titteshall, and the remainder of the children in Deopham.
Ten years later, the 1891 census shows the family living at 'Cockles House' the Street in Great Ellingham. 'The Street' was an area to the northern end of Long Street/Town Green and encompassed part of what we today know as Chequers Lane and Church Street.
The family is also using the surname 'Anderson Dungar'.
By 1901, the Anderson Dungar family are using the name 'Dungar'.
The census reveals 54 year old Robert Dungar with his 48 year old wife Martha and children George 21, Maria 19, John 17, and Richard 9, together with grandchildren, May aged 8 and one year old Henry, living in Town Green.
I suspect that the family may not have moved house since 1891, and that it is just the description of the place they are living which has changed.
George and William were using the surname 'Anderson' when they appeared before the Magistrates in 1907.
In 1911, Robert Anderson Dungar, widowed and aged 65, is living alone in Town Green. Son William, married and aged 37, is using the surname 'Anderson' and living at Low Common, Deopham with his wife Lucy.
Alias Surnames
It is not unusual to come across the use of alias surnames in family history.
Here, we have two examples: the 'Hoy' family was also known as 'Lee' and the 'Anderson' family also used the names 'Dungar' and 'Anderson Dungar'.
The adoption of a particular surname could be an indication of an illegitimate birth further back in the family history. However, there can be other reasons. Sometimes a particular surname was used (or legally adopted) to keep the surname 'alive' and/or perhaps, to take an inheritance.
It was also common for young children brought up by their mother and a step-father, to assume the step-father's surname.
Without in-depth research into each of these two families (and this is not my intention in this blog), we cannot be sure why each of these two families assumed alias surnames during their lives.
Updated April 2021
Sources:
1911 census RG14/11340, RG14/11473/108, RG11473/34, RG14/11473/75
1901 census RG13/72/9, RG13/1867/70
1891 census RG12/1549/79, RG12/1549/69
1881 census RG11/1974/94
Eastern Daily Press March 2nd, 1907
Eastern Daily Press March 6th, 1907