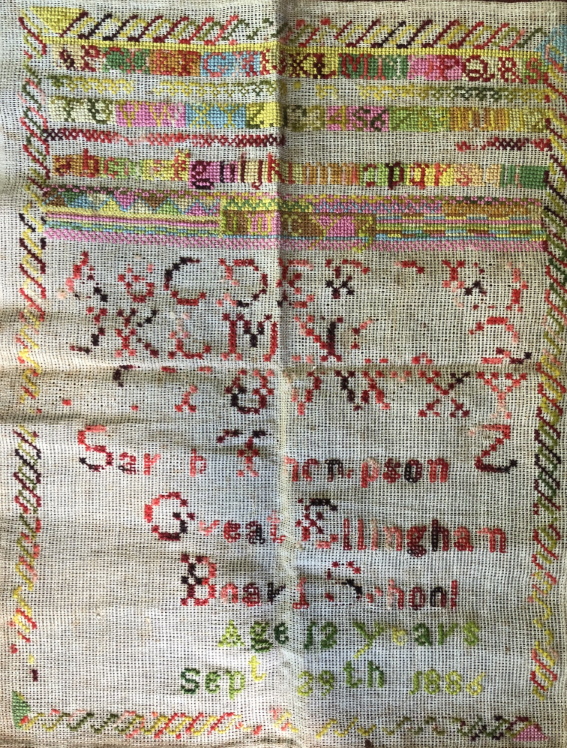 Sampler stitched by 12 year old Sarah Thompson Reeder in 1886. Photograph courtesy of Rosemary Jones
In 1886, 12 year old Sarah Thompson demonstrated her needlework skills by stitching a sampler at her school in Great Ellingham.
By the time the girls at the Board School finished their education, most (if not all) of the girls likely produced a sampler. It was once common practice for young girls to create samplers. Some were basic, but others were quite elaborate.
Who was Sarah Thompson?
Sarah was born in Great Ellingham on the 10th March, 1874. Her birth was registered in the name of 'Sarah Reeder'. Why was Sarah Reeder also known as Sarah Thompson, and Sarah Thompson Reeder?
The answer to this question lies with her father's parentage.
James Thompson Reeder
Sarah's father was local carpenter and wheelwright, James Reeder. James was one of four illegitimate sons of Mary Reeder. He was baptised in the parish church at Great Ellingham on the 27th September, 1835.
As 'James Thompson Reeder', James married Elizabeth Barnard in the nearby town of Attleborough on the 25th December, 1861. The marriage entry gives James's father's name as Byworth Thompson. It is more than likely that Byworth Thompson was the father of all four sons of Mary Reeder.
The fact that James's father was Byworth Thompson explains why James Reeder was also known as James Thompson. Indeed, during the 1860s and 1870s, James used the name 'James Thompson'. However, by 1881 James reverted to the names 'James Reeder' and 'James Thompson Reeder'.
1881 census
The 1881 census captures seven year old Sarah Reeder with her parents, James and Elizabeth Reeder (aged 45 and 37 respectively), and siblings Charles 18, James 15, Mary E 13, Elizabeth 9 and John aged 4. The family lived at Town Green, Great Ellingham.
Sarah's brothers, Charles and James, worked as carpenters – more than likely for their father. Mary, Elizabeth and Sarah were attending school. Given that the sampler specifically says 'Great Ellingham Board School', we can be certain that the girls went to the Board School (formerly the 'British School') in Long Street, just a short distance from their home.
1891 census
By 1891, Sarah was using her needlework skills for work. The census of that year finds 17 year old dressmaker Sarah Reeder with her parents and four of her siblings. Although the census does not specifically say, I believe the family were still in Town Green.
At the same time, 15 year old Attleborough born Walter Brothers (who Sarah would later marry), was working as a farm labourer (stock tender), for farmer Henry Colman at Haugh (Haw) Farm.
We can but wonder how, and when, Sarah and Walter first met. Perhaps Walter's employer sent him on an errand to Sarah's father's workshop?
Marriage to Walter Brothers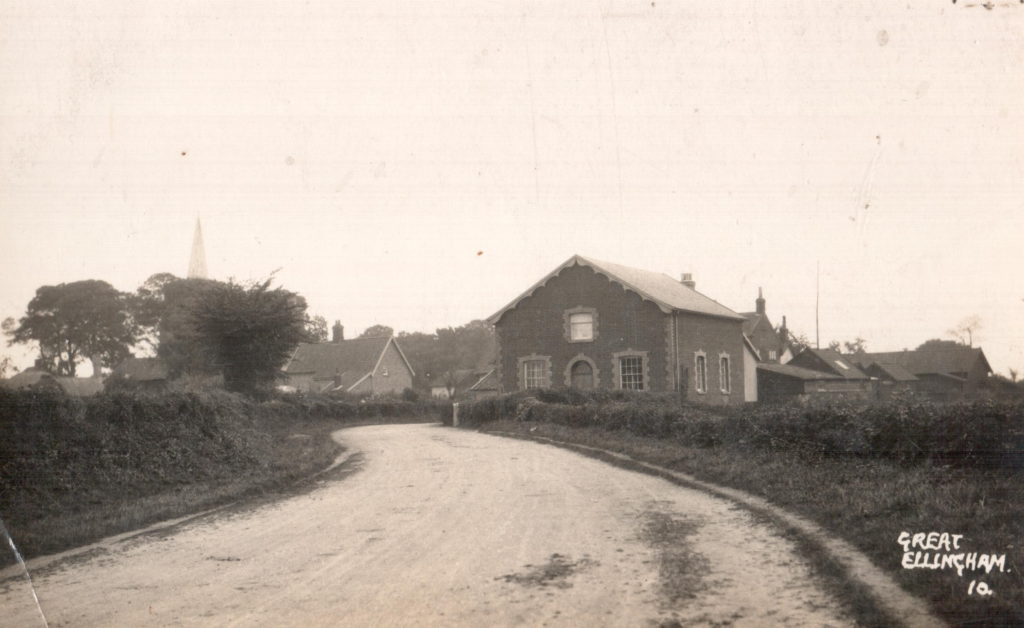 Primitive Methodist Church in Church Street, Great Ellingham. Postcard courtesy of Carol Ewin
Nonetheless, at the age of 26, Sarah Reeder married 24 year old Walter Albert Brothers on the 3rd November, 1900, in the Primitive Methodist Church at Great Ellingham.
Move to London
Four months later, the 1901 census finds the couple living in Malmesbury Road in the District of Bow in East London. Walter Brothers is working as a railway ticket collector.
The couple welcomed their son, Ronald, just after celebrating their first wedding anniversary on the 15th November, 1901. A daughter, Eileen Mary, followed on the 11 November, 1908 in Chadwell Heath. By 1910, the family had moved to Blundell Street, Islington.
Emigration
On the 16th February, 1911, Walter and Sarah Brothers with their two children, Ronald aged 10 and Eileen 3, left London bound for a new life in Australia. They arrived in Melbourne aboard the "Thermistoles" on the 28th March, 1911.
In 1914, the family lived in Kerford Street, Rochester, Victoria. Walter worked as a farm labourer. By 1918, the family moved to Narrogin in Western Australia, a distance of some 2000 miles from Victoria. Walter and Sarah (with their two children), lived at the State Farm in Narrogin. Walter worked as a teamster.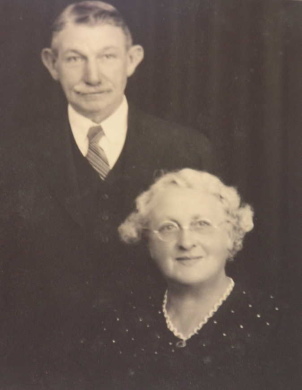 Walter & Sarah Brothers taken before 1951 in Narrogin, Western Australia. Photograph courtesy of Rosemary Jones
Walter and Sarah remained living in Narrogin for rest of their lives. In her 77th year, Sarah Brothers née Reeder, (and at one time also known as Sarah Thompson), died some 9,000 miles from her birthplace of Great Ellingham in Narrogin, Western Australia on the 5th January, 1951.
Walter Brothers outlived his wife by some thirteen years. He died on the 21st July, 1964, also in Narrogin. The couple are buried in the cemetery at Narrogin.
Sources:
Great Ellingham Parish Registers. Norfolk Record Office PD 609. Also available at www.familysearch.org
Atteborough Parish Registers. Norfolk Record Office. PD 438.Transcription Marriages 1552 to 1930. Norfolk Family History Society. www.norfolkfhs.org.uk
1841 census HO107/781/8
1851 census HO107/1823/16
1861 census RG9/1237/82
1871 census RG10/1841/77
1881 census RG11/1974/81
1891 census RG12/1549/70, RG12/1549/82
1901 census RG13/339/75
Thanks to Rosemary Jones, granddaughter of Sarah Thompson Reeder