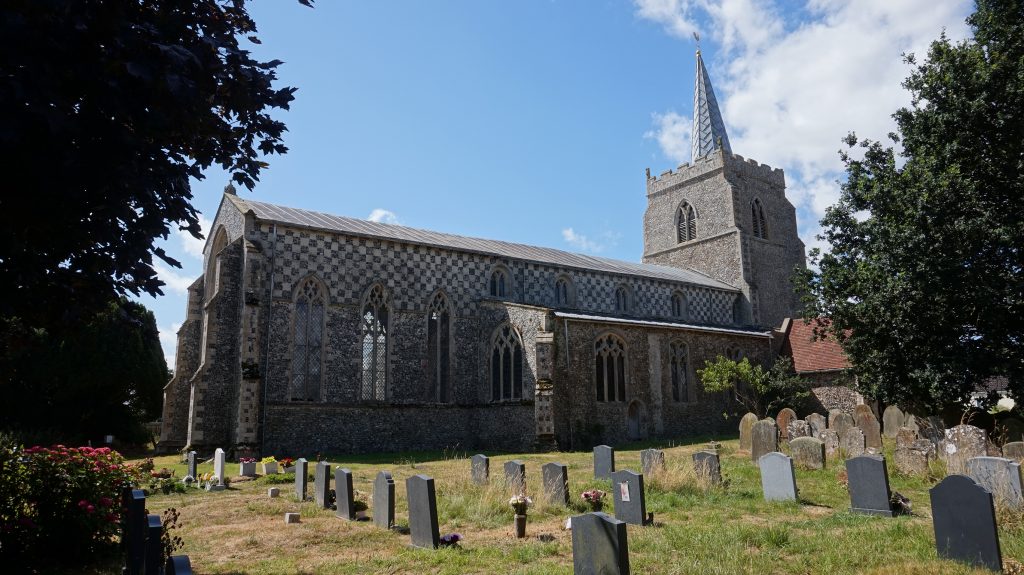 Great Ellingham Parish Church
The Norwich Mercury of 21st October 1905 reported on the funeral which had taken place at the Parish Church in Great Ellingham of Mr Henry Colman.
It was reported that Henry Colman was a keen agriculturalist and that he regularly attended Norwich Market. His last trip to the market was earlier in the month after which he was seized with an illness from which he died just a week later on the 14th October.
Born in Rockland St Peter & Married in East Harling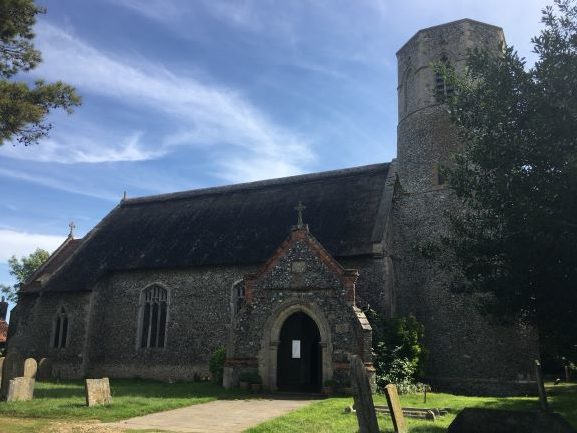 Rockland St Peter Church
Henry was born in nearby Rockland St Peter. The son of William and Lucy Colman, he was baptised in the Parish Church on the 8th September, 1822.
Henry was living in Great Ellingham from at least 1851 – most likely at Haw Hill Farm.
At the age of 32, Henry Colman married Sarah Knight Jary in the Parish Church of East Harling on March 30, 1854. Sarah, aged 26, was the daughter of East Harling farmer, Thomas Jary.
After the marriage, Henry and Sarah lived at Haw Hill Farm, Great Ellingham. I do not believe the couple had any children. Sarah Colman died in April of 1900.
Funeral Procession
Henry Colman's funeral procession was met at the entrance to the Church Rooms by the Reverends Polehampton and Raikes, the latter conducting the majority of the service. The hymn "When our heads are bowed with woe" was sung by the large congregation.
The procession left St James's Church to a rendition of the "Dead March in Saul" by Miss Lilian Field, the daughter of John Field the Headmaster of the Board Schools in Great Ellingham.
Committal
The coffin of plain oak and brass furniture was carried to the graveside by "six old employees Messrs. Reeder, Morter, Bass, Lincoln, H. Nurse and Beales". One of the men had worked for Henry Colman for thirty years and another, for forty years.
The Reverend Polehampton read the committal.
Mourners
The chief mourners were reported to be Henry's brother, Caleb Colman, nephews Charles and Reginald Colman, Henry's sister in law Mrs Jary and Mr and Mrs Mann.
Others attending included the Reverend B Fleming (Rockland), the Reverend W R D Elwell (Stow Bedon), Mr J W Eagling, Mr Joseph Mann, Mr Frank Mann, James Reeder, John Reeder, A W A Clarke, R Lebbell, H B Lebbell, Mr W Allen.
Sources:
Norwich Mercury 21st October 1905
East Harling Parish Registers. Norfolk Record Office. PD/219. Also available at FamilySearch.org. https://www.familysearch.org/ark:/61903/3:1:S3HY-6S63-TNY?owc=4J8C-HYS%3A29501701%3Fcc%3D1416598&wc=4JDN-CBV%3A29501701%2C29373001%2C29755301&cc=1416598 Accessed 01.02.2020
Rockland St Peter Parish Registers. Norfolk Record Office. PD/336.Norfolk Family History Society Transcript Rockland St Peter Baptisms 1813 to 1886. Viewed online https://www.norfolkfhs.org.uk/ 01.02.2020