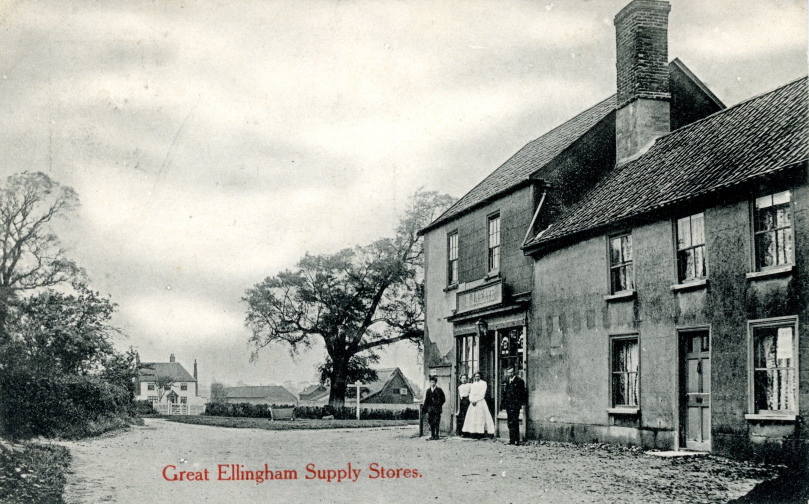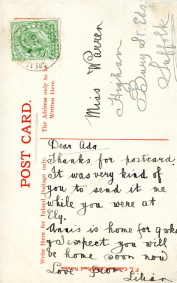 Postcard sent from Great Ellingham by Lilian Field to Ada Warren in Higham Bury St Edmunds around 1911
I was delighted to be able to purchase this postcard and even more delighted to find that it had been used and that I knew exactly who had written it!
A big clue to the identity of the sender 'Lilian' was the reference to 'Annis'. I have not found the name Annis to be a particular common name. Further, so far in my research for Great Ellingham, I have only found the name Annis in the family of Schoolmaster John Field and his wife Annis who were the first occupants of the School House in Hingham Road. I believe the postcard was written by their daughter Lilian Field who refers to her sister Annis as 'being home for 9 weeks' in the correspondence to Ada Warren.
Who was Ada Warren, the Recipient of the Postcard?
Ada Ruth Warren was the daughter of the local saddler, Henry Warren and his wife Matilda. The 1911 census captures 30 year old unmarried Ada with her 62 year old widowed father, sister Agnes (aged 34) and brother Percy (28) at the Street, Great Ellingham. The census gives Ada's occupation as a Teacher employed by the County Council at Higham (Suffolk).
Both Ada Warren and Annis Field were Pupil Teachers at Great Ellingham Board School for a time between the period 1896-1906, and Lilian again during the period between 1906 and 1916. Given that Ada Warren was around 6 years older than Annis Field, and some 9 years older than Lilian Field, I think it unlikely that the girls were Pupil Teachers at Great Ellingham School at the same time. However it is clear from the postcard that they were friends.
Sources:
1911 census RG14/11473/122
Great Ellingham County Primary School Centenary 1896 to 1996. Complied by J.E. Watts