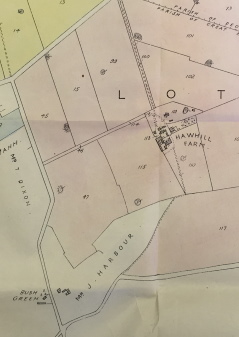 Until the Second World War, Hawhill Farm (also known or referred to as Haw Hill Farm and Haugh Farm) was a substantial farm property located to the north-east of Stalland Common and Bush Green near to the boundary with Deopham.
Extract from a map annexed to Auction Particulars for Hawhill Farm, Great Ellingham dated September 1920. Original held at Wymondham Town Archive
The property was demolished during WWII and the land became part of Deopham Airfield. According to the informative booklet 'A Little History of Great Ellingham' (W R Lebbell & S Fay), the family then living at Hawhill Farm at that time spent the war years living in a wooden building. I mention this again at the end of the blog.
1920 Auction Particulars
An excellent description of Hawhill Farm is given in the auction details prepared in readiness for an Auction of the property (and associated land) which was held at the Royal Hotel, Norwich on Saturday, 25th September, 1920 at 4 pm.
The particulars described Hawhill Farm as being a substantial property "well situated within easy driving distance of the Market Towns of Attleborough, Wymondham and Watton, surrounded by good roads". The farm had two entrances to the roads leading from Deopham Stalland to Great Ellingham and Attleborough.
The house was described as a comfortable brick, clay and tiled farm house containing entrance hall, dining and drawing room together with kitchen, dairy, scullery, storeroom, cellar and coal store. There were front and back staircases, landings, four bedrooms, a box room, apple room and two attics. A yard contained a water pump, a large shed and "Lavatory Accommodation".
There was also a good kitchen garden and orchard well planted with fruit trees and ample agricultural buildings including cart-sheds, chaff house, stables, gig-house and sheds. There was a large horse-yard, bullock yard, two good pen sheds, cow sheds, elevator sheds, thatched barns and several enclosures of productive deep mixed soil.
The property had been let to Mr Arthur Harvey whose tenancy was due to expire on October 11th, 1920. Kelly's Directory of 1912, lists Arthur Harvey farming at Haw Hill.
Who Farmed at Hawhill over the Years?
1800: Richard Dey
The Particulars and Valuation for the parish of Great Ellingham undertaken for the purpose of inclosing the commons, common fields and waste lands in 1800, shows Richard Dey occupying Haw Farm.
The property was said to include outbuildings, barn, stables, yards and garden. In addition, Richard Dey occupied various pieces of land amounting to 90 acres. The parcels of land were referred to by names such as Upper Ireland, Lower Ireland, Clay Pit Close Six Acres, Home Close, Guilders and Barn Close. Richard Dey also worked four allotments.
Richard Dey was likely a tenant of Lord Walsingham, one of the main landowners of Great Ellingham, and the Lord of the Manor of Bury Hall.
The Great Ellingham Parish Registers reveal the baptism on January 5th, 1759 of a Richard Dey son of Jonathan and Mary Dey. This may well be the same Richard Dey as occupying Haw Hill Farm in 1800. Baptisms also appear in the parish registers for at least 11 children of Richard Dey and his wife Anne (maiden name Clarke) between 1786 and 1802.
c.1817 Nathaniel Weston
A survey of the parish of Great Ellingham carried out 1817-1819 reveals that Nathaniel Weston was occupying 'Haugh Farm', house, barns, stable, yards and garden at this time. In addition, Nathaniel Weston also occupied various other pieces of land inclduing Five Acres, Claypit Six Acres and Home Close.
Bachelor Nathaniel Weston of Great Ellingham had married spinster Sarah Wallage Sparrow by Licence at the Parish Church of East Harling on the 16th November, 1815. Sarah Sparrow was the daughter of Spicer Sparrow of East Harling.
1841: William Colman
The 1841 census captures 30 year old Great Ellingham born William Colman with his 21 year old wife Ruth at Haw Farm. William, the son of William and Lucy Colman, was baptised in the Church of St James on July 31st, 1809.
William and Ruth had married in Old Buckenham on 20th April, 1840. By 1842, the couple were on the move from Great Ellingham – likely to Old Buckenham as the 1851 census finds the couple living there.
An announcement of an intended auction of farming stock and household furniture at Haw Hill Farm appeared in the Norwich Mercury of 12th November, 1842. The notice confirmed that the property being auctioned was the property of Mr William Colman "who has disposed of the above occupation".
The stock included eight cart horses and mares, two ponies, some 300 ewes and 23 lambs, 17 pigs, a road waggon, two harvest waggons, four tumbrils, scarifiers, ploughs, harrows, a shepherd's house, thrashing machine, various harnesses, saddles and bridles and an assortment of agricultural implements.
The list of household furniture being auctioned gives us an insight of what may have been in William Colman's home: post and tent bedsteads, featherbeds and mattresses, mahogany and wainscot tables, painted chiffonier, bureau and bookcase, mahogany chairs, Brussels carpet (said to have a handsome pattern), eight-day clock and painted wardrobe.
Further items being auctioned were several dairy and brewing utensils together with various household requisites.
1851 to 1905: Henry Colman
For the next five decades, Haw Hill Farm was occupied by Henry Colman. I believe Henry Colman, born in Rockland St Peter about 1821, was a younger brother of William, the previous occupier.
The 1851 census finds 29 year old unmarried farmer, Henry Colman, living in an area referred to as Faulkers in Great Ellingham. This area was near to Bush Green and I think it likely that Henry was living at Haw Hill Farm.
Ten years later in 1861, the census finds 39 year old Henry Colman with his wife Sarah Knights Colman living at Haugh Farm. Later census returns show the couple to be at Haw Hill Farm until Sarah's death in April 1900. Henry continued to live there until his death in October 1905. Both Henry and Sarah are buried in the churchyard of St James.
In September 1906, Henry Colman's Executors announced a sale by Auction of 19 horses, 18 powerful and active cart mares, a pony, twenty cattle and 197 Suffolk ewes at Haw Hill Farm. In addition, an extensive assortment of agricultural carriages, implements, harnesses, carts, ploughs, waggons, tumbrils, troughs, bins, tanks, wire netting and a large assortment of miscellaneous effects at Haw Hill Farm and the Heath Farm at Hingham were for sale.
The auction sale may have been considered to be of some importance. It seems that the sellers were keen to ensure that as many people attended the auction as possible as the announcement in the newspaper also said that "conveyances will meet the morning trains at Attleborough Station returning after the sale". A fare of 1s each way was payable.
Henry Colman was a churchwarden at the Parish Church. His wife, Sarah, was a supporter and benefactor of the treats given to the children of the parish, which were usually provided at Christmas and in the Summer.
1911 and later
The 1911 census shows 57 year old farm bailiff George Bowen with his wife Hannah and adult children at Haw Hill, Great Ellingham. 10 years earlier, George Bowen with his wife and family were at Manor Farm in Tottington.
As mentioned, Arthur Harvey was farming at Haw Hill Farm about a year later and his tenancy continued up until the farm was auctioned in 1920.
Kellys Directories of 1929 and 1937, lists farmer Whalley Savery Maynard at Haw Hill Farm. Whalley Maynard was the last occupier of Haw Hill Farm.
It is believed that Whalley Maynard refused to move out of Haw Hill Farm House, and had to quickly find somewhere for the family to live as the house was being demolished around him. He moved his family to a wooden shed in Deopham Road and, after the war, moved into the village of Great Ellingham.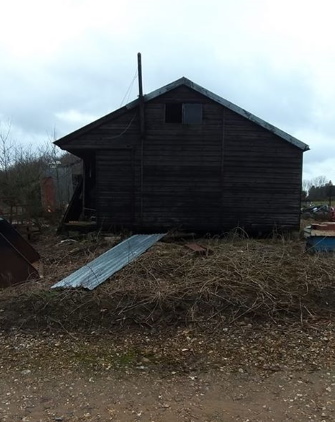 Whalley Maynard moved his family to this wooden shed in Deopham Road when Haw Hill Farm House was demolished. Photograph courtesy of Sarah Gladden
Sources:
1841 census HO107/781/8
1851 census HO107/1823/123, HO107/1822/43
1861 census RG9/1237/15
1871 census RG10/1841/94
1881 census RG11/1974/95
1891 census RG12/1549/82 1901 census RG13/1867/81, RG13/1868/86
1911 census RG14/11473/11
Norfolk Chronicle September 22nd, 1906
Norfolk Chronicle & Norwich Gazette 25th November 1815
Norwich Mercury 12th November, 1842
Kellys Directories 1912, 1929, 1937
East Harling Parish Registers. Norfolk Record Office PD/219. Also available at FamilySearch.org https://www.familysearch.org/ark:/61903/3:1:S3HY-6S6Q-SQT?owc=4J8C-HYS%3A29501701%3Fcc%3D1416598&wc=4JDN-CY7%3A29501701%2C29373001%2C29397101&cc=1416598
Old Buckenham Parish Registers. Norfolk Record Office PD/107. Also available at FamilySearch.org https://www.familysearch.org/ark:/61903/3:1:S3HT-DT43-GRX?owc=4JDN-Z16%3A29986301%3Fcc%3D1416598
Rockland St Peter Parish Registers. Norfolk Record Office PD/336.Transcripton Norfolk Family History Society https://www.norfolkonlinerecordsearch.co.uk/search/Colman—-parish–rockland-st-peter/1426-rockland-st-peter-baptisms/ accessed 09.12.2019
1920 Auction Particulars for Freehold Occupation Farm and Accommodation Arable Lands, Great Ellingham & Deopham. Wymondham Town Archive, Council Offices, Middleton Street, Wymondham NR18 0AD. ID28699. Box 224/5/5. Bundle 5.
1800 Inclosure Commissioner's Particulars and Valuation held at Norfolk Record Office Catalogue Ref: MC 2213/119, 941X7
1799-1842 FW Horner, Records of the Surveyors to Commissioners for the Inclosures in Parishes in Norfolk and Suffolk. A Particular Survey of the Parish of Great Ellingham in the County of Norfolk. Norfolk Record Office. Catalogue Ref: BR90/2/16
Sarah Gladden