Amongst the legacies mentioned in wheelwright William Lebbell's will of the 17th July, 1897, was the gift of all his stock, trade materials and effects to carpenter, James Reeder who was said to be in William's service. Further, the will states that William Lebbell had already conveyed his dwellinghouse, premises and land to James Reeder.
In addition to the premises which he had, prior to his death, conveyed to James Reeder, William owned other properties.
Details of these properties are set out in an Inland Revenue Account completed by solicitor R W H Venn of Attleborough on behalf of William's executors, Isaac Starke and George Saunders in 1895. This included several cottages in Great Ellingham.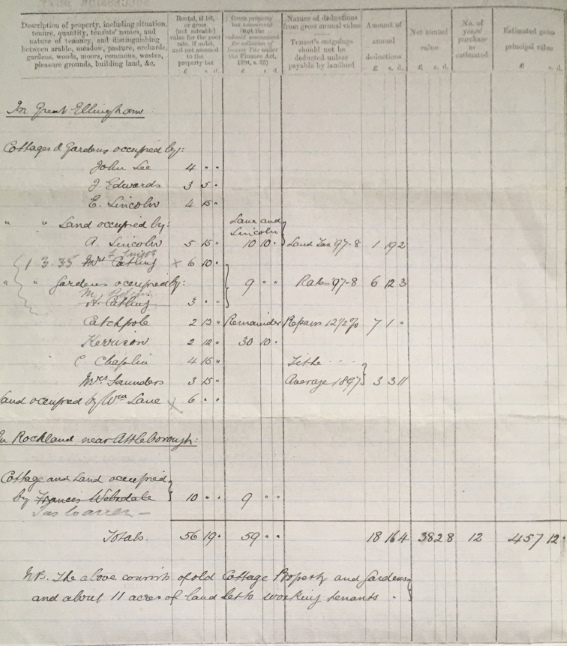 Extract from 28th January 1898 Inland Revenue Account of Succession to real or leasehold property completed by R W H Venn, Solicitor, Attleborough for the Executors of William Lebbell deceased
Whereabouts in the village was the property conveyed to James Reeder?
The 1851 census finds 32 year old unmarried William Lebbell living with his mother and step-father, Elizabeth and Stephen Houchen, in Town Green. Stephen Houchen is described as a thatcher, and step-son William a master carpenter employing four men.
Ten years later in 1861, William has married and is living with his wife Elizabeth in Church Street. William and Elizabeth were still living in Church Street at the time of the next census in 1871. This census captures William's 12 year old niece, Minnie Bristow, with the couple.
The 1881 census finds 62 year old William Lebbell a widower. The census shows William at a 'carpenter's shop' in Church Street. He was said to be employing three men and two boys. His widowed mother, 83 year old Elizabeth Houchen, is with William along with a visitor, 60 year old housekeeper Lydia Starke.
70 year old spinster Lydia Starke is still with William 10 years later. The 1891 census describes Lydia as a housekeeper to William. 20 year old servant Sarah Warren completes the household.
It would follow that William Lebbell's dwellinghouse and premises which he conveyed to James Reeder was in Church Street. However, the 1901 census (undertaken after William Lebbell's death), shows James Reeder living in Town Green. With no other details and documentation, I cannot be certain whereabouts in the village the dwellinghouse and premises (the subject of the conveyance to James Reeder) stood.
Who was James Reeder?
The 1891 census captures 54 year old carpenter and wheelwright James Reeder living in Great Ellingham (likely in Town Green). With James is his 47 year old wife Elizabeth (born in nearby Attleborough) and children – James aged 25, also a carpenter and wheelwright, 17 year old Sarah, a dressmaker, and John 14, Emma 10 and Arthur 6 who are all attending school.
Given that both James Reeder and his son James were carpenters, I wonder whether both James and his son James worked for William. Was it James Reeder the elder or his son James to whom William conveyed his property – or neither of them?
Although the 1901 census finds James's son James working as a wheelwright, the census captures James junior with his wife and family in Essex.
James the elder is still living in Town Green with his wife and family members: John, now aged 24, Emma 19, Arthur 16, and 8 year old granddaughter Maud Ketteringham. 65 year old James Reeder is now described as a builder. He is also an employer.
I can only assume that this is the James Reeder mentioned in William Lebbell's will.
James Reeder's Early Life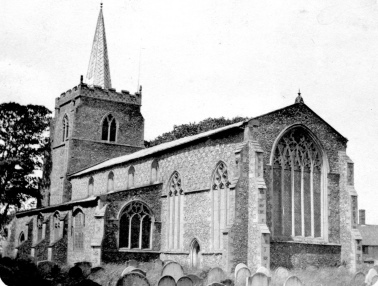 Church of St James, Great Ellingham
James Reeder was born in Great Ellingham and baptised at the local Parish Church on the 27th September, 1836. The baptism entry in the parish registers records James as the 'baseborn' (illegitimate) son of Mary Reeder of Great Ellingham.
The 1841 census finds 6 year old James with his 25 year old mother Mary Reeder and his three year old brother John living in Great Ellingham.
Ten years later, the 1851 census captures 40 year old unmarried Mary Reeder as a housekeeper to head of household, 39 year old unmarried farm labourer, Byworth Tompson (Thompson) in Bow Street, Great Ellingham. James Tompson Reeder aged 15 and his brothers, John Tompson Reeder 12, Thomas Tompson Reeder 8, and five year old Robert Tompson Reeder complete the Tompson and Reeder houseshold.
By 1861, the Thompson/Reeder household had moved to Mill Lane. The census undertaken on the night of the 7th April, records Little Ellingham born Byworth Thompson as a 48 year old farmer with sons James Thompson, a wheelwright aged 25, Thomas Thompson, described as a farmer's son aged 18 and 15 year old Robert Thompson. Also listed is 49 year old Mary Reeder described as a housekeeper. A visitor to the household is 18 year old Attleborough born Elizabeth Barnard, who married James Thompson Reeder later the same year.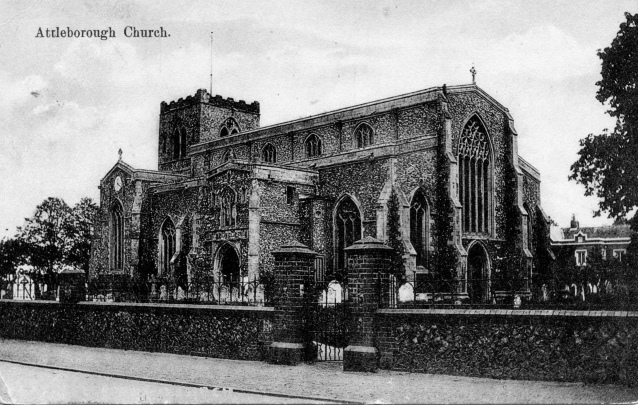 Attleborough Parish Church. Postcard Brian Vidler
The marriage entry between James Thompson Reeder and Elizabeth Barnard in the Attleborough Parish Registers for Christmas Day 1861, records James's father as labourer Byworth Thompson.
Following the marriage, James and Elizabeth settled in Great Ellingham. The 1871 census lists the couple with the name Thompson living in the village with their children Charles 8, James 5 and Mary Elizabeth aged 3. It is not clear whereabouts in the village the family were living. However, subsequent censusus reveal the family (having reverted to the name Reeder) living in Town Green.
Conclusion
It was kind and generous of William Lebbell to leave his stock, trade materials and effects to his employee James Reeder on his death, and to have earlier conveyed his dwellinghouse, premises and land to James. It is probable that James Reeder worked for William Lebbell for many years. They must have been on very good terms.
I believe the James Reeder, carpenter, referred to in William Lebbell's will is James Thompson Reeder, son of Mary Reeder and Byworth Thompson. However, other documentation may confirm or disprove my theory.
James Reeder was buried in the churchyard at Great Ellingham Parish Church on the 22nd July, 1907. He was 71.
Sources:
Probate of Will of William Lebbell of Great Ellingham. 16 October 1897. Resworn March 1898. Obtained https://www.gov.uk/search-will-probate May 2020
Inland Revenue Account Succession to real or leasehold property completed by R W H Venn, Solicitor, Attleborough for the Executors of William Lebbell deceased dated 28th January, 1898. Author's Collection
1841 census HO107/781/8
1851 census HO107/1823/116
1861 census RG9/1237/82
1871 census RG10/1841/77, RG10/1841/88
1881 census RG11/1974/81, RG11/1974/92
1891 census RG12/1549/70, RG12/1549/79A
1901 census RG13/1867/69
Great Ellingham Parish Registers. Norfolk Record Office PD/609.Also available at FamilySearch.org https://www.familysearch.org/search/image/index?owc=4J8C-CB7%3A29627201%3Fcc%3D1416598
Attleborough Parish Registers. Norfolk Record Office. PD/438.Transcription, Attleborough, Marriages 1552-1930. Norfolk Family History Society. https://www.norfolkfhs.org.uk/ Viewed online 07.06.2020