In their day, postcards were a very popular way of keeping in touch with family and friends, and also with traders.
Picture postcards included portraits of the famous, images of events and scenes of towns and villages. There were also comic postcards and greeting cards.
In a time where there were several postal collections and deliveries in one day, one could put a postcard in the pillar box in the morning and the recipient could receive it by lunchtime!
My husband's grandmother, Edith Addison, and her family were ardent collectors of postcards – particularly during the first two decades of the 20th century. A postcard collection can be a very important source of family and social history.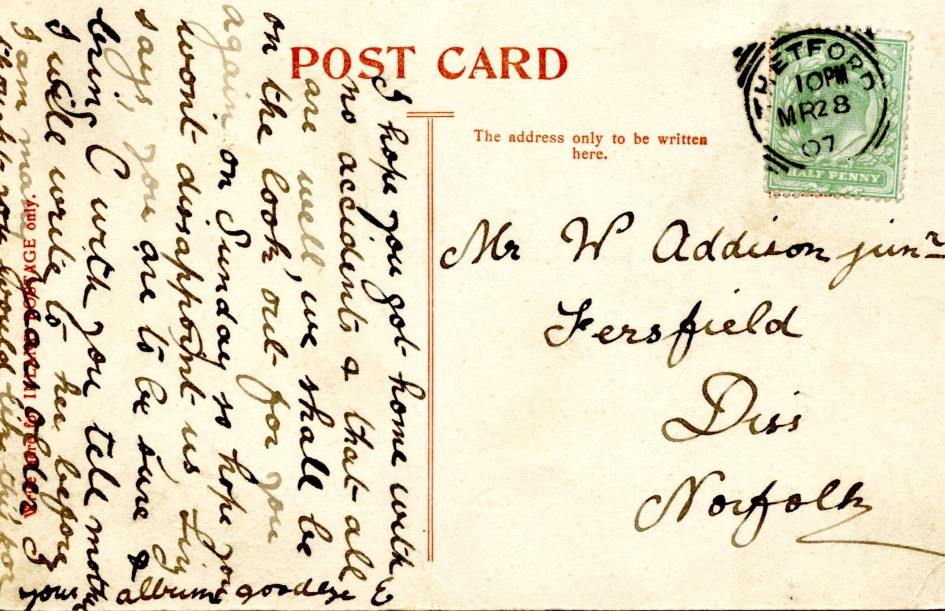 In this postcard sent in 1907, Edith Addison (who at the time was in service at Shropham Rectory), wrote to her brother Walter to check that he had arrived home safely, and she hoped that she would see him again on the following Sunday.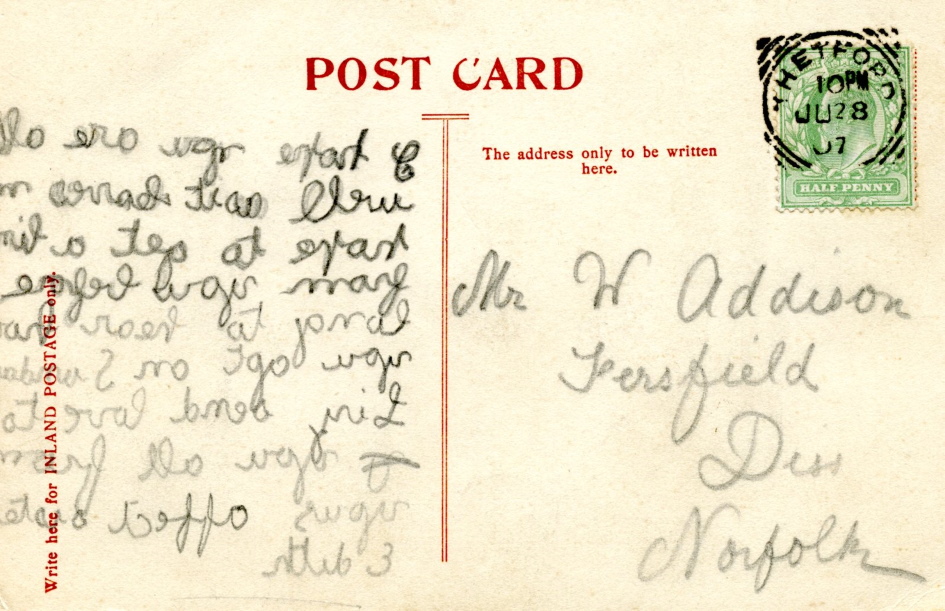 This is another postcard sent by Edith Addison in 1907 to her brother Walter. Note that Edith wrote her message in 'mirror writing'. I expect that Walter found a mirror to enable him to read the message!
M Nichalls to Miss Alice Rivett of Long Street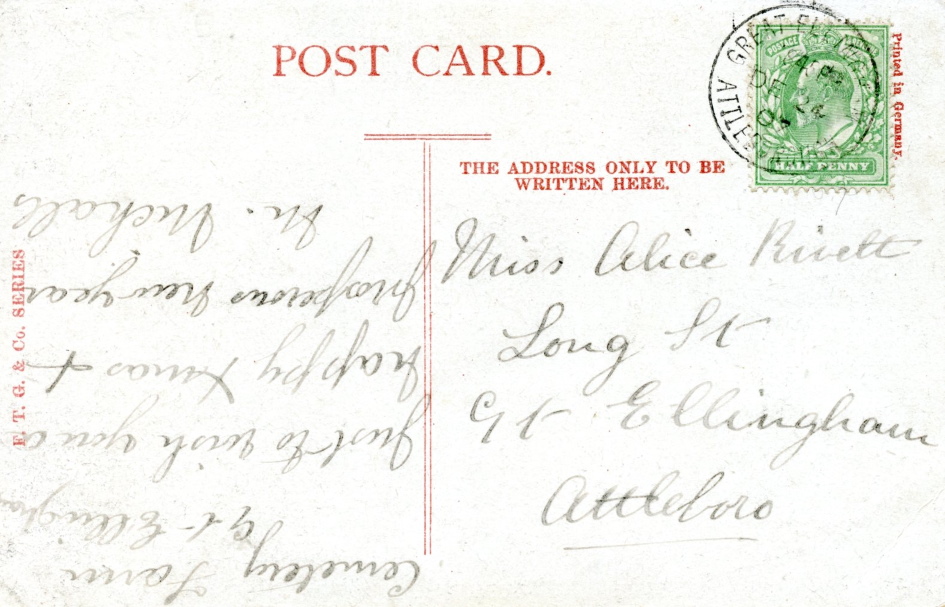 The above postcard is postmarked 1907. 'M Nichalls' of Cemetery Farm, Great Ellingham sent Christmas and New Year Greetings to Miss Alice Rivett of Long Street. Cemetery Farm was in Long Street. Assuming they were both living in Long Street, it may seem strange to us now to go to the expense of buying a postage stamp to stick on a card or letter for delivery in the same road!
'C' to Miss L Barttrum at Fir Cottage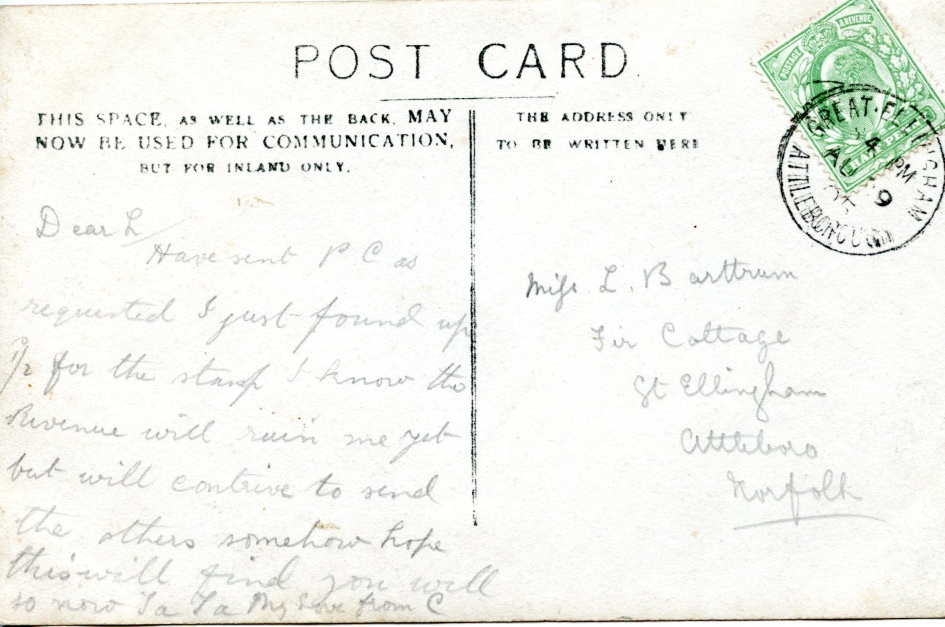 This postcard is postmarked 1905 and was sent by 'C' to Miss L Barttrum at Fir Cottage, Great Ellingham. 'C' signs off the message with "Ta Ta My Love from C". Who were 'Miss L Barttrum' and 'C'?
'C' would have made it a much easier to find 'Miss L Barttrum' if he (or she) had used L's first name. Wondering if Miss Barttrum's first name was Lilian, Lily, Louise, Louisa, Lydia or Lucy, I looked at the census returns for 1901 and 1911 to try and find a likely 'Miss L Barttrum', hopefully with a connection to Great Ellingham. This proved unsuccessful. However, one family with the name Barttrum came to light on the 1881 and 1891 census: the family of John and Miranda Barttrum.
The 1891 census captures the household of 74 year old butcher John Bartram with his 40 year old wife Miranda and children John aged 10, Ada 8, Elizabeth 6 and one year old Emma who were living near to the Burying Ground in Great Ellingham. Whist John Bartram and his wife were born in Morley and Wymondham respectively, the children were said to have been born in Great Ellingham.
I wondered whether 'L' was for 'Lizzie' – a common nickname for Elizabeth! Indeed, my husband's grandmother Edith Addison (mentioned above) had a good friend 'Lizzie' (Elizabeth Dawson later Disdle) whom she often mentioned in her postcards.
Following my theory that 'L' was Elizabeth Barttrum, I found the registration of a marriage between Elizabeth Barttrum and Charles Bertie Barnard between July and September 1907 in the Forehoe District. Could 'C' be, Charles Bertie Barnard?
The 1911 census captures 27 year old Charles Bertie Barnard with his 24 year old wife Elizabeth in South Walsham. Charles and Elizabeth had completed three years of marriage and, although they had had two children, only one – John Charles Bartrum Barnard who was coming up to a year old – was still living. The census confirmed that Charles was born in East Harling and Elizabeth in Great Ellingham.
Ten years earlier in 1901 (before 'C' wrote the postcard to 'Miss L Barttrum'), 14 year old Elizabeth is with her widowed mother Miranda and 11 year old sister Emma in Silfield Road, Wymondham. The family have a lodger, 15 year old George Barham.
At that time, Elizabeth's husband-to-be 17 year old Charles Barnard is with his Uncle and Aunt in Great Ellingham. The 1901 census reveals grocer's assistant Charles Barnard with the household of grocer and draper, Ernest E Everitt, in Church Street.
Perhaps by 1905, Elizabeth Barttrum was working and living at Fir Cottage in Great Ellingham when 'C' wrote to her?
Conclusion
My hunch is that 'C' is Charles Bertie Barnard and 'Miss L Barttrum' is Elizabeth Barttrum, the daughter of John and Miranda Barttrum. However, this is based on many assumptions – I have no concrete evidence. If you have an alternative theory (or information to back up my theory), I would be pleased to hear from you.
Sources:
1881 census RG11/1974/95
1891 census RG12/1549/82
1901 census RG13/1851/49; RG13/1867/80
1911 census RG14/11387/4
GRO Index via FreeBMD website https://www.freebmd.org.uk/cgi/information.pl?cite=OSV7cI7OGlYY5mNudcOLTQ&scan=1 accessed 15th October 2020