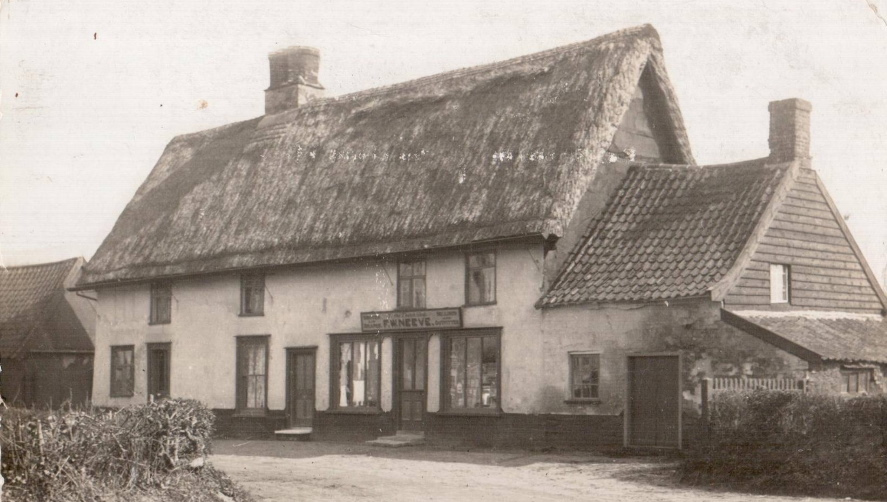 Ye Olde Thatche Shoppe F W Neeve. Postcard Carol Ewin
The Norwich Mercury of Wednesday July 11th 1900 included an advertisement for Horniman's Tea. The advert included a list of traders in the Norfolk area who sold the tea in their stores.
Amongst the traders was the name 'Everett' a Grocer of Great Ellingham.
1901 census – Church Street Shops
The 1901 census shows there were two Grocers & Drapers' shops in Church Street as well as a Post Office/Grocer shop.
Ernest Everett and Herbert Neave were respectively the proprietors of each of the Grocer & Draper's shops with William Wilkins at the Post Office & Grocery store. I believe William Wilkins' shop adjoined the Crown Inn.
A Mr F W Neeve (not to be confused with Herbert Neave) ran Ye Olde Thatche Shoppe in Church Street at some point after Ernest Everett and prior to Mr and Mrs Pollard. Accordingly, I believe the postcard above shows Ernest Everett's shop.
In a separate post, I have mentioned the existence of a grocer & draper's shop in Church Street from at least 1715. It is possible that the shop occupied by Mr Everett was originally the shop owned by Lydia Barnard which was advertised 'for let' in 1785 following her death.
Ernest Everett & Family
At the time of the 1881 census, 16 year old Ernest Everett born in East Harling, Norfolk, was one of three Draper's Apprentices boarding with 22 year old Henry Blair described as a Draper's Assistant at the Green Inn, Skinnergate, Darlington.
By 1891, 27 year old Ernest was back in East Harling with his widowed father, Walter (a Grocer & Draper) and his siblings living in Swan Street. Ernest (referred to as Edmund E in the census return), was described as a Grocer Assistant. It is likely that Ernest was working in his father's shop.
Within the next 10 years, Ernest Everett had married Priscilla, had two children in Dover (Derek in 1896 and Iris around 1897), and arrived in Great Ellingham. The Everett family likely moved into the village sometime after 1897 but before the 1901 census.
Three further children (Ruby, Claud and Sheila) were born in Great Ellingham. Ruby, Derek and Iris were baptised in the Church of St James on September 21st, 1902 and Claud was baptised in the same church on May 8th, 1904.
A further son, Roy, was born in East Harling around 1908. By this time it is likely that the Everett family had moved from Great Ellingham to East Harling where they are found to be living on the 1911 census.
Incidentally, the 1911 census also records Ernest's name as "Edmund Ernest Everett".
Sources:
Norwich Mercury July 11 1900
1881 census RG11/4887/119
1891 census RG12/1548/68
1901 census RG13/1867/80
1911 census RG14/11741/26
Great Ellingham Parish Registers Norfolk Record Office PD/609. Also on Microfilm at The Norfolk Heritage Centre, Norwich