Court Case
The Norfolk News of 1st April 1876, reported on a case heard at the East Harling Petty Sessions on the previous Tuesday.
John Bartram described as a farmer of Great Ellingham was charged with using threatening language to William Myhill. Myhill was also a farmer of Great Ellingham.
Bartram was bound over in his own recognisance of £50, and with two sureties of £25, to keep the peace for six months. He was also ordered to pay costs amounting to 17s 6d.
William Myhill also made a further complaint against John Bartram for wilful damage to a gate at Great Ellingham on the 21st March. The Magistrates considered that they had no jurisdiction and the case was dismissed.
Who were John Bartram and William Myhill?
The 1871 census undertaken five years before the court appearance of John Bartram and William Myhill finds 52 year old farmer John Barttrum with his 53 year old wife Jane and daughters 18 year old Maria and Sarah Ann aged 13 living in Penhill Road, Great Ellingham.
Not far away just into the adjoining parish of Rockland St Andrew, is 28 year old farmer William Myhill in Shropham Road with his 25 year old wife Mary and young sons, John aged 4 and one year old Freddy. The Myhill family have two servants – 14 year old general servant Caroline Drake and farm servant, William Barrett aged 19.
I believe William Myhill was the son in law of John Bartram.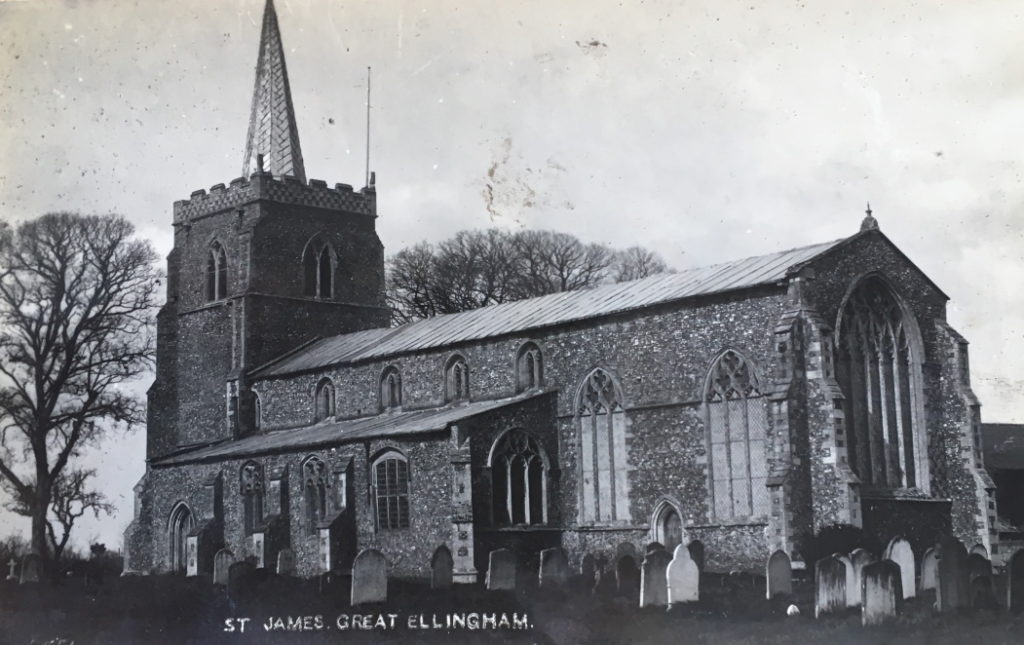 St James's Church, Great Ellingham. Postcard courtesy of Attleborough Heritage Group
William Myhill, a 23 year old bachelor of Rockland St Andrew married Mary Barttrum a 20 year old spinster of Great Ellingham in the Church of St James at Great Ellingham on the 4th July, 1865. The marriage entry in the parish registers records Mary's father as farmer, John Bartrum.
10 years earlier, the census captures Mary with her parents, John and Jane Bartram and four sisters living in Town Green, Great Ellingham.
Mary's mother Jane Barttrum died in 1872 and was buried in the churchyard at St James on January 16th of that year. Her father, John, was a widower at the time of the court case but by the end of September 1878, John Barttrum had remarried.
NB. Variations of the surname for this Barttrum family appears in documentation such as Bartrum, Bartram, Barttrum
Sources:
Norfolk News 1st April, 1876
1871 census RG10/1841/130; RG10/1841/78
1861 census RG9/1237/79
Great Ellingham Parish Registers. Norfolk Record Office. PD/609. Also available at FamilySearch.org https://www.familysearch.org/search/image/index?owc=4J8C-CB7%3A29627201%3Fcc%3D1416598
GRO Index. Free BMD website. https://www.freebmd.org.uk/cgi/information.pl?cite=1axambSmra3OozesKe%2Buyg&scan=1 accessed 09.02.2020