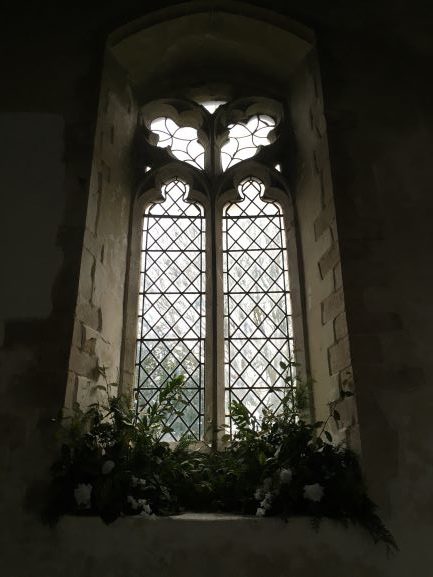 Decorated window on the north side of the Church of St James, Great Ellingham
Wedding Report
The Eastern Daily Press of Tuesday, 30th September, 1913 reported on the wedding at St James's Church, Great Ellingham, of Edward R Lincoln and Alice Rebecca Rivett. The event was said to have 'aroused considerable local interest'.
Fast approaching her thirty-third birthday, local woman Alice Rivett had for many years been a Sunday School Teacher and a District Visitor. 27 year old Edward Lincoln was lately of the County Asylum staff at Thorpe.
Before the days of social media, announcements and reports of weddings appearing in the local newspapers, were common. Although photographs of the 'happy couple' did not appear until later, the reports themselves were usually very detailed, customarily providing a good description of the bride's outfit, and often details (and value) of the wedding gifts.
Marriage followed by Wedding Breakfast
As Alice walked into St James's Church on the arm of her father, Frederick Rivett, the congregation in the 'prettily decorated church', would have caught a glimpse of Alice in her Shantung silk dress trimmed with old lace. She carried a bouquet of lillies, chrysanthemums and heather.
Just behind Alice and her father, would have been the bridesmaids, Constance Rivett, Edith Rivett and Lilian Grace Field, who were dressed in blue turquoise dresses trimmed with embroidered lace and wearing black hats. A gold brooch, a gift from the bridegroom to each of the bridesmaids, completed the outfits.
Standing with Edward Lincoln awaiting the arrival of his bride, was Edward's brother and best man, Bertie Lincoln.
The ceremony was performed by the Reverend G M MacDermott assisted by the Reverend G W Russell. Both the Reverend Russell and schoolmaster, Mr J A Field, played the organ.
Following the marriage ceremony, the bridal party with some 70 guests made their way across the road from the church to the Parish Room for the 'wedding breakfast'. The newspaper reported that the wedding presents were 'both numerous and costly'.
The Bridegroom
Born in Great Ellingham in 1886, Edward was registered with the name 'Reginald Edward W Lincoln'.
The census of 1891, finds four year old Reginald E W Lincoln with his parents, James Thomas and Sarah Ann Lincoln, and two younger brothers, Berty C aged 2 and three month old Arnold J, in Long Street.
Agricultural labourer, James Thomas Lincoln was born in nearby Attleborough. His wife, the former Sarah Ann Howchin (Houchen), was born in Great Ellingham.
Still living in Long Street, the 1901 census captures James and Sarah Lincoln with their three sons, 14 year old Edward (said to be a cattle man on farm), Bertie aged 12, and ten year old James (Arnold James).
At the time of the 1911 census which was undertaken just over two years before his marriage, 24 year old Edward (as 'Reginald Edward William Lincoln') is listed as an asylum attendant, employed by the County Council, in Woodbastwick.
The same census captures the remainder of the Lincoln family living at Parsonage Farm, Spixworth (a village around five miles to the north of Norwich). 45 year old James Thomas Lincoln is now a farm bailiff. With James is his 46 year old wife Sarah (to whom he had been married for 26 years), his sons, 22 year old Bertie Charles (a carpenter) and 20 year old Arnold James (a grocer). 48 year old shepherd Frederick Breame, also described as a servant to James Lincoln, is also with the family. Completing the household on the night of the census is 30 year old visitor, Alice Rebecca Rivett who was later to become James and Sarah's daughter in law.
The Bride
Alice Rebecca Rivett was born on the 19th October, 1880 in Great Ellingham, likely in Church Street. The daughter of Frederick and Mary Ann Rivett (neé Drake), Alice was baptised in St James's Church on the 20th February the following year.
The 1881 census captures the Rivett family living in Church Street. 34 year old Frederick Rivett, a grocer and a farmer of two acres, is with his 31 year old wife Mary Ann, and children Walter E aged 8, Arthur C aged 6, Edith M aged 3 and five month old Alice. All members of this Rivett family were born in Great Ellingham.
By 1891, 10 year old Alice is with her parents and siblings in Bow Street. Now a fowl dealer, Frederick with his wife Mary Ann have had two further children since the previous census – 6 year old Frederick and 2 year old Ernest.
Tragically, Alice's mother, Mary Ann Rivett, died in March 1894 aged 44. Within weeks (if not days), Alice's brother Walter also died. He was just 21.
The 1901 census captures 20 year old Alice with her widowed father and brothers in Bow Street. Described as a housekeeper, it is most likely that Alice was keeping house for her father and brothers, Frederick now 16, Ernest 12 and Leonard 8.
Ten years later, and just two years before her marriage to Edward Lincoln, the census of 1911 reveals Alice as a visitor at the home of Edward Lincoln's family in Spixworth.
Further Reading
You can read more about Reginald and Alice Lincoln here.
Sources:
GRO Index. FreeBMD website https://www.freebmd.org.uk/cgi/information.pl?cite=c9%2FT45U9dPtgd3ZExXpSHA&scan=1 Accessed 19 August 2020
Eastern Daily Press 30th September, 1913. Viewed via localrecall.co.uk 3rd August 2020
Great Ellingham Parish Registers. Norfolk Record Office. PD/609.Also available at FamilySearch.org https://www.familysearch.org/
1911 census RG14/11250/140; RG14/11379/4
1901 census RG13/1867/71; RG13/1867/78
1891 census RG12/1549/72; RG12/1549/78
1881 census RG11/1974/92