It can be difficult to 'fill in the gaps' between the birth or baptism of our ancestor, their marriage (if indeed one took place), and their ultimate death.
All these 'rights of passage' are almost certainly recorded in the parish registers, which can date from as early as the sixteenth century.
However in relatively recent times, newspaper articles and census returns help us put 'flesh on the bones' in that they can tell us more about the individuals and their families.
Funeral Report
A chance find of a funeral report published in the Bury Free Press on the 10th October, 1952, provides more information about Reginald and Alice Lincoln, a couple who once lived in Great Ellingham.
Following an illness, Alice Lincoln died in September, 1952, in the West Suffolk Hospital. However, I found Alice's burial in the registers for St James' Great Ellingham.
71 year old Alice Rebecca Lincoln of The Cock Inn, Stanton, was buried in the churchyard of St James on the 29th September, 1952.
We know from the funeral report that after a short service in Stanton Parish Church which was attended by family and friends, the funeral cortege travelled the 35 miles or so to Great Ellingham for the burial.
Alice was survived by her husband and their daughter, reported as 'Miss M Lincoln'.
Reginald & Alice Lincoln's Earlier Life
Reginald and Alice were native of Great Ellingham. They both came from well-established village families. I have written about their early lives in a blog 'A Bouquet of Lilies, Chrysanthemums & Heather (October, 2020)'
We pick up on Reginald and Alice's story following their marriage in September, 1913, in the Parish Church at Great Ellingham.
Birth of Daughter Madia Madge
Some ten months after the marriage, Alice gave birth to thier only child Madia Madge on the 2nd July, 1914. Although born in Great Ellingham, Madia was baptised in the Parish Church of Spixworth on the 2nd August. The baptism register describes Reginald Lincoln as a farmer of Great Ellingham.
Unusual Name
Madia is an unusual name. Using the searchable GRO index via FreeBMD, I found only 10 other children registered in England and Wales with the first name Madia between September 1837 (the beginning of the civil registration of births) and 1914 (the year of Madia Lincoln's birth). Further, I only found two other children named Madia between 1915 and 1940.
The Dog Public House, Horsford
According to Norfolk Pubs website, Reginald and Alice were at the Dog Public House in Horsford from 1914 to c.1927. Reginald held the licence from 1914 to 1917 when the licence was granted to Alice. Reginald was again the named licensee from 1919 until the couple left the Dog before 1927.
Licensee of The Cock Inn, Stanton
By 1938, Reginald and Alice Lincoln were at The Cock Inn, Stanton, Suffolk.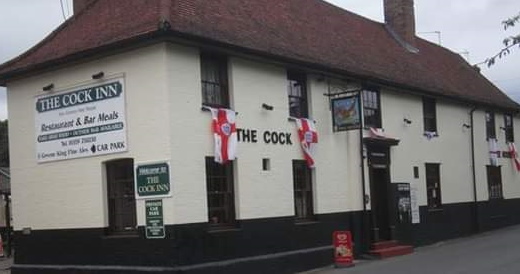 The Cock Inn, Stanton. Photograph courtesy of the Cock Inn
The 1939 Register captures Reginald as a Licensed Victualler at The Cock Inn with his wife, Alice. The Register notes Alice's occupation as 'domestic duties unpaid'. This 'occupation' appears common for many married women at that time. Reginald is also an Air Raid Precautions Warden.
The couple's 25 year old daughter, Madia Madge Lincoln, is a shop assistant living and working in the nearby town of Bury St Edmunds.
The year before, Reginald and Alice hosted a 'Second Annual Concert' at the Cock Inn. It seems that Reginald Lincoln was an accomplished singer, as his name is amongst the list of the singers at the concert.
The newspaper report of Alice's funeral also tells us that Alice was a member of the Stanton Branch of the Women's Section of the British Legion (now the Royal British Legion). She was also a member of the local Women's Institute.
I do not know how long Alice and Reginald lived at The Cock Inn, but I presume that Reginald was the landlord of the public house thoughout their occupation.
Full Circle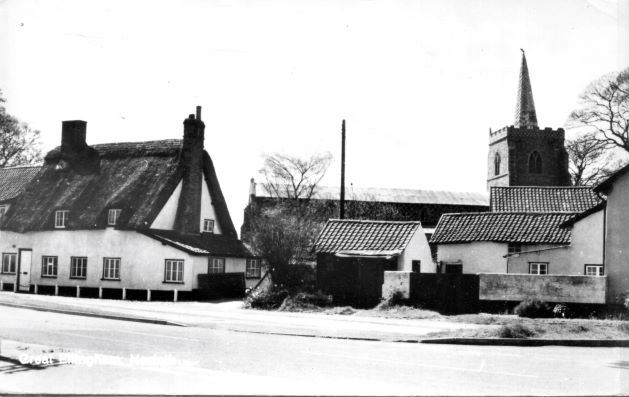 Glenfield House is on the far left of this postcard from before 1977. Author's own collection
Some time after Alice's death in 1952, widower Reginald Lincoln moved back to his 'home village' of Great Ellingham. His daughter Madia also followed, although I do not know whether she moved back to Great Ellingham at the same time as her father. However, I do know that they both lived at 'Glenfield' on the Attleborough Road.
Sadly, Madia Madge Lincoln died at the age of 48. She was survived by her father.
Just over a year later, on the 4th December, 1963, Reginald Lincoln died. He was 77.
Sources:
Bury Free Press 10th October 1952. Viewed via www.britishnewspaperarchive.co.uk 22 September 2021
Great Ellingham Parish Registers. Norfolk Record Office. PD 609.
The National Archives; Kew, London, England; 1939 Register; Reference: RG 101/6660B
The National Archives; Kew, London, England; 1939 Register; Reference: RG 101/6680J
Ancestry.com. 1939 England and Wales Register [database on-line]. Lehi, UT, USA: Ancestry.com Operations, Inc., 2018. Viewed via www.ancestry.co.uk 22 September 2021
Ancestry.com. England & Wales, National Probate Calendar (Index of Wills and Administrations), 1858-1995 [database on-line]. Provo, UT, USA: Ancestry.com Operations, Inc., 2010.
Principal Probate Registry. Calendar of the Grants of Probate and Letters of Administration made in the Probate Registries of the High Court of Justice in England. London, England. Viewed via www.ancestry.co.uk 22 September 2021. Also available via https://probatesearch.service.gov.uk/#wills
Sprowston Parish Registers. Norfolk Record Office. PD 211. Viewed via www.ancestry.co.uk – Norfolk, England, Transcripts of Church of England Baptism, Marriage and Burial Registers, 1600-1935 [database on-line]. Lehi, UT, USA: Ancestry.com Operations, Inc., 2018.