Towards the end of the 17th century, John Godward was one of at least two worsted weavers living and working in Great Ellingham.
He lived at a time before the Georgian Period. The 'British Throne' was occupied by Mary II and her Dutch husband and cousin William III. They co-reigned from 1689 until Mary's death in 1694. William continued to reign until 1702.
I do not know when John Godward was born or where. He may well have been born during the period of the English Civil Wars (1642-1651), but this is little more than a guess.
Godward's Home in Engate
At the time of his death c.1702, John Godward's home was in a street called 'Engate'. Today, we know this street as Bow Street. The deeds to the property tell us that the neighbouring property owners were the Cady and Harvey families.
Several years after John Godward's death, his widow (as Ann Warren), sold the property.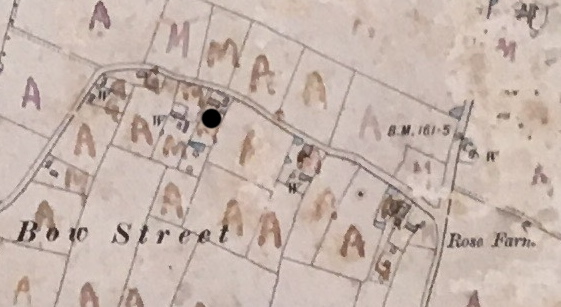 Extract from Second Edition, 1906. Norfolk, sheet LXXXV S.W. Courtesy of Ray & Maureen Beales
The black dot on the above extract of a 1906 map shows the position of John Godward's home.
Godward acquired land with a cottage and tenement (which can be dwellings and/or other buildings), in Great Ellingham in 1691. However, I do not know whether he owned or occupied premises in Great Ellingham before this.
Contemporaneous Buildings
During the time that John Godward lived in in his home in Engate, Sir Roger Potts and his wife Mary (née Davey) were at Great Ellingham Hall. Further, the properties later known as Islay House, Church Farmhouse, Poplar Farmhouse and Ye Olde Thatche Shoppe all existed at that time. However, they will have undergone many changes over the centuries. In addition, several of the delightful ancient cottages in Church Street also existed at this time.
Godward makes his last Will & Testament
On the 7th September, 1700, John Godward signed his last will and testament. Witnesses to the will were Francis Amyas, Edmond Sharpen and John Amyas. Within two years, John Godward was dead.
In November, 1702, Probate was granted to his widow and sole executrix Ann Godward.
Contents of Will
John Godward's will contained the following provisions:
To Ann my loving wife and to her heirs all my messuages, lands, tenements and hereditaments whatsoever situate lying and being in Great Ellingham with their appurtenances
To John Robinson my nephew twelve shillings a year to be paid to him by Ann my wife every year during her natural life on the nine and twentieth day of September and five and twentieth day of March by even and equal portions the first payment to begin and be made on such of the days as shall happen first after my decease and the sum of ten pounds to be paid to him by the executor administrator or assigns of Ann within one [year?] next after her decease
To Henry Platfoot and Thomas Platfoot sons of Henry Platfoot my brother in law five pounds a piece of lawful English money to be paid to them by the executor administrator and assigns of the said Ann my wife within one year next after her decease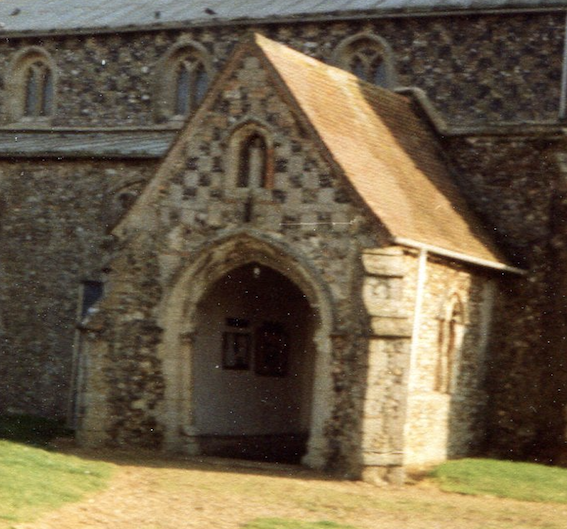 The porch of St James's Church, Great Ellingham
Church Porch
John Godward also directed that all the legacies should be paid at the porch of the parish church of Great Ellingham. This seems to have been a common place for the payment of legacies. Later Isaac Eke stipulated in his will of 1779 that his legacies were to be paid at the same porch.
No Surviving Children
Given that John Godward makes no mention of children (or grandchildren) in his will, I can only assume that he did not have children or, at least, any surviving children.
Widow Ann Godward Remarries
Following John Godward's death, his widow Ann remarried. I believe she married Symon Warren.
The marriage register for the Parish Church of Besthorpe includes the marriage of Ann Goddard and Symon Warren on the 10th April, 1706.
In 1735, Ann Warren sold the property which she inherited from her former husband, John Godward.
Sources:
Great Ellingham Parish Registers. Norfolk Record Office PD609. Also available via www.familysearch.org
Besthorpe Parish Registers. Norfolk Record Office PD309. Viewed via www.ancestry.co.uk
Private Collection Deeds & Documents to Property in Bow Street. Thanks to Roger Banks
1702 Probate of Will of John Godward, worsted weaver of Great Ellingham. Norfolk Record Office. NCC Will Register Edwards 365. Microfilm MF428